Ah Heather…Heather…whatever the weather,bend over and let me see your tight red bare spanked bottom! love, Chief. xxx
Ok, this is one of my all time fave girls, and I'm thinking of making this a regular feature where I pick on a girl and we take a look at some of her movies, of course, you'll get to see some gorgeous stuff too, so for any of you living ina cave without internet connection until now, here is heather Stanton…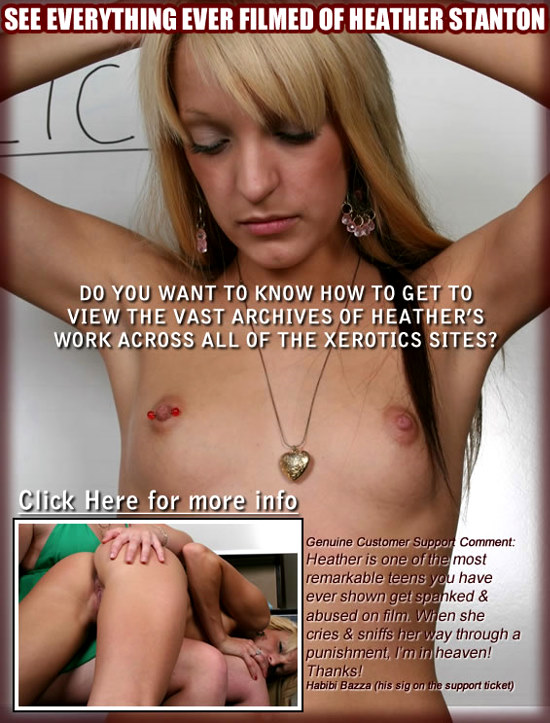 Heather Stanton only worked with the XEROTICS Group of sites (to my knowledge) and although she has now (sadly) retired from the online scene, over a period of a couple of glorious years, they amassed a lot of fantastic spanking films with this naughty teen Brit babe. She had a tight skinny toned body, a gorgeous pert ass and perky tits with the sort of nipples you could hang your coat off. Simply divine! Oh, and what's more, she had the knack of really NOT enjoying her punishment: sobbing, sniffing, whining and crying during her discipline time, making it all the worse for herself when she'd answer back or try to wriggle out of further chastisement…infuriating her spanker to make the punishment count even more so! Below you will find 4 films from various sites of the Xerotics Group, that, can, for a very limited time now be accessed via a stupendous ANNUAL DEAL for just £99.50 to every site, meaning you will not miss any of Heather, featured on virtually every site!!! Oh, and of course, with all the archives, you will have access to all future updates at the sites too…bargain…innit?
Edit: Offer Closed
I have made 2 clips in HD and 2 in Standard Definition, they're all amazing clips and approx 30-40 seconds each, be advised it's best to download the HD clips as these are approx 25-30 Mb each!!! HD clips are, (obviously) shown with the HD symbol (below)
Heather Stanton's Naughty Knickers

Heather is humiliated in this tale of her knickers being cut up and being made to wear them as a sign that she has been punished, she is of course spanked and caned and doesn't like this discipline at all!
The second film is a satisfying one for those that like to see a blasphemous young lady given a right seeing to! Check out the movie clip below as she is painfully spanked and strapped, check out why I liked this film as Heather compalins about her punishment…sniffing and snivelling: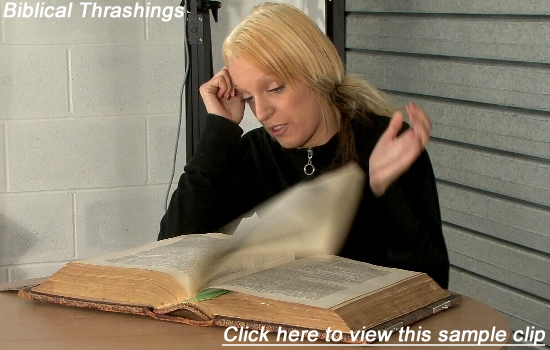 Heather always looked superb in a school uniform, since she had not long left school, it was still befitting this scamp that it was quite a sight for sore eyes as her knickers would be removed, revealing that delicious tight rump of hers, and that trim teen pussy, on display. She'd be aware the camera crew were watching and she'd desperately try to hide her modesty…but too late, the cameras were there drinking in the sight of her pretty genitalia! So, enjoy this HD clip and it's really a cracker as she sniffs and sobs in the only way she knows how…complaining that the punishment is hurting (of course it is, my dear!!!)
These images below capture the essence of the film, Heather in her uniform, over Miss Smith's knee and of course some great cam angles on her bottom! Remember all these images shown are actual vid grabs, reduced in size…
Finally, I thought I'd include a Workplace Discipline movie as Heather was really treated like a simpleton in this, imagine a frustrated boss who has had enough and uses his position of power to get one over on this lithe younbg thing! Imagine no more…we get to see her bare bottom spanked and strapped!
Admire the pert beauty and tight body of Heather in these images below taken from this workplace discipline movie, the reason I chose this film was the sight of Heather's pert titties, just hanging there, her bottom stuck out as ordered for her punishment!
Ok, this is just the tip of the Heather Stanton iceberg of spanking productions across the Xerotics Network. But if you want to see more of Heather, all of her, in fact in HD then check out HD spank HERE