Actually, that title might be a little misleading as poor Abigail got more than just a simple spanking…she was barely 18, thinking she was above all that "Home Punishment" nonsense, she had already defiled herself with piercings in defiance of home rules and this abysmal school report was the final straw. This is the latest movie which has got a welcome remaster treatment at the schoolgirl punishment site – CANEDSCHOOLGIRLS
Please check out the FREE movie clip (below) which I have made myself so this is totally EXCLUSIVE to SpankingBlogg!!! The scene is part of Abigail's spanking, and you can see her cheeks bouncing all over the place and her very over developed labia drooping from behind as she is roughly handled and chastised!
Be Aware this scene has a 3 Star Triple AAA Trouser Arousal Rating!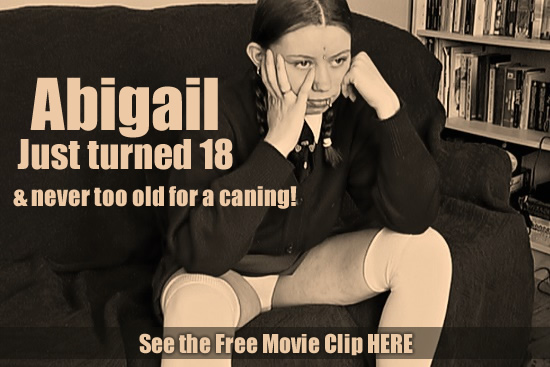 There are also some vid grabs below which show you Abigail's smiles turning to tears as her bottom is first spanked , then caned hard, something which members of CANEDSCHOOLGIRLS will be able to download and enjoy, the final scenes are really hot as Arnica cream is rubbed into her sore red cheeks!!!
This film has some excellent cam angles, some great close up shots, and of course a genuine just turned 18 year old teen who thought she knew it all, thrashed severely on camera..a really authentic and enjoyable film to watch!
CLICK HERE TO SEE MORE OF THIS MOVIE & TONS MORE FREE CLIPS!
Check out CanedSchoolgirls extremely competitive pricing structure – making it one of the fastest growing sites around!
Oh, before I go…I'm sure my fellow Brits will shiver with me as I show you some pics from the south west of England, normally immune from such nonsense as snow and temperatures reserved for Scotland or Scandinavia, it felt like we were "oop north", I had a nice time digging out the cars earlier today and took a nice walk around our village to take in the scenery. To those in the southern hemisphere basking in warmth and sun…I say "bah!"