Brrr…tis a little chilly here in the UK, beautiful clear blue skies, just a little crisp as the ol' thermometer struggles to get above freezing here (in celcius, not farenheit!)
I'm not too hungover, in fact it was a pretty tame affair, think I'm just getting too old to go binge drinking nowadays…lol. Anyway, I have the perfect cure to any winter blues as this amazing set of films has been relaunched in a cheaper US Dollar package and there will be more films coming out in this cheaper PPV/"Download and keep" format, with existing – new and unseen stuff coming out regularly as I instend to update these new movies myself, which I will of course let you all know as soon as they appear!
"Ay carumba!" Tis the locos girls of Rio setting the temperatures of the ol' Chief soaring and this is real "Trouser Arousal" stuff as these Latina girls get the full on British Discipline treatment, lots of thongs, bikini lines, yelps, welts and genuine tears and shock as all manner of implements were used on these beach bum Brazilian babes arses! I have managed to find the extended previews for you all, for each film, and it is now just $13.95 to download all these movies with extended photo sets, they are not found elsewhere in this re edited and remastered high quality playback.
The following promo and preview clips are quite long and well worth watching, if a bit of a tease!!!!Tissues at the ready!!!!
One by one the girls are introduced to what it feels like to have their bare bottoms spanked and the feeling of humiliation as they must bend over and take their punishment in front of each other. They genuinely had no idea what to expect and you see the fear in their eyes! Includes extra scenes and an excellent introduction! Like all these movies, they come with a vast amount of Hi Res vid grabs to compliment the films which you also get to downlaod and keep in this Unique Collectors Edition.
3 wayward schoolgirls are sent to Pastor Johnson's Jungle Retreat for biblical salvation. Soon the girls understand the meaning of British style discipline! See them gasp and cry with shock as their pert bare bottoms are introduced to the leather strap and the cane! The cracks of the rod on welted buttocks compliments the severe thunder outside. An amazing 25 minute movie of hard discipline and real tears.
Features never seen before footage of Brazilian schoolgirls showing us what's hidden under their skirts! However, the star of this is Gabriella in her pink Gingham school dress, who has failed her English Lessons once too often. See her learn what it's like to fail then feel a hard caning as she is bent right over to take some very hard strokes! Highly recommended caning film!
4 girls working at a bar are dressed in nothing more than their thongs! They are disciplined by the Brazilian manager until the English owner arrives to find this mayhem going on! How dare these lovely girls be disciplined without his involvement! What follows is a sequence of humiliating punishments as they are spanked, strapped and caned one by one, snivelling in shame with very sore bottoms! An excellent Finale to the series and this was the Editor's favourite film of his personal collection!

🙂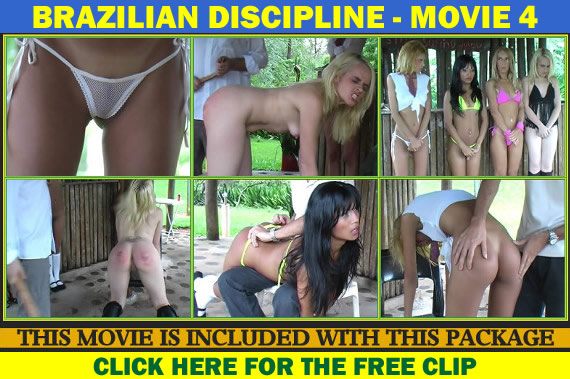 What can I say? To those who have never seen these girls thrashed, please check out the download site at the link below, and for a unique download experience, you are given up to 5 days to download all the films, FULL explanation and how to purchase the download links by CCbill are shown below! I guarantee if you view these films in full, you'll have a cracking start to 2010!!!!
Chief