I've seen this lovely girl at some spanking sites and most recently, in fact, TODAY in her latest update in a domestic discipline scene from NORTHERN SPANKING where she daydreams and messes up Stephens's shirt whilst she is ironing!
You'll see the very latest images below and I myself was in a daydream as I forget that I had this beauty stored on my hard drive, seeing these images brought back the film you'll see after…but I'm waffling, check out these cracking images of this UK based Dutch beauty who had spent so much time in Ireland that she could kiss the Blarney Stone with her naturalised accent in the past. Mmm, beauty, red hair and brains…oh, and a delicious reddened bottom!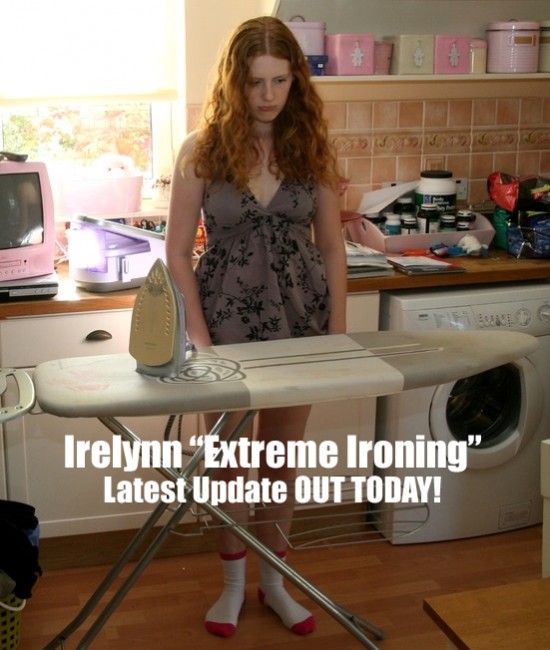 Irelynn's red hair matches her bare bottom as she pouts and faces the consequences for burning a shirt!
CLICK HERE FORE THIS VERY LATEST UPDATE FOR NORTHERN SPANKING MEMBERS
Now, the gem of a movie I found from last year of Irelynn is featured below and she is punished by Stephen (again) this time for retaliating to a bullying (as I have explained below) There are some amazing images of her reddening bottom as she stays schtumm! WARNING: This gave Chief severe palpitations in the Trouser Arousal Dept!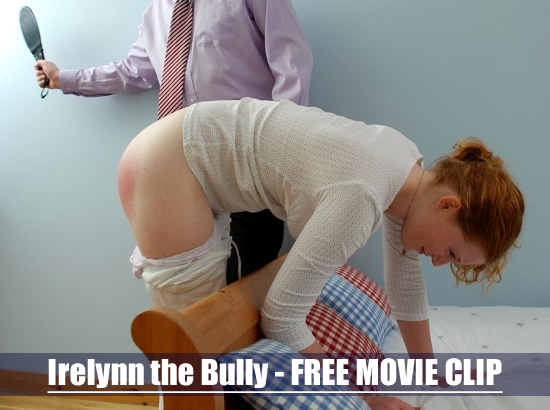 This is a MP4 clip – use VLC player (it's FREE) if your media player can not play it back!
The Lament Of The School Bully: Starring Irelynn Logeen & Stephen Lewis
Irelynn had locked Gemma in the stationery cupboard and refused to tell anyone where the key was. It appeared Gemma had been subjecting poor Irelynn to a campaign of bullying and Irelynn had finally had enough. She remained obstinate as Stephen tried his best to whack it out of her! See more free images of this movie (below).
Ouch! Irelynn had to pull up her tight panties over her sore paddled buttocks and she gently sobs herself better after that punishment! If you want to see more images and the FULL Movie, please CLICK HERE for more information

Pouty redhead beauty – Irelynn Logeen