I'd have posted a few pics from the film shoot at the time which was finished yesterday, but my mobile connection wasn't that good and I thought I'd wait until I got back. However, now my broadband connection at home is playing up so have been trying to get this out all bloody evening here!!! Travelling back on 300 miles of British roads nowadays is a f*cking nightmare as well…roadworks roadworks and average speed cams everywhere, oh and more roadworks makes it so tedious! Anyway, what can I say? Some new faces and some hard punishments, the hardest punishments dished out for some time and I'm happy to say Xerotics have some kick ass content coming up!
Members begged for Jodie to get caned…and caned HARD! Well, you're gonna witness some really good content of Jodie getting thrashed severely with strap and more importantly, the cane! & I can tell you she wasn't best pleased by about 3pm on the day…I'd never seen her buttocks burning so brightly…she confided to us she was glad she was going to a "ball busting" shoot at the end of the week which would help her get rid of some of that aggression – I pity the poor fellas, she's looking forward to that…but here you'll see her subdued, in between the smiles laughter and rebellion!
Below are a few images I was given from the photographer which are raw data, it's that new!
Below are some shots of a new face and a great girl who can really take a hard session, here is Lottie, a real life spanko who I'm sure will re-appear at a future date if she wants to! I only managed to be involved in a few of the films she was in as we split up the cams and she was filming mainly schoolgirl movies which she played very well, and lovers of girls in dental braces…well…watch out! Lottie is a girl that can take a damned hard thrashing!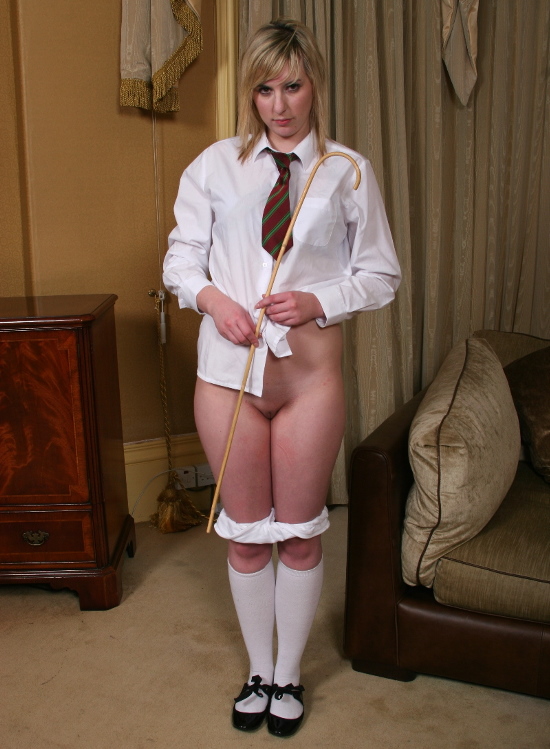 You'll see that she also worked recently at Spanked-in-Uniform (I hadn't realised!!!)
OK, back to the film shoot – I've got you some exclusive images taken with a small camera on set (below) which captures the day, there were 2 other new girls too which I have briefly on this camera including Matron Jan and Colin (Headmaster and Vicar!)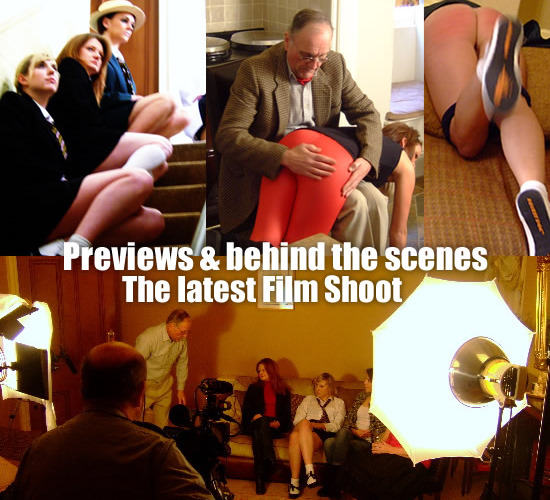 New girl Jenny (left) and Ellen (caned HARD by Matron!) I got to spank Jenny's wonderful jiggly ass later after these pics were taken and luckily I managed to place on the iron cast wiggle-proof underwear to protect me from unwanted boners ruining my professional manner! Can't wait to see it, it was a mad little film with her buttocks in mesmerising form!!! Ellen is a well known lifestyler who practically took cold canings and slipperings from the start, I believe she has already done a 1-2-1 since the film shoot!!! (gasp)
Images below are taken by my little cam on set and won't be found anywhere else, enjoy a fraction of what went on yesterday! Images won't be sharp in some cases as I took them during the filming so no flash!!!! But you get the idea of what happened on set, which I know some of you really like to see what happans on a spanking shoot!
So you'll see multi girl films, schoolgirl movies with Headmaster and matron, domestic and of course, some great catholic Discipline canings with Jodie that I witnessed!!! I have a feeling we are all going to be busy downloading some great stuff when all this content gets edited, all coming to a SPANKPASS or BRITSPANK site near you soon!!!