Ok, something a little different today, sorry I haven't updated my blog sooner, I have been really busy away from writing here and sorting out other stuff online. I'll let you all know about that soon enough but today I wanted to let you see something, as the title suggests, from the past and something bang up to date at Girls Boarding School. It's a massive site with massive archives, as I'm sure you know, and I thought I'd start with something recent, a teen with a wicked plump soft bottom that marks up quite nicely when she's given the cane or a good paddling…and boy does she get it!!!

Meet Elin, bent over and shamed for your viewing pleasure. Members of GBS are able to download oodles of Elin, and she's worth the sign up fee alone, just look at these promo pics and decide for yourselves!!!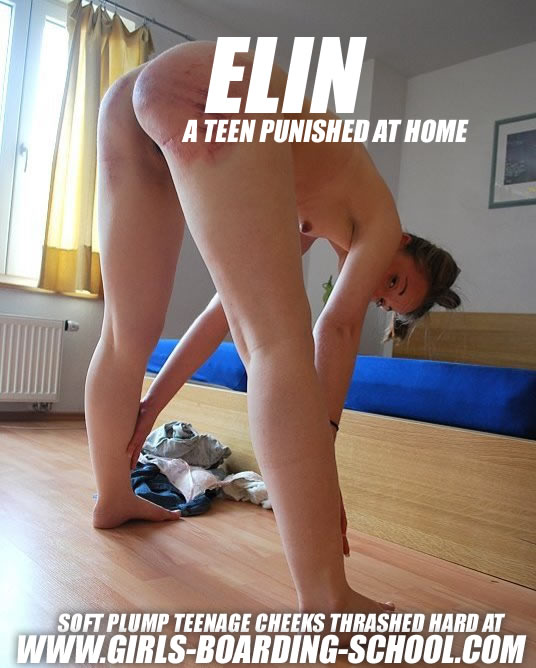 I once went out with a Norwegian girlie called Elin ("in my yoof") and everytime I see or hear that name it brings back nice memories, although this redhead girl wasn't a spanking pain slut, she could and would drink me dry…ah, wherever you are now, Elin….thank you, you thirsty cum slut! LOL! Ohhhh-kay…moving swiftly on and back to the present, enjoy, the pics of "this" Elin below:
Another classic from GBS, and there's tons of her stuff from their archives, is red haired Annie who I reckon must have been one of the most featured residents of this site over the years. I haven't seen her for a few years so am guessing she has probably (sadly) retired, but fear not, they've grabbed shed loads of her stuff and I know some of it is being remastered! Enjoy this "diaper position" legs up caning that Annie got for hiding Tom's consignment of mail order canes….it's a classic little punishment movie and at the bottom I've cut you a free clip! Ladies and gentlemen….Annie!
If you like what you've seen – CHECK OUT MORE HERE
There's no hiding Annie's modesty as her legs are held up in the air, as her bottom is fully exposed and her very real cries of pain fill the room as Tom teaches her a lesson with his new canes!
CLICK HERE FOR THE FREE CANING CLIP
This clip is in Real Player RM Format

What's more – they are currently updating EVERYDAY making the site even better value.
I had a look at this network of site and you'll see that the other sites below are also updating daily…check em out!