Since everyone enjoyed my review of Rosaleen Young recently, I dug out this one again from the same site. I know those who haven't seen this will enjoy it…Chief.
Rosaleen Young – the very name of this most spankable Brit brat invokes memories of a fantastic blistered butt and a never ending torrent of mouthy complaints from the little madam as she gets that most amazing derriere thrashed hard! Well, I don't beleive that this movie has ever been highlighted, yet it's a great 11 minute feast of typical bare bottom brat punishments courtesy of Elizabeth Simpson giving Rosaleen "what for"
This classic comes from FetishFlixx and has been completely remastered for FULL Screen Playback.
So this film I have fetured is called "RED WHITE BLUE" after the colours of the French national flag as Rosaleen plays a French Maid, along with a bright red beret, stripey onion shirt (lol) and a very dodgy French accent!  😀
The basic plot, which if you checkout the 1st clip below, sees Rosaleen loafing about instead of doing her job of cleaning, but worse is to come as this tart is also a thief!!! See below.
Of course, when Elizabeth arrives a little later, she's pretty much pissed off seeing this French slut loafing about and decides to administer some good old fashioned spanking across the tart from across The Channel. However, if you saw where Rosaleen stashed her cash, then she's found out and this only infuriates Elizabeth even more – she's caught a goddamn thief!!!
Now as you'll have seen from the above pics, Rosaleen's deserved thrashing across Elizabeth's knee is only the start for this madam as her continual whining, and denial of any wrongdoing – much like our current sleazebag Members of Parliament in the UK (sorry couldn't help myself with yet MORE revelations of Expense Fiddles etc during these hard pressed economic times) – well, enjoy the OTK clip below as Elizabeth's acid tongue verbally assaults any chatback from Rosaleen and her hand spanks Rosaleen's bared cheeks without mercy, this is no patty cake spanking at all!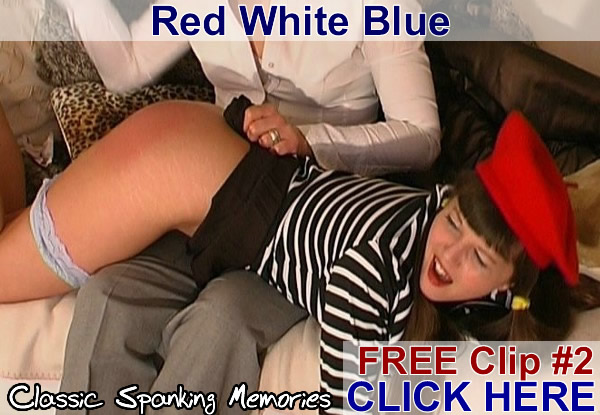 As a final insult to Rosaleen, since she isn't learning her lesson over Simpson's knee, the stolen cash she tried to take is stuffed into her lying mouth to shut her up and she is paddled HARD across her already red buttocks! This is a hard paddling and there are also some very interesting camera angles showing her facial reaction with the bank notes stuffed in her mouth and a nice low upshot of the paddling as the leather paddle crashes down on her bottom! See the pics below: All EXCLUSIVE from this blog
Wow! I can honestly say that if you haven't seen this movie before, then it's a MUST SEE. So who will not like this movie? Apart from the blind, even if you're not keen on FF punishments, when it's Elizabeth and Rosaleen, believe you me, Simpson NEVER holds back and Rosaleen alawys gets a darned hard thrashing when these 2 are involved! I can't believe it's never been promoted before as it's an absoulte gem of a spanking and punishment movie directed by Miss Young herself, you have her cheeky chat back, great costumes and bloody hard punishments!
This movie compliments 16 fully remastered Rosaleen movies in her own section at FETISHFLIXX, consider it a fantastic bonus section along with the 100s of other remastered and often exclusive spanking movies that your membership allows.
CLICK HERE TO PLAY THE FULL MOVIE
Hope you enjoyed this fantastic review of Rosaleen Young's "Red White Blue".
FetishFlixx now has cheaper 30 day memberships and some of the best value 3 and 6 month memberships, making this site well worth a hassle free sign up via trusted agent CCBill!
End of part 2
Back later with part 3 today! Chief.