Thanks to Chross from the Chross blog for this one, I recognised my jacket (below) in this mock up of a particular and fine fetish of his faking up some well known tennis beauties getting a spanking (which I agree with, I believe I did a focus on a few beauties myself in the past!) below is the image, then the tennis star (Elena Dementiava from Russia) and finally the original image: then after all that, thanks to the memory, I have a treat for you all!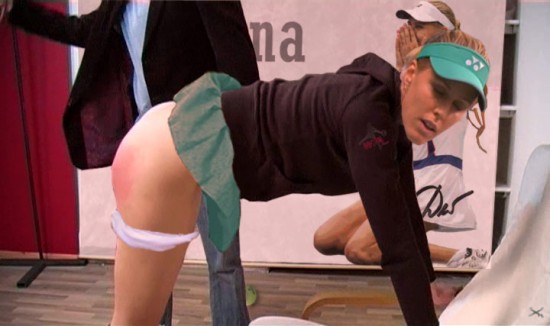 I have to say "fair play" to Chross for taking time, there's some fine Photoshopping work going on there, even the background has been altered! Another work of art! LOL
Right, so what was this film, where is it and what's it about? well, firstly, one of my fave spanking stars, Sara, who is the unlucky girl getting a good hard strapping here. I say "unlucky" – she is quite a minx and can take a damned hard punishment…this film was all about me finding out she had been away gambling what little money I gave her as I discover the bills go unpaid and the bank balances are emptying – time to see if she owns up! CLICK ON THE IMAGE BELOW: I have literally just created this gallery of the film" Lucky Numbers" which can be viewed IN FULL at SpankingDigital.com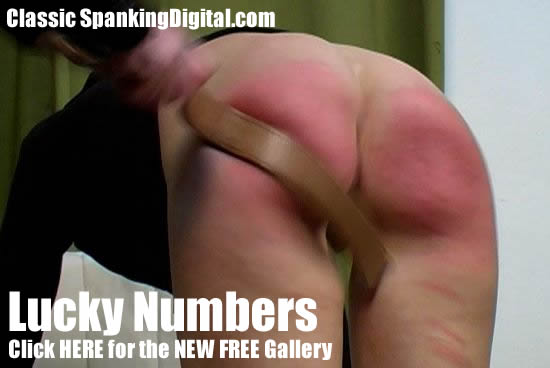 I gave Sara time to come clean, I even mentioned if she preferred any numbers, such as 36, 32 zero etc (this is Zero neighbours on the Roulette table) sara had squandered away our money at the local casino with this foolish strategy! She is deeply ashamed when confronted that I know the full truth and she is given a damned hard strapping, her buttocks, already thrashed from an earlier indiscretion quickly turn dark crimson as the leather bites into her delicate cheeks! Ah, what a punishment, you can see it in full at SPANKINGDIGITAL!
Once again, thanks to Chross for the original fake artwork and making me relive the memory of carrying out the actual punishment!
If any of you prefer, remember that SpankingDigital is part of the 4 SITE SPANKPASS network also! Have a good 'un,  what remains of the weekend, Chief.