many people reported on various blogs last November about the amazing and rare event by FEMEN. Now what I have discovered, since a lot of news was sketchy, is a definitive report with tons of images (255 to be exact) Recreating a remarkable and unique event which took place in The Ukraine.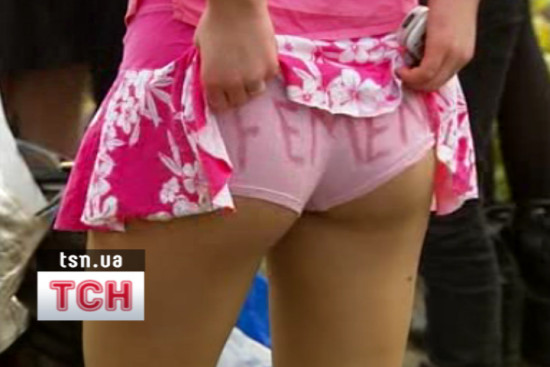 This special bumper Spank Statement was written and researched by Harry and edited by Valdor on that blog and the article is located HERE. The 255 images are hosted by Imageshack, so if you like any, best save them as some may be deemed innapropriate on that free image hosting service!
On a chilly mid-November Monday in 2009, a group of pretty girl students were publicly spanked by three 'teachers' in front of the Ministry of Education in Kiev (Ukraine). The spankings were announced in the local press the Friday before, 13 November 2009, so a heavy press presence was guaranteed. It was all a performance entitled "A-ta-ta", laid on by the Ukrainian women's group FEMEN as part of a protest demonstration.
 Founded in 2008, FEMEN has a growing reputation for mounting creative, distinctive and sexually provocative 'actions' to draw attention to political causes ranging from sex tourism to postponed elections. The focus of "A-ta-ta" was sexual harassment in the universities…
You can see the full original article clearly researched and an amazing read with all those 255 images (!!) at THE SPANK STATEMENT 
Back later with more spanking news and updates, Chief