Odd title? Perhaps. Today I have my long awaited Classic Spanking memories update of Elizabeth Simpson from SPANKMYBOTTOM.com & after that I have included a new spanking model, the wonderful Lottie getting a severe slippering who features heavily at new site THEBAREBOTTOM.com
Ok, us Brits don't ever feature too much of the Paddle (check my update yesterday and it's featured across the cheeks of poor Lila). It's something I like, however, and I hope the guys who are preparing for the next film shoot read this as The Paddle is an awesome instrument of correction and leaves some very visable red welts, perfect for those naughty models who are booked in as "hard" (paddle at the end of the day…hint hint!)
Anyway….Elizabeth took the paddle several times from Miss Smith, and this film, for me, was the most memorable as it had a lot of banter and humour in it as well as some great correctional bare bottom punishments when Elizabeth took the paddle quite hard across her bullet proof globes! So the story is that Elizabeth is sneaking about in Miss Smith's office and she makes a "Discovery" – she finds Miss Smith's stash of Spanking mags erotica – anyone recognize these long lost but cherished classics???
Ah, memories, of a long lost age of going to specialist shops, even watching certain films in those booths…remember that, eh? LOL Good god, I feel like a right pervert…in fact I am, but I digress….*cough*
So Miss Smith catches Elizabeth rooting through her stuff, here is an indication of the "banter" between these two…for our American chums…"dirty old bint" is a rather derogatory term!!  😀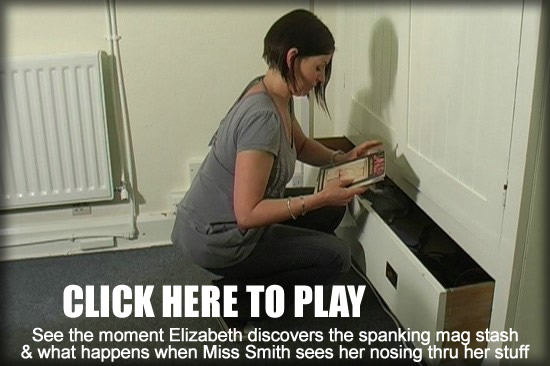 OK, check out some screen grabs from this movie below, I'm sure some of you will remember this well, to others who haven't seen much of Elizabeth's films…where have you been hiding? Enjoy!
The below free clip contains some scenes of when Elizabeth's smiles and attitude are tested as the paddle is used across her wide behind! Would she ever learn? Of course not which is why this thrashing went on and on….well, if she had to answer back, wjat would she expect? This is definite cold shower rating material and is high on the Trouser Arousal level, but as Elizabeth reads my blog, I'd best keep schtumm… heh heh! I'm sure you will enjoy this though!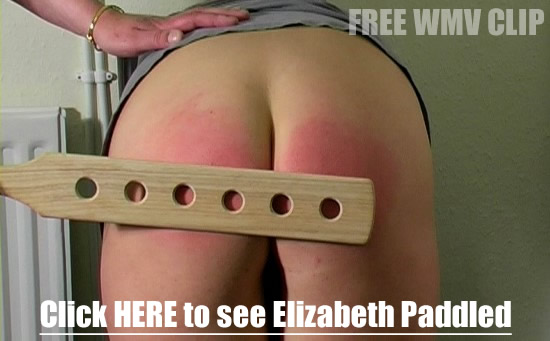 This was one of at least 3 or 4 movies shot in the same period where Elizabeth ensured a good paddling, I think Miss Smith had just received this wicked instrument and was impressed, as were we, by the power and strength of the whacks it produced, be under no illusions, this punishment was very painful!!!
Also remember that SpankMyBottom is part of the top value 4 SITE SPANKPASS
***************************************************
I hope you enjoyed my Classic Spanking Memories/Film Review today. I had to just include new girl, Lottie, who has a fantastic arse which reminds me of  a younger Elizabeth, able to take a darned hard thrashing and of course used to severe punishment as she is a real life spanko, getting regular discipline which she admits she needs, by her partner in private (good girl!)
Well, here we see Lottie disciplined by my favourite instrument of correction, The Slipper! I'm sure you all know that I am quite deadly with it, as "Er Indoors" knows all too well when she steps out of line…it's there in the bedroom waiting….just waiting for the next indiscretion!!! Anyway…digressing again *sigh*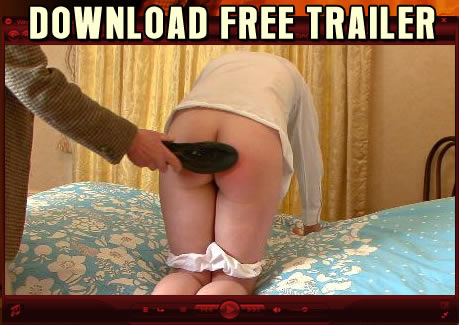 The above gallery and free clip is taken from the brand new movie EXCLUSIVE to THEBAREBOTTOM and there are plenty more films (again not seen anywhere else) starring naughty Lottie who I have to say I'm impressed with taking some hard punishments on film!
Hope you enjoyed these, and thanks to those who wrote to me thanking me for letting you all know about THEBAREBOTTOM as early as possible, it's a great little site, eh? I'm looking forward to what's coming out next!!!
Regards, Chief