Un f*cking believable! I smirked a bit when I had seen others had lost their data and I thought I was safe in the knowledge that my "drafts" would save me however just as I had nearly finished this update, something happened with my mouse and it deleted the whole damned post, draft n all, how F*CKING infuriating….GRRRRRRRR! Are there gremlins around pissing about with us spanking bloggers???
So now I have to think about what I wrote – the images I uploaded and sorry to say it won't be as interesting as I had spent over an hour typing on this, thinking about it and seriously I'm so fucking angry!!!!!!!!!

OK, deep breath, this update was aboput a beauty called Sara who stars at Dutch Mike's REAL LIFE SPANKINGS and the SPANKED IN UNIFORM sites as well as Brit beauty Leia-Ann Wood who I saw recently on the site looking stunning. As Britain and Holland are not far apart, it's easy for the girls to pop over onto the continent in Amsterdam, do their bit and fly back later (sitting uncomfortably on the planes!)
Sara is a stunning girl, very beautiful and the sort that I know uses her beauty to try and get her way, well, it doesn't work for our striped Polo Shirt meister as she disrupts the film shoot at Spanked in Uniform with her cheeky behaviour and the phone going off…Mike isn't happy with her attitude and takes her over his knee later for a good schpannnking and films it for REAL LIFE SPANKINGS! Check out these images from the movie below:
The Shoot that Sara disrupted was the French Maid uniform niche of Birchrod Inn(one of the many niches covering Air Stewardesses, Police, Nurses Schoolgirls etc that SPANKED IN UNIFORM features)
The Birchrod Inn is a small bed and breakfast located in the countryside. When girls from the hotel schools, other hotels or personal maids do not perform their maid duties properly, they are sent to the Birchrod Inn to get a few days training which includes strict discipline and plenty of sore red bottoms care of Mike.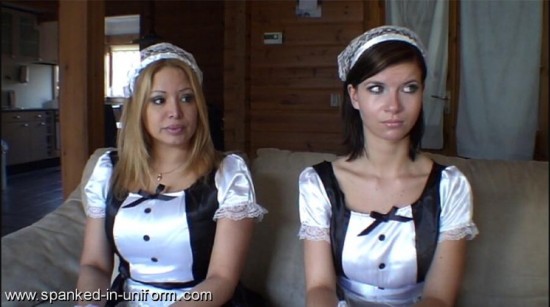 Two very lazy and disobedient personal maids (one you can see is Sara on the right above) from a well known Mistress were sent to Mike for some special training. Positioning, presenting their bottoms, how to serve drinks properly, how to hold an astray etc would all be covered. They did not do very well so they were soon over Mike's knee getting a sound spanking. Then they were upstairs to clean the showers with toothbrushes as punishment. Once again they did not obey so early that evening they were feeling very sorry for themselves as they lay bare bottomed over the dinner table getting a sound birching! Check out the images from this movie below: Note the girls being used as furniture bent over!!!
Now remember that I mentioned Leia-Ann Wood earlier? Well, Just check her out here in a similar situation at the Birchwood Residence….she's made for this site, eh?
Well, check out one of the latest uniform updates that just happens to star Leia-Ann and it's a good un…seriously, if I was a patient, I'd pay good money to be ill at this hospital, LOL! 

St. Elizabeth Private Hospital is a place where the nurses and trainees know very well what a sore well spanked bottom feels like. Every doctor will  not hesitate turning a naughty nurse over his or her knee if she doesn't do her work properly or is naughty….and naughty they are! The nurses have to wear a white and red sexy uniform which is short so their bottoms can be bared quickly when correction is required.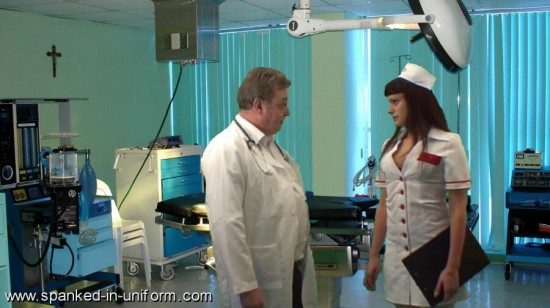 Nurse Leia was given the order to give Mr Brown a bed bath but Mr Brown, being a spanker, couldn't resist giving her delightful bottom a few playful smacks. Leia stormed out without giving him his bed bath. When Dr Johnson heard about it he marched Leia back to Mr Brown's room and gave her a good spanking across his knee and a good birching bent over the table right in front of Mr Brown to change her attitude. Now that's patient care for you!!!!!!
OK, apologies that I I haven't written more on this but I have been massively delayed by my own incompetence and I have news of an offer at SPANKINGONLINE (click on the LINK and you'll see it HERE)
In the meantime, enjoy REAL-LIFE-SPANKINGS & SPANKED-IN-UNIFORM