WARNING: This is a bumper FREE Image & Movie Update of the cutest Japanese girls thrashed in the most adorable uniforms at home and at school. DO NOT VIEW if easily aroused by the sight of tearful girls in various states of undress being spanked on their bare red bottoms.
I actually had a mail recently asking me why I don't feature the Japanese girls as much, well, I think I do, but this person was adamant that I was deserting showing cute Japanese girls getting spanked! "Au contraire!" I adore seeing their tight japanese bottom getting thrashed, usually with a hand or, as is quite popular at CutieSpankee – the dreaded paddle!!!
Well, here's a bumper update that I suggest you view in a darkened private room, for…ahem…better viewing!
Below is the very latest update out now, and just look at their cute little uniforms, here we see an angry friend spanking her badminton partner for not bringing her short skirt so they can't play the game, I rather feel it's an excuse to get me all hot and bothered watching 5ft Japanese cuties giving each other a darned good thrashing across their naked butts! Joy!!!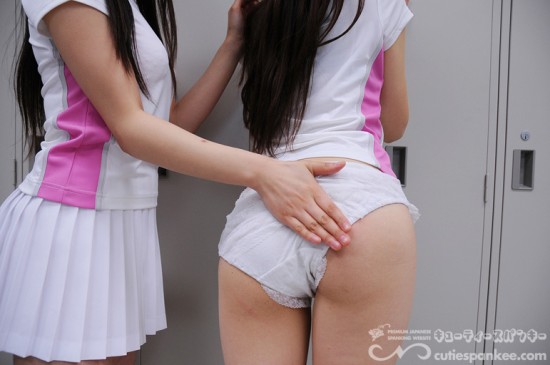 Taken from the ongoing "Head Girl's Trouble" series of movies
As you will probably know, Cutiespankee covers just about every schoolgirl scenario, but there is also a strong workplace and Home Domestic Discipline section which continues to amaze and baffle the visual senses with fantastic costumes, beautiful photography, and at last all the newer films are encoded at a far higher bit rate giving us all a far clearer playback resolution!
Seriously, if there was an award for best dressed/partially undressed girls then this site would win hands down! (along with the knickers)
See for yourself as I bring you a collection of domestic updates this past year that you may have missed (Mr D of Bracknell, I hope you're satisfied! heh heh) I'VE ALSO GOT YOU SOME VARIOUS MOVIE CLIPS WHICH MAINLY HAVE A SCHOOLGIRL THEME for those that feel I might be not catering to the best dressed and undressed schoolgirls getting spanked on the Internet!
Don't forget to check out the HOME PAGE HERE as it contains bonus free content as well as one of the cheapest sign ups to the largest archive of Japanese Spanking anywhere!!! I hope you're all having a good weekend, I'm about to kick the TV in as my useless football team are facing relegation and oblivion to the third tier of English League Football (the utter shame of it).
Angrily….
Chief