Hi there! Below are the very latest updates from Clare Fonda's Sites and I've (of course) got you some EXCLUSIVE 1st show movie clips as well!
The spanking soap opera that is MYSPANKINGROOMMATE.com continues back to Chloe Elise who is trying to persuade one of my fave US Spanking stars, Snow Mercy, to attend a spanking session and help spank Madison Martin at a forthcoming party but Snow is very drunk and doesn't want to do the gig with her and she's pissed off so takes advantage of Snow's drunken state. Normally this amazonian tall strong beauty would be able to wrestle Chloe to the ground and sort her out as we know all too well from previous episodes, but I just *LOVE* it when she's on the receiving end, and Clare gives us another excuse to see Snow Mercy bent over, pants down getting a bare arsed spanking and thrashing with a painful looking hairbrush and paddle!
That's some sight, eh? A Fully grown woman like Miss Mercy taken over the knee of a cute brat nearly half her size. I am seriously becoming addicted to looking for updates of Snow Mercy getting it lately…this has helped soothe my withdrawals!
Thanks to MySpankingRoomMate!
Wanted to see what will happen at the Party? See below! 😀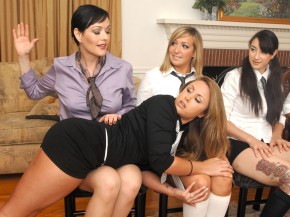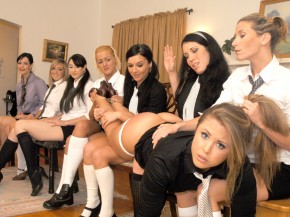 I have a stinking cold (my first this year so haven't done too badly I guess) but even in my severely weakened "Man Flu" state, I had severe wood watching Clare giving her new whore a work out and it's a return after nearly 5 years for this adorable painslut at Spankedcallgirls.com
Welcome back Miss Alice Wonder, who I believe was in EE1 at GirlSpanksGirl
Clare inspects her at one of those "classy motels" (LOL) you might find such naughty girls for hire and she's got a good paying client in mind for Alice, but he hates a girl covered in tacky tatts so a quick inspection is needed! Now the odd tatt, yup, we all know girls are like sheep and will defile their bodies (I personally can't stand seeing a heavily tattooed girl, actually, if presented over MY knee, it just infuriates me and I'll spank them far harder if I see a girl with ridiculous tattoos covering her arms, legs, neck etc (why, girls? why defile yourselves this way?) Anyway, I am digressing…
Alice got herself a new tatt on her foot which is sure to infuriate Clare…all is going well with the inspection, even a delightfully refreshing amount of fuzz, making a nice change to seeing shaven pussies getting people like me all excited….and then….
Oh dear! You can see the special "footage" (groan, sorry about that) of this incident below!
Alice is one of those girls whose bottom marks up beautifully as you'll have seen fromthe images above, her bottom turns a fiery red after being over clare's knee! Check out my 2nd FREE Clip of Momma Clare starting to get mean on Alice's Ass! (love the dialogue about the tattoo as well…LOL)
Finally, in case you missed my last update of GirlSpanksGirl – there is the ongoing long play spanking movie called Aunt Bella (yay, that's Snow mercy again) and I showed her getting a good thrashing off Clare, well, this movie also stars delicious brats Lily Anna and a newbie to this site, Alicia Panettiere and in this wobbling teen buttock-fest you'll pop your eye stalks like I did when you see these girls over Snow and Clare's knees getting a proper grown up thrashing! Pictures speak louder than my ramblings, check out these images, which I think have NOT been shown anywhere else (apologies if they have) – Don't write in to complian, just get off on these images and sign up to see it all (beware: Trouser Arousal settings at these sites are dangerously high!!!)

Lily Anna and Alicia snivel and cry in "Aunt Bella"
CLICK HERE TO SEE MORE FROM AUNT BELLA