Here's a little fun and also a severe disciplinary message when 2 Girls break a rather daft school rule when they are caught over-eating!

Girls! Beware sneaking too much delicious chocolate pudding!!!
Gluttony is NOT tolerated at this school under Rule 47 b) sub paragraph ii). Where it states that "Eating far too much Pudding during Lunchtime" results in disciplinary measures. The punishment? A bare bottom slippering!!! See the brand new FREE gallery below.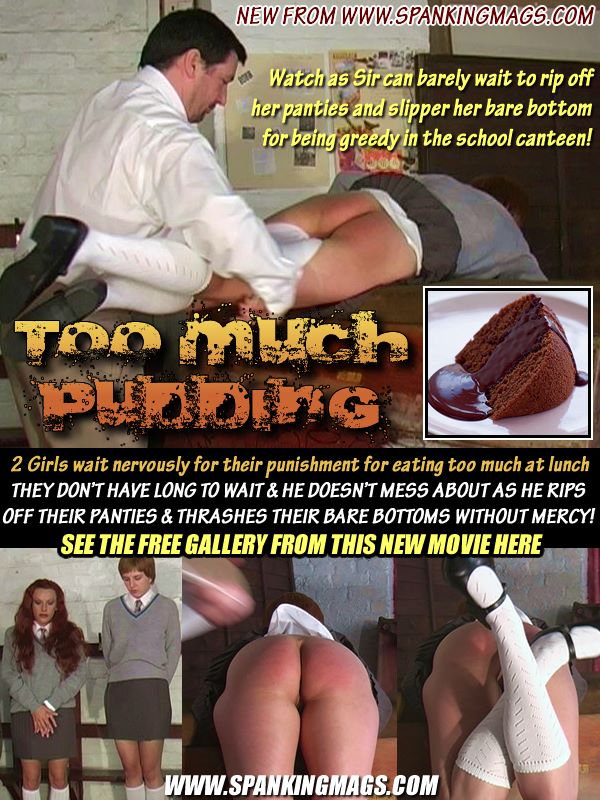 Hey! Who is that handsome fella? Yup, another slippering from the Chief…I have to say it was an honour to slipper Niki Flynn and tiny Shannon who had such a small arse it was difficult to aim correctly (I somehow did) …this movie has been remastered and re edited for the very latest e-Zine update for SPANKINGMAGS and many of you will know that my favourite instrument of correction is….The Slipper! I must say, I'm rather deadly with it, as the missus (Er Indoors) will let you know!
Now, as this is a "Chief" exclusive slippering, I've also got you an EXCLUSIVE slippering clip, the moment that I actually couldn't wait to get poor Niki's knickers off, if you play this clip, you'll get to hear me literally tear them off her (and the sound of her surprise!!! ) This is a no nonsense hard slippering movie as you'll see below!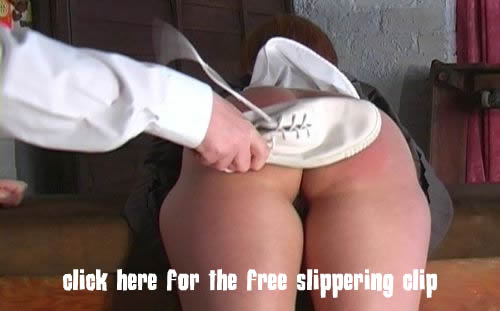 You can view and download the FULL Film HERE