I'm ill, I'm not feeling well, oh…did I say I'm not my usual tip top self? On top of that, as my nose dribbles onto my keyboard (euwwww!) I saw a really disturbing DVD last night (4th Kind) which is about supposed alien abduction accounts from the town of Nome in Alaska (I'm guessing the tourist council of Nome did NOT fully endorse this movie late last year! LOL) Anyway, as I was alone, in my rural location, I had to admit to being a little freaked myself, feeling vulnerable. There's an account of an owl, and an evil looking owl at that, that preceded abductees accounts before they were taken (in pure terror I might add) they say the owl watches them through the window, it can be there for an age, then it's inside then it smiles, and they then know it's not an owl etc etc (you never get to see the aliens that follow after this event but they get inside your head and they utterly terrifying, sending those that recount it under hypnosis close to insane as the repressed memories are brought back.) Anyway, watching it on my own was disturbing, even if I now think it's all a crock of shit, better lighten this up pronto! Here's a disturbing image of the owl below in case you didn't know~:
OK, you came here for spanking, not to be scared shitless or listen to me ramble on…so apologies! 😉
I have a treat for you as there is a new 3 girl punishment film at SLUTSPANKING and it stars Lottie Kinsade, Ellen and a 1st time newbie to spanking, a friend of Jodie's, who I think is called Jenny. She's the cute one who looks a little like Posh Spice, a very wobblesome bottom that marked up beautifully, and she was so wonderfully submissive, apologising…awww!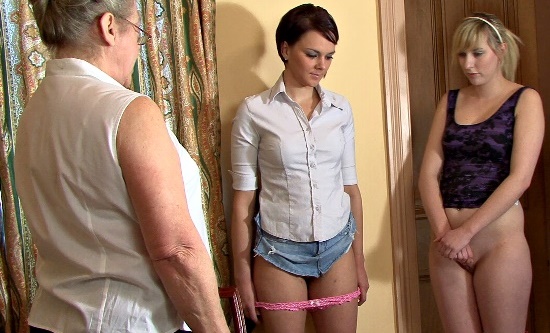 3 Head girls are hauled before the Headmistress after being caught out of school in the town getting drunk & acting like slags! (a very derogatory word for a wanton  slut!) Miss is absolutely livid with all 3 of the them! So we see each of them bared in front of each other as they are forced to watch the various punishments including a damned hard spanking slippering and caning across their bare sore bottoms! Check out my images from this movie below which are the 1st to be shown ANYWHERE at time of writing!
******************************************
Before I go, I just got the latest news update from Amber, I haven't seen the movie yet, but looking at these images of Amber and her "Daddy" spanking her over his knee with those cute striped panties half dragged down over her yummy butt should be enough to let us know that another cold shower is required if viewing such material!!! 😀
All the latest updates and MORE of Amber HERE
******************************************
Ok, as I might have "alienated" (groan what a crappy pun) my readship from Nome, Alaska (last count 3, it used to be 4 but this person mysteriously disappeared) "OH STOP IT, Chief!"
Okay okay…I decided to lighten the mood from ol' Owl Eyes and found this random incredibly hilarious and uplifting "Powder Puff" Cheerleader presentation from Youtube (I promise I wasn't checking out cheerleaders, though maybe I should?)
In case my non European readers don't understand, "Powder puff" Cheerleading is done by the Guys, it can be very funny, I urge you all to see this, these guys worked hard at it and check out the reaction from the crowd, genuine fun and uplifting!!! Enjoy!