I was perusing Clare's member area of Spankedcallgirls.com (as you do) and spotted the latest movie updates which today I have featured Clare herself. Nothing gets me going more than seeing a proper Domme getting a good dose of her own medicine and whoring madame "Momma Clare" gets it good from handsome James, one of her best clients who ensures that Clare doesn't "enjoy" being over his lap too much with a good old fashioned mouth soaping to cleanse her potty mouth!
Images below are the story so far (they are HQ pics of this movie so far) and then I have included a totally exclusive movie clip only available here with some nice screen shots of the mouth soaping scenes (and check out Clare's amazing rump, all reddened and sore!!!)
OK, the below movie clip was yesterday's update so it's bang up to date! As I said earlier, feast your eyes on Clare's amazing arse, which jiggles provocatively, a proper woman's well spanked bottom that puts many girls half her age to shame!!!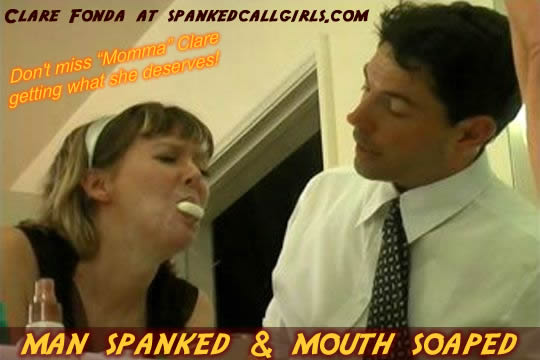 Click image above to view this exclusive mouth soaping wmv clip
You can view the FULL Length Clare Fonda Spanking movie HERE
Now of course, Clare's girls are often spanked by her own hand and the angry clients that wish to instill some discipline into these lazy but very beautiful sluts, well, this week there is also the ongoing update of Domestic "in house" Discipline carried out by one of my fave ladies, Snow Mercy, giving a good hard spanking to genuinely naughty porn starlet and gorgeous spanko (who was another outstanding star of Exclusive Education 4) – I'm talking about Ashli Orion.
Recap: In this part of "Exclusive Education 4" the girls take part in a Spelling Bee contest
incl. spankings all round with the hand & hairbrush incl teacher Snow Mercy getting it!
Don't be fooled by her puppy dog eyes, this girl is very VERY naughty…does that make it even hornier to watch her getting thrashed? Mmm, I'll let you decide from some latest images below!!!
Actually, just uploading those images has got me worked up, so much so I think Ashli and Snow deserve better coverage so I'll update my SpankingNews blog today with an exclusive  clip and a few more images. (Give me time to prepare it though, eh?)
Ok, as most of you all know, Clare Fonda's network, which includes Spankedcallgirls can also be viewed by her very popular Clare Fonda pass giving you access with one set of codes and full access for a fraction of the combined cost of all her sites (I always recommend this being a member myself and it's THE best way to view her many and varied site updates!)