Alrighty tthen, I'm a little pished cos I've had too much vino but here are some classics that I hope you enjoy! I'm sure I'll post here some point this weekend before I collapse, but feel free to continue wishing me a happy St George's day! heh heh
This is a great punishment movie classic from Girls Boarding School with one of my all time fave gairls there (Lisa) which at nearly 1000kbs playback is a nice and clear resolution. You can see for yourself with the 2 FREE Clips I have provided below along with some stills from the movie so you'll appreciate the bare bottom story. Trouser arousal ratings are at MAX as it features Polish girl Lisa with a cracking lithe body and a perfect snivelling mideset! Watching her makes me "ache!" Some of you may know that I adore some of the East European girls we're lucky enough to get to punish – Lisa certainly doesn't let us down.
The Story: Lisa was told to clear up the kitchen but she ignores this & selfishly enjoys herself by the pool instead. Come sundown, and return home from work, her partner sees that she's done absolutely nothing! He fetches his cane and waits for her to come in as the sun starts to set.
See the clip below of the first part of her caning whilst doing the washing up
This is only the start of what is to come as she really does get humiliated. Imagine cleaning the floor on your bare knees, bottom exposed and the cane biting into your exposed cheeks! Check the pics below of the story in brief!
I love the way she snivels as she is pursued around the hard marble kitchen floor, an excellent punishment movie! Check out the second clip below as Lisa tries to clean the floor on hands and knees whilst trying to avoid the cane! Good luck girl, Mr Lewis hardly ever misses!!!
I'm not sure if this movie has been shown in such detail before but if you liked what you saw here, take a look at the FREE Tour Pages of Girls Boarding School and decide for yourself.
I decided to let you check out some older content I had from Spanked Cutie. This femdom punishment caught my eye so I watched the entire movie with glass of rioja about an hour ago! Although Tom's missus Sophie from GBS stars in over 30 films, there is also some great content they get in. This Thief film was filmed in Budapest as I spied the newspaper "Pesterzsebet" on the cabinet! Yeah – I wondered what language they were speaking, but you get to understand EVERYTHING that is going on! There's plenty of hard hitting and red welted bottom action..

Sadly I don't know their names, but the dark haired girl is caught stealing cash from the cupboard and the striking blonde thrashes the living daylights out of her with a horrible looking tawse! Check out the EXCLUSIVE FREE Clip that I cut myself for you (below)
There are also bonus pics and images from this movie so you get to see what it's about!
Doesn't she cry beautifully? & check out those quivering buttocks!
FULL MOVIE IS AVAILABLE HERE
It got me all of a quiver watching the entire movie, oh my..LOL! I quite like seeing these waif like East Euro teens thrashed, see the images below.
There are also some higher res photo stills taken from the movie below.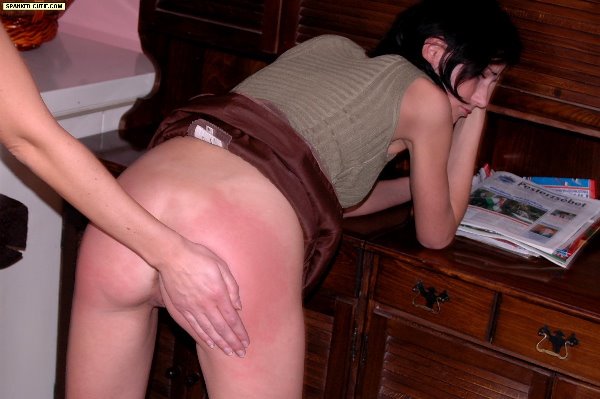 Finally, I wanted to remind you of this naughty religious nutter spanking classic from SpankingOnline delves into the murky world of catholic discipline of errant females as recounted by our models with this fantastic classic. I loved the set, the costumes, the film work and the image set which was perfect. Check this out below plus a couple of Exclusive pics courtesy of SpankingBlogg

Check out the exclusive images below (reduced in size from the originals)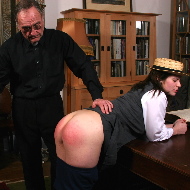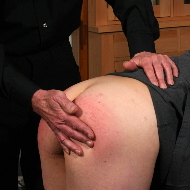 Yes, that's a huge bible opened at Ezekiel from the Old Testament with some damning chapters of retribution! Check out more images available from the very latest update at  SpankingOnline.com
OK, have a great weekend everyone! I'm rather worse for wear… 😉 Chief