Ah, the Gee-Gees – Horse racing, the sport of men and kings – I must admit I do like a little bet every now and then, and I actually refrained from mentioning anything about the recent Cheltenham Gold Cup, but this race in England is one of the biggest in the world and still the toughest for any horse.
So tommorow at Aintree Racecourse the 2010 Grand National takes place, I would dearly love to be there in person, you may hate, be disinterested, or not care about horse racing but being there withthe crowd is an exhilerating experience. It's a steeple chase! This race is tough, something like 30 fences over 4 miles. Horses can die, the Becher's Brook fence is the infamous one, if you fall here…anything can happen!  Just take a look at how high last years's winner "Mon Mome" in with jockey Liam Treadwell in green.
OK, I'm getting moist at the prospect of this race, I never divulge my tips, but I will be wagering on a horse (each way). However, it's a lottery with those fences, anything can happen. Do I sound excited? LOL
********************************************
It would be remiss of me to let you not know what I have also been viewing on my laptop recently (in my darkened study – between checking the form on the horses, I have been checking out these fine fillies too heh heh)
From the Real Life Stable (enough of the puns FFS!) in Amsterdam Mike is a very lucky fella as I remember this beauty very well and one of my colleagues beat me to it about her first spanking report (damn you Spank Master) you can check out his post here. Mike recalled how he had been approached by one of Holland's top porn stars, she soon submitted herself to more "schhhhpaaannnnnkings" and what we have below is one of his latest moving updates at REAL LIFE SPANKINGS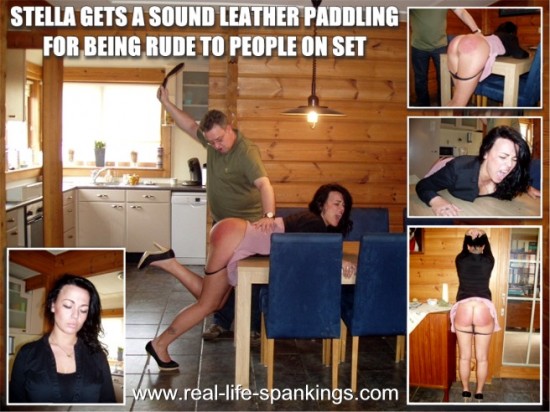 Stella is back, but her rudeness to everyone has been legendary as she reported from her "On Set antics at a TV studio". This  riles Mike who decides to teach this stuck up porno madam just how hard his "scchhpaaankings" can be as she is given the strap across her delicious derriere! Some cornertime with her big naughty cheeks quivering and hanging there in shame from her severest punishment to date satisfies Mike who won't tolerate disruptive behaviour – shame on her!
Mike seems to be into spanking and paddling voluptuous arses on REAL LIFE SPANKINGS and I'm not one to complain, far from it, if you see the movies you'll be hypnotised by the jiggling butts wobbling and turning a beautiful dark red, please only watch this in private though, I'd hate for you guys to be – ahem – disturbed if you were viewing these delicious butts pummelled hard! 2 Examples below of resident Dutch naughty girl, Julie (what an arse…mm mmm) followed by Romyna…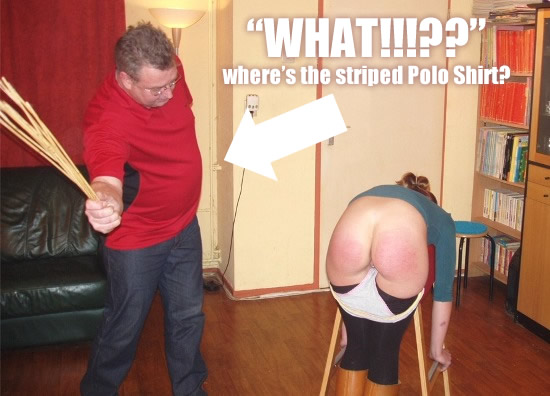 Please note – Mike is NOT wearing a striped Polo Shirt!!! I am writing in to complain 😀
This is what he had to say about Julie's faking an illness to get off work!
"Young Julie decided to go out and have fun which is ok BUT the little madam woke up the next morning and decided to call in sick at work even though she wasn't. I decided a sound birching over our trestle was needed. Soon she was laying over our trestle feeling the sting of my trusty old birchrod explode across her naughty bottom. Then I sent her straight to her boss to apologize."
…and here is Romyna. Now I'm not a prude, far from it, but I do get rather annoyed when I see girls with "Playboy bunny" tatts on their arse cheeks, it only serves to make me spank them harder for defiling themselves in this thoughtless way! Why not have a tatt of a sheep, you foolish girls, as that's wehat you seen to be having the same damned tattoo on a butt cheek (gosh!) *rant over* Still, Romyna is very cute and I'd have to spank her in my cast iron underpants for protection. Here -Mike (who continues to avoid wearing a striped shirt,  NO!!!!!) ensures Romyna's arse turns as dark red as his shirt with the help of some nasty looking painful birchy things!
SEE ALL THE GIRLS THRASHED IN THE LATEST UPDATES HERE

At Mike's specialist Spanked In Uniform site the girls from England keep popping over and there's a special double update from me as I had missed out showing you Leia Ann Wood in a cracking schoolgirl movie from the St Catherine's School section, well, I've also added Amelia Jane Rutherford's very latest offering from the Birchrod Inn section for training naughty Hotel Maids. Ladies and gentlemen, hang onto your trousers and gussets for a very exciting update from me today!!!
Young Amelia is a spoiled little rich girl with a serious attitude problem. Her father, Lord Rutherford, wants her to learn what life is like at the bottom so He has her work for a few weeks as a maid at one of his hotels. The little madam was very clumsy so her manageress sent her to the Birchrod Inn for training for a few days. During cleaning the little madam broke a vase and she got a sound OTK spanking. An hour later she tried to run away but was caught and she got a sound leather paddling over the back of the sofa. During dinner she had to stand against the wall, her well spanked red bottom bare for all the guests to see!
CLICK HERE TO VIEW AMELIA'S LATEST SPANKALICIOUS MOVIE
& finally, as promised, Leia Ann's last movie update was in school uniform (seriously, doesn't she look lovely in that authentic gear?).
The Headmaster of St. Catherines anounced in assembly that the wearing of jewelry and make-up is now strictly forbidden and any girl breaking the new rule will be severely punished. Leia decided to wear jewelry the next day and was caught by Miss Williams who took her straight to the dreaded punishment room. After a good scolding Leia was spanked by Miss Williams and the Headmaster and she also got a sound bare bottom tawsing. The next assembly she was on stage showing her bare sore red bottom to the whole school as a warning to the other girls.
SEE THE FULL MOVIE ONLY AT THIS LINK HERE!
These 2 girls feature heavily and make a visit to this site well worthwhile!!! Wow!

********************************************
Oh, I nearly forgot to let you know about a great interview that Dave at CherryRedReport had with Mike!
CLICK HERE TO READ DAVE'S FANTASTIC INTERVIEW
Have a great weekend everyone! I've got a great weekend's sporting events to look forward to, fine public beverage establishments to partake of and whether it's the horse racing or hoping my useless football team can somehow win away at Watford to avoid their humbling relegation (COME ON ARGYLE FFS!!!!) I have a weekend of escapism promised with the springlike weather here cheering me up no end…(a chance to enjoy when others let you down), schpannkings and Special Offers. HAVE A GOOD 'UN!