Not that this spanking blog condones the use of SEVERE Spanking and caning Discipline (cough cough!), if only the poor girls shivering with fear, bottoms bared here today were Icelandic blonde bimbos, but alas, they are not…
So, as our great country is brought to a stop by a hovering volcanic cloud ready to cause havoc to us Brits….here's the very latest update coming out at CanedSchoolgirls and it's a joy to announce the sadistic Miss Valkerie has been lovingly remastered with tons of new video images and HQ pics as well as the actual movie, this is the best film by far I have watched for cruelty and the severity of the cane inflicted on poor Sarah's buttocks below!
First, enjoy the amazing HQ images I've hosted in a new gallery…
I've watched the whole remastered movie and it's a Back to SEVERE Basics in this marvellous film! Sarah is a unique girl that can take a hell of a punishment and not many girls could take this sort of caning without breaking down in tears, check these exclusive first show images from the movie:
Just check out the concentration and pure joy that Miss Valkerie relishes when wielding the cane, she is surely one of the most fearsome and most beautiful Dommes ever to have been filmed giving such severe punishments? I had often fantasized about seeing her stripped and gagged then humiliated with a bare bottom caning, but als, she is no switch or sub so this would never happen…but it doesn't stop me from thinking about it 😉
Below you will see part of the ferocious caning, this scene is milder than many in the film, I think members of CanedSchoolgirls deserve to see it in full for themselves!
As it is Valkerie Appreciation Day, in case you haven't seen this Free Gallery (another set of beautiful images) I had this made earlier, not knowing that the above update was coming out…SpankingOnline has a load of her movies in their archives, so if you were thinking of checking out this site, there's another incentive and also, there's a great deal advertised on the HOME PAGE HERE
This poor girl suffered with the strap by Miss Valkerie
(she didn't do mild or patty cake spankings!)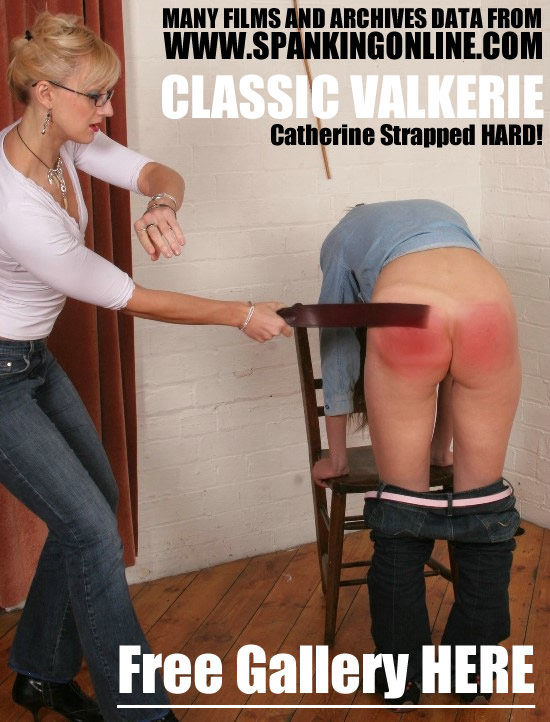 This is Chief, hunkering down under the blanket of volcanic ash 😀