Dang! I get so behind on my updates, there never seems to be enough time…so I thought I'd better put together what I have found of Clare's sites this week in one convenient post. So without waffling, I'll take you all to the latest episode from Clare's spanking soap opera that is MY SPANKING ROOM MATE where this week a lust object of mine appears that I hope will also be making a return to Clare's summer Exclusive Education series, and that is the very sexy Sarah Faye
In this episode, Sarah visits boyfriend James's office to nag him and like so many poor blokes I know, he is fed up and deaf in one ear, so suggests breaking up with her might be "best"! OK, Miss Faye is a cracker, just look at her, she might have a few too many tatts which is not always my thing but she is so incredibly sexy and I think her tattoos add to her sexual allure anyway – you just know she'd drain you dry in bed – so to break up with her, especially when she's a hungry wanton animal in bed and has the MOST spankable ass around is difficult to turn down. So when Sarah suggests a bare bottom spanking can reform her, James jumps at the chance but he spanks her so hard that she is shocked and can't handle his "retribution" so agrees they should break up! Well, I hope it was worth it, James…I'm queuing up for a nagging myself and wouldn't care as long as Sarah would get over my lap and allow her scrumptious bare ass to feel my hand do its work! (yes, I have "raging wood" as I type this, LOL)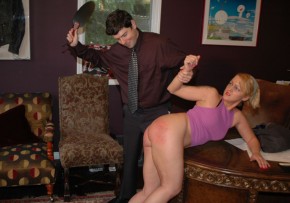 Sarah Faye's bouncing ass glows after a proper old fashioned spanking!
This movie and all the epriodes of this spanking soap opera with over 30 of the most popular spanking models can be viewed in full HERE!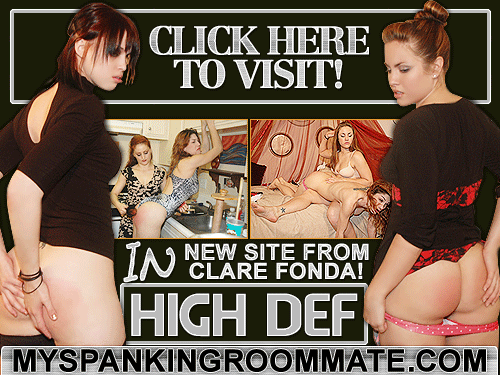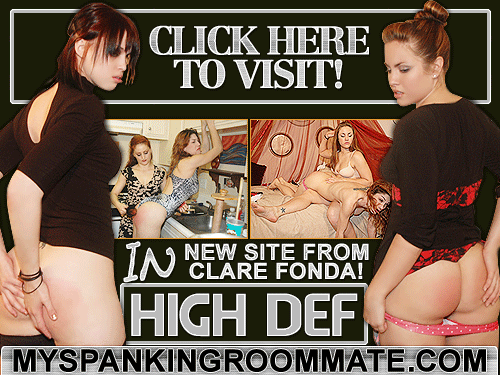 I'm not sure if I prefer seeing Sarah Faye (who I have only seen with blonde hair) or her brunette look but she looks f*cking hot in this latest update at Clare's fun spanking and diaper wearing site – her pet project called NAUGHTY DIAPER GIRLS
Take a look at the stories featured and of course…Sarah who gets a butt plug shoved up her and is forced to wear the diaper (or nappy as we call them in the UK) to keep the naughty plug in place! Most spanking models that work for Clare now feature at this site and love playing baby and being treated like silly girls…adding to the humiliation and submission). If you haven't seen this site, check it out as it's well worth a look!
One of my all time fave sites is GIRLSPANKSGIRL and there are some great sub sections including the long play classics and hour long movies like the Exclusive Education series or the latest like Aunt Bella (which I've featured in the past) however, there are also some sexy girl/girl sections where the girls get genuinely turned on and spank each other, playing with each other and more! It's a more sensual and sexual side which STILL involves plenty of bare bottom spankings – this feature here is a little different as it comes from the vast archives which I rooted through so I doubt many will have seen these great pics outside of the members area before! I hope you enjoy! All usual "Trouser Arousal" warnings of course apply when viewing any of Clare's naughty sites!
Here's what got me going when I was checking out these gorgeous tarts!!!



& Finally today from Spanked Sweeties is the very latest double update starring Boston babe Sarah Gregory (who now has her own site – more later). Now I have spent many months in my past and know a few people from that area still, I was last there a few years ago, and I still love Boston, the Tea Parties are long gone (damn you colonial fools) but it's a great city with some semblance of history and I've been lucky enough to be there in The Fall, experience a very cold winter and enjoy the sunshine of the summers and the stunning Cape Cod…anyway, I'm waffling, what I'm trying to say is that Miss Gregory is another fine export that Boston can be proud of…check out Sarah enacting out some of her fantasies that Spanked Sweeties does so well in interview and good hard spanking films….these are family orientated when Sarah was growing up…I'd have spanked her for wearing those yellow shoes too!!!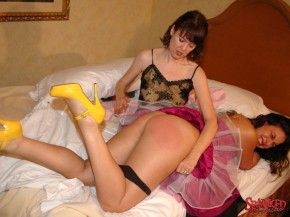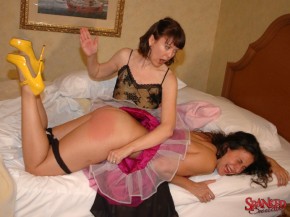 Dirty stop out Sarah gets a red bottom thrashing from Momma Clare
Want to see Miss Gregory in her pyjamas? Yes, I know, "do bears shit in woods?" Fair enough…it's also good to see Sarah given a good man spanking as her pyjama bottoms are removed to complete this home punishment fantasy!
Now all of the above sites I've featured today from Clare's network can be viewed with her ClareFondaPASS which is the best value and there's even more sites that I haven't highlighted today (I'm shagged…sorry) but for a few Bucks more you get the BEST value being able to view all her sites with one set of codes and one entry point that makes your spanking viewing all the more easy! See the banner below for more info and options!
As promised I thought I'd help out Sarah Gregory and wish her all the best of luck as she starts up her own site! Fans of seeing very naughty Sarah Gregory should be happy! I hope to do some sort of review within a few weeks so I'll let you know more by then!



Sarah is spanked by Tasha Lee in this lap dancing spankathon