The best sex and spanking for me is the preserve of intimate private domestic discipline. It's probably the most natural and trouser ripping event for me as consentual Sex & Spanking  is like "strawberries and cream" – they compliment each other perfectly. Even after a discipline spanking, there can be needs afterwards to bring a couple closer together! 
One such amazing spanking couple in their sub/dom relationship is Amber Dawn and her man of SpankAmber has again been exploring and filming the far more sexual side of their disciplines – which, to be honest, is simply mind blowing as it is  done so beautifully!
****************************
Below you will see a very tearful Amber spanked, her bottom reddened, her man also opening up her legs in a position that leaves nothing to the imagination and also giving her pussy (which I have to say with her hint or red hair on top is just awesome!!) a few hard smacks as well, adding to her overall humiliation, but she submits and takes the punishment!
The images below are taken from the movie so you get the idea of really what is happening, check out the facials of Amber and of course her beautiful red butt and legs akimbo punishment!

The 2nd part of today's feature covers a very sensual and a very submissive Amber, still a little tearful from her last spanking then given a good hard fucking as her man takes the cam so you get to see it from his, and our perspective as he enters her, you can see the camera move as he thrusts hard into her dripping hot hole! Amber admits she is a naughty slut and wants him inside her…wouldn't we all just love to be her man right there? If you are NOT interested in seeing a very beautiful woman in a sexual and provocative position cumming on film, please do not download the short clip below! For all other curious and red blooded males and naughty ladies that want to see more…go ahead!!!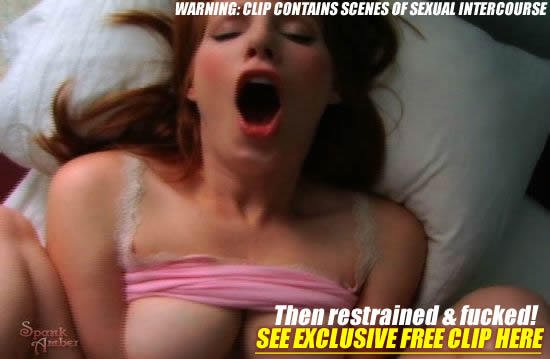 CLICK HERE TO SEE MORE OF AMBER SPANKED & FUCKED!
Phew! How the hell I got through writing all that without exploding is a mystery but I shall be recovering with an ice cold bath to cool down…remember that Amber's sites offer you a discount if you're also into seeing her play and spank other HOT girls at AmberSpanks (& I highly recommend this) all is explained at either site if and when you decide to become a full member and enjoy Amber's 100's of unique films, all in Hi Res and HD formats!