This was going to be a review of Punishedbrats but I also just got word of some news developments, both good and (not so good).
First the bad news and I'm hoping this won't be for long, Pixie was once again admitted to hospital, but by her own admission on her own personal blog here which covers all the events of her comings and goings these last few months, she hopes to be home again before the middle of the month! Get well soon Pixie!!!! Leave her messages there if you haven't already!
Now the better news is that David Pierson has been busy and lined up some formiddable forthcoming talent, despite Pixie's absence, for their next shoot on May 15th (ooh, a day before my birthday!) and due to numerous member requests, begging letters and just humble grovelling, there are some amazing returns! Anyone remember Juliet Valentina? Who could forget this blonde bombshell? She's returning after an absence away from Punishedbrats of more than 2 years! (Check out my sidebar and you'll see Juliet in her blue cheergirl outfit with her red bottom exposed advertising this website!!!) This blogger here can hardly contain himself, Juliet is by far one of my most lusted after objects in the spanking world and to see her back, beautiful bottom bared, well….turn on the cold shower now!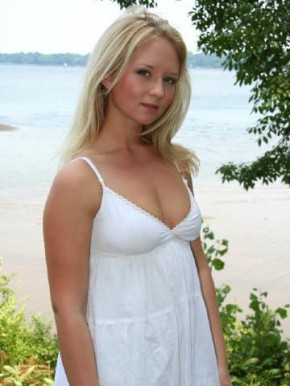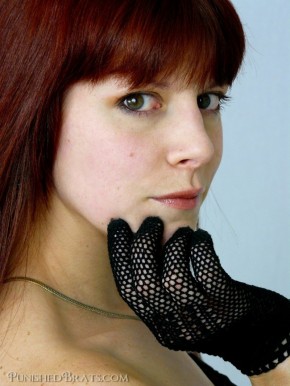 Juliet Valentina (left) and Beverly Bacci (above right) return to Punishedbrats
Also returning to the Punishedbrats stage is Beverly Bacci. Beverly had retired a few months ago (as I had informed you all) from fetish modeling but she returns as a spanker! Beverly can be rather ferocious so once again, I can't wait to see these 2 girls giving and getting it good!
But there's more! Recent crowd puller Lorraine, she of the most amazing pout and damned gorgeous, to boot, is back too by popular demand from members and who can blame them? I am really looking forward to seeing much more of Lorraine (uncovered)!!!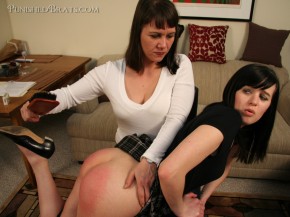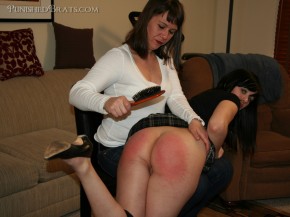 Lorraine's beautiful butt pokes out over the knee and under the hand of lucky Veronica
If you have been living on Mars then check out the FREE Gallery of Lorraine
>> !!! DECIDE FOR YOURSELF IF SHE's HOT !!! <<
David Pierson has managed to keep something for himself as one of his personal favourites and also mine makes a welcome return! You'll recognise Charlie Skye below, great facial expressions and a long mane of blonde hair with a delicious spankable derriere, you just know she'll be crying out loud as her bottom is tanned crimson very soon!!!!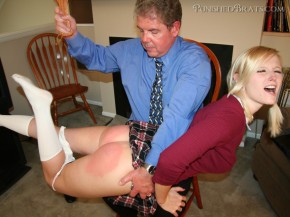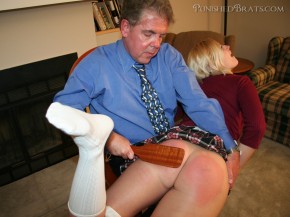 Charlie Skye will be making a very welcome return in this all star line up!!!
So there you have it! Some amazing spanking stars retruning and I'm sure an awesome filmshoot awaits! In the meantime, Punishedbrats have been releasing some amazing films with one of my favourites, Lily Anna who you can see below (click to enlarge images)
Above stills were taken from the movie "Empty Bottle" – with Lily Anna and Veronica Bound.
Lily Anna should have known better than to ever think she could steal Veronica's vodka without her noticing. Now she'll really pay the price! Naughty Lily Anna probably won't quit her vodka habit (and that will no doubt mean more spankings for her in the future!), but she's learned never to touch Veronica's stash!
David Pierson has another blonde cracker over his knee with the delightful Lilly Page!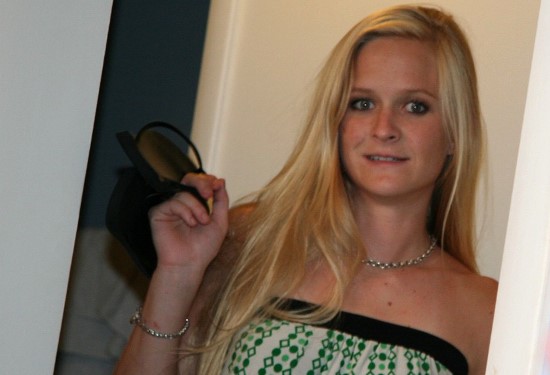 "Curfew Violation" – the latest film with Lilly Page and David Pierson.
When Lilly comes home well after curfew she finds David is waiting up for her, she knows her teenage bottom is in big trouble as he glares at her for disobeying him once again! This is a classic OTK domestic discipline that david excells at and Lilly Page's bottom turns a dark crimson in this movie!
CLICK HERE TO SEE A FREE SAMPLE OTK CLIP OF LILLY PAGE!
Sample clip is a lower resolution than inside the members area
What an all star line up coming soon!…and with the massive archives already available at one of the most competitive pricings around (starting at just $17 for 4 years of totally excluisve content not found anywhere else) you can see why this site consistently wins awards for best value and entertainment per spank! Well done David on an impressive site and an amazing "coming soon" I here "chez Chief" can't wait to see more!