Don't you hate it when a cold comes from nowhere, especially as the weather is quite summery? I usually just suffer my hayfever at this time of year happy in the knowledge I'm feeling warmer, I make sure I have my anti-histamines and enjoy outdoor life…but this thing…where the hell did this come from?
I'm aching all over, snotty, feel weak and nauseous, and I'm finding it hard to even type and I had so much to tell you about! So instead, in a much paired down post (sorry) I have something (or things new) something borrowed, or in this case REMASTERED (and mighty fine) something old (I delved into my hard drive on a site I hadn't featured here for a while, I promise it's a treat…and finally something "blue" (or is that hardcore?) OK, I've waffled enough and you're here to see what I've got for you today from around the spanking t'internet…so here goes…
Something New!
Check out the very sexy Marlena who gets her revenge on west coast uber-babe, Amber Dawn, as she really enjoys reddening Amber's lush ass, just look at how crimson it gets…and what's more this naughty minx Marlena giggles as she writhes all over Amber, expertly placing stinging swats with her hands!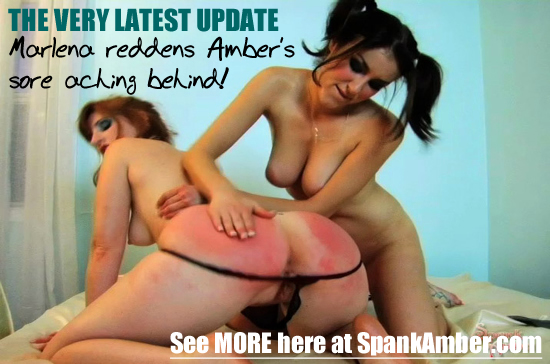 Some choice pics are below, enlarging them will also cause enlargement in the trouser department!
I'm aching, sadly, I wish I was aching with joy in my trouser department, but this evil Man Flu bug that's gripped me has quashed what feelings I have "down there" today…however, I know that any red blooded male and girl who loves to see Amber beautifully thrashed by another voluptuous stunner that she's hooked in will NOT be disappointed. Note to self…MUST view this site when I'm better later this weekend! 😀
Something borrowed:
How about the cracking OTK remaster of one Miss Katie Leigh, sadly retired now, but fortunately the work she did in her short period online was vast and plenty and you'll get to see her in this aptly named "Katie Needs A Spanking!" (me! me! I'll do it!!!) remastered, re edited and OUT NOW at OTKspank.com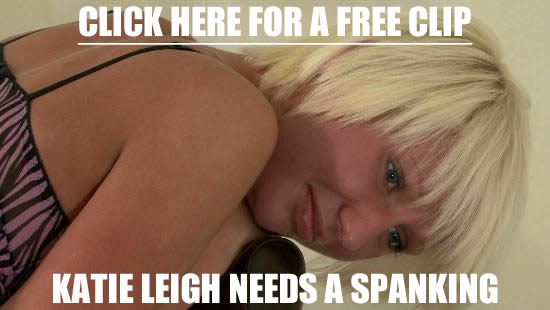 MORE OTK SPANKINGS AND SOME EXCITING FREE SAMPLES HERE!
Something Old:
Now for something old, here's a delicious blast from the recent past in the sight shape and sound of Lizzy Madison, who shot a lot of footage with Firm Hand Spanking in 2007 and 2008 and thsi series below I particularly liked as it had an unnusual instrument of correction, some great photography and of course, the movie is ace too, I've cut you an EXCLUSIVE clip – which I'm hoping no one else has shown, so enjoy! Ladies and gentlemen, part of the vast Lizzy Madison series – courtesy of Firm Hand Spanking

Real Player .rm Format clip now uploaded (I had a problem cutting the clip)
Apparently I just read that Firm Hand had just uploaded its 1000th video and they've had 6 NEW models on there recently to celebrate, so if that's not motivation enough to check them out, what is? Check out their extensive tour pages with some nice intro clips (in lower res format) showing you what to expect inside as a member!! It's worth a peek 🙂
Something Blue:
& finally….something "Blue" – or in this case, porn-tastic – remember when people used to talk about "Blue movies" ?? heh heh, bless. Anyway, this is a totally new and unnusual diversion which I'm hoping LUPUS SPANKING will be doing more of as this film "Double Trouble" features 2 naughty girls who dare to tempt the teacher into fucking them instead of punishing them….I'll let you see what happens below, it leads to a full film review I did yesterday at one of my other blogs (always best to check them out, eh?)
I promise you won't be disappointed! 🙂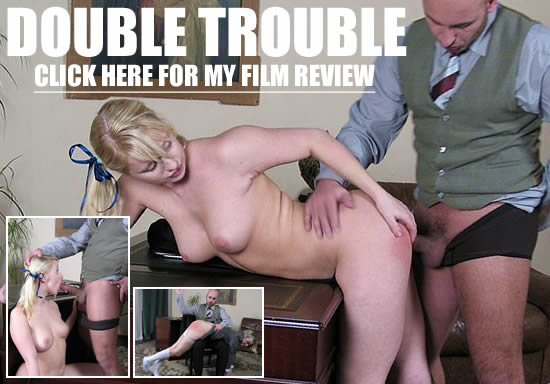 OK, I'm spent, I'm totally aching, I just had a chat with a friend who mentioned there's some type of "Flu" going round, Oh God, I hope I don't get that, I'll be totally unbearable!!!!
Achingly, Chief
Oh… & only 2 WEEKS to England's 1st game v USA in Rustenburg, South Africa. June 12th.
C'MON ENGLAND!!!!