This is, by admission, one of Clare Fonda's fave site projects as the subject material (spanking slutty Ho's) appeals to her and there's a vast variety of what you can do including some very hot and very naughty scenes with the naughtier girls who are on brothel madam "Momma" Clare's books! There are also more domestic scenes and this gives a chance for other cracking Dommes like my current favourite, Snow Mercy, who switches, as I know all too well….anyway, read on and prepare yourself for some very naughty girls like Alice and then Snow spanking Ashli Orion, a dinky real life porn star who fits the bill of a spanked callgirl oh so well….I'd willingly pay up, if I was…ahem…away on business!!! 😀
In the latest updates, here you'll see "Momma Clare" give her newbie slut a damned good thrashing as Alice is just so horny she even seduces the other girls. Clare , as you'll see, dressed in her madame's cougar gear…can barely hide her own excitement getting a good look and handling that expensive meat that Clare's wealthy clients pay a premium for!
Clare orders Alice to stick her bare ass higher in the air so she can grope, gawp and abuse her slutty piece of meat as she she's fit to teach this slut a proper lesson and show who's boss! You'll also find a special free clip of one such scene as this cougar gets to work on reddening Alice's pokey-out bottom a pretty crimson!
Wow! This is only a taster of what goes on…as you'll have seen from the above images! OK, if you're still not convinced, perhaps the sight of tiny Ashli over the very tall and imposing Snow's knees for her bare bottom spankings and canings featured below might persuade you to how how this site can get! WARNING: Please continue to be aware that viewing can cause severe arousal!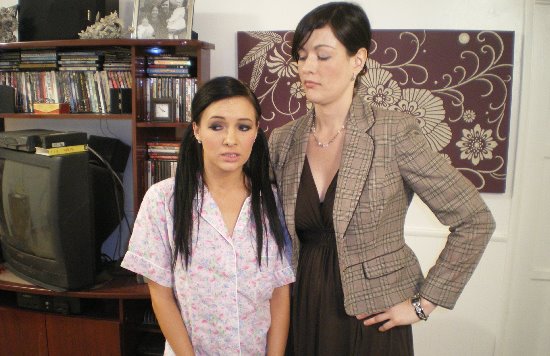 Ashli Orion is a well known and sought after hardcore porn starlet, you only need to "Google" her name and see what I mean…however, luckily for us, this uninhibited girl is also partial to exploring her submissive side…with often very arousing insights as this girl has the most amazing wobblesome butt I have been lucky to view. If you haven't seen her punished before, check out this short clip I cut for you lucky folk and watch those cheeks jiggle as they are spanked harder and harder…the full movie is of course far too hot to show here – and Clare would be after me (I wish!)
Ok, Ashli and Snow have come to blows recently before at Spankedcallgirls…I can't remember if I showed this so I have just chosen 4 hot images below to let you know what you could expect from another HOT movie with this pair!
SpankedcallGirls is part of Clare's popular multi site option – CLARE FONDA PASS – giving you more sites for virtually the same price as one – which is how I view her sites as a member! OK, I WILL be posting again her later today with some new update news, so don't forget to pop back soon! Take it easy… Chief