Ok, I'm not going to say much about our almost disastrous opening game v USA…thanks to butter fingers Robert Green!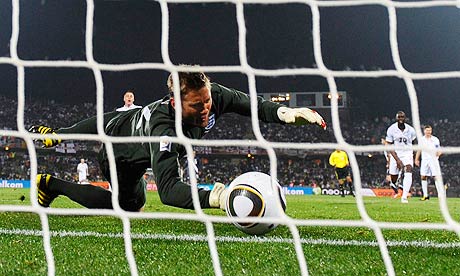 It all looked so good when we opened the scoring and were rarely troubled after that apart from that absolute howler from our goalkeeper to gift the Americans a 1-1 draw…fair play, they just about deserved something from the game. To be honest, I'd have taken 1-1 to start with the way our press was doing the side down…but the way we bossed much of the game it's disappointing that we didn't win it despite that gaffe and even allowing the USA to almost sneak an undeserved victory at the end. Anyway…the last time we won this competition we started with a draw, so perhaps the omens are looking good!
& now that I've bored you all senseless…let's quickly get onto all things spanking and a new update at Mike's "Schhpaaanked in Uniform" site and the very welcome return of young Lottie Kinsade who looks absolutely scrummy in her maid's uniform as she is sent to the Birchrod Inn for more training and punishments!
Uh-oh…Lottie finds herself back at Birchrod and discovers why it's called that name!!!
After being rude to a guest at her hotel, Lottie was sent back to the Birchrod Inn for some extra training. Her first job was to change the sheets in 10 rooms and after 5 she decided to take a nap without permission. Mr. Johnson found her and woke her up with a sound spanking on the bed. Later she was told to scrub the floor but upon inspection she didn't scrub under the tables. She was soon bending over the back of a chair getting a sound bare bottom birching! & believe you me, Lottie can take this type of punishment…do not miss this latest movie update. Images from the film are below:
To view the FULL Movie seeing Lottie punished in that lush French maid's outfit CLICK HERE. You can also check all the other recent additions to the various uniform niches that are covered by the excellent Spanked-In-Uniform
**********************************
Whilst I'm on the subject of Lottie, she's one of the main stars of this long play movie (below) called "3 bared & Bent" which is out to download in FULL at SLUTSPANKING.com – and this site is fast becoming Britain's no.1 spanking and discipline archive for lovers of F/F discipline! You'll see why with this movie gallery and free preview shown below. Lottie gets a proper slippering and caning in this movie as well and it's very refreshing to see her over the knees of a woman who knows how to discipline her girls and certainly takes no crap off them!!!
You can see all the most recent updates for yoruself on the home tour pages and there's tons of FREE movie clips if you haven't checked out this site in a while!!!
********************************
I've also found a couple of galleries with a great preview clip from 2 very naughty films that punish both girls for pissing their pants, yes, I may have posted this earlier as I was first online to do so, however, there is a new promotional gallery which contains additional images so it's well worth a peek, and if you're new to the blog…then you'll be very happy seeing these 2 superb movie previews anyway!
Now there can NEVER be any excuse for this and the severity of both punishments reflects this, maybe it's a Polish girl thing? As both girls here come from that country, perhaps the girls from the Polish nation just have weak bladders? The Chief should perhaps investigate this the next time he decides to visit that country (well worth it btw!!! The girls are stunning!)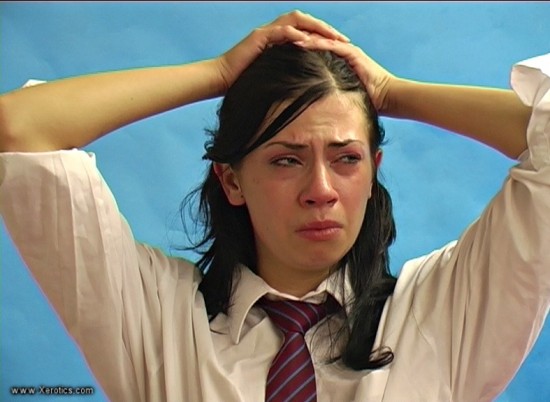 You can download the entire naughty movie in this format HERE
**************************************
Check out below, (if you haven't already) the punishment of Sabrina caught performing a similar act! There's a FREE Clip of her on the home page of CANEDSCHOOLGIRLS.com – this is another very severe movie, so it may not always to be some tastes…but I enjoy them, I'm sure 95% of you will too!
**************************************
Finally as I'm still a little bitter today at that crappy draw we got, here's a cute little American girl getting what's for, I reprised this old classic again as I watched it earlier from my "I'm bitter at women and life" archives on my external hard drive (LOL)…want to see humiliation, degredation, some BDSM and spanking as well as some lesbian Fem Dom of a cute girl in her school uniform? Of course you'd LOVE to!!! Then please read on…

This is an awesome film, not strictly in the spanking genre and I accept not everyone will appreciate this! However, take a look at the pics and the 2 clips (there's 2 versions so you'll definitely be able to watch it). This site has so many well known fetish and spanking models that we all know such as gorgeous blonde harmony in the middle (below) but thsi actual footage below isn't about harmony being submissive, she's the ringleader of the Domme schoolgirls who bully and pick on Asian cutie Leilani, and boy…do these girls get nasty!!!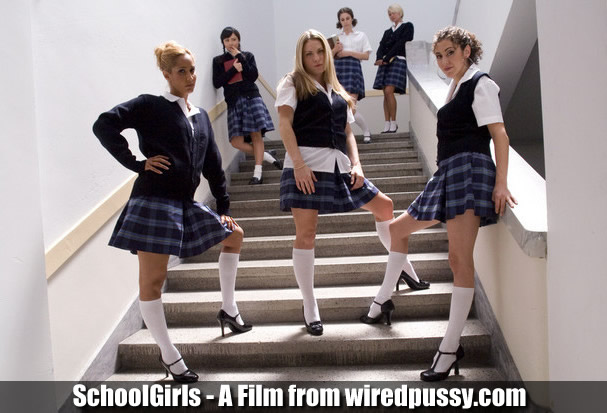 So, as I said, it features schoolgirls bullying then sexually abusing the lovely innocent Leilani led by stunning blonde, Harmony. Anyone who has been intrigued with some BDSM mixed with spanking, restraining and humiliation punishments will really enjoy this. It also features (as the site suggests) the use of electrical punishment/pleasures inflicted on the recipients as well as bondage and spankings.
Checkout the 2 clips below and then check out the 12 free pics I've made available so you get the total flavour of this film. It includes spanking, paddling, and then covering electrical punishments, flogging and forced dildo worship and face sitting for the poor distraught Leilani! It's a very sexually charged film, so be warned in advance, it's HOT stuff and WILL cause severe trouser bumps!
Wow! Told you it was gripping stuff, eh? WiredPussy.com has an Extensive FREE Tour page section, so take a look. You can review many of the recent updates and I notice that there's one of returning spanking and fetish model Darling, that's an awesome movie and if anyone wants I am happy to review this another time! darling of course featured in many xerotics spanking movies a few years back when she was in England and is still one of the most sought after fetish models Stateside!! (hard not to see why)
For selected vid grabs of this classic film, click on the thumbnails below – enjoy!  😀
Mmmm….Wired Pussy!!! oops, I have "wood". Achingly….Chief 😀