Yes, I have to admit, I had a real thing for seeing Ellie Maye up close and personal, she was a spanko perv's dream. With her perfect tight body, her attitude that BEGGED to be broken across her gorgeous white bottom that speckled and reddened like no other girl I personally had the pleasure of viewing or spanking…and of course she "hated" being humiliated when her beautiful bald vagina was exposed! So of course to teach her a lesson…it was fully bared!
OK, so have established that Ellie Maye is the sort of spanko's perfect wet dream and when she burst onto the online spanking scene she was THE most sought after and requested model, however, I know that she was embarrassed by her quick fame and quickly disappeared back into relative obscurity until she again re-appeared a few years later but by then her innocent look had gone and her unique quality in that school uniform a fading memory!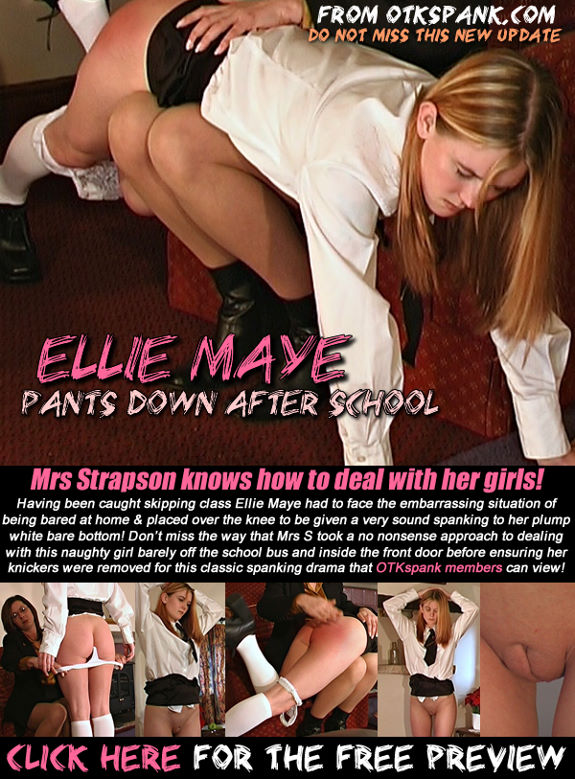 So it is nice to see her in one of her early films as this movie is completely re edited as it had never been shown in this full screen format until now and an OTK spanking by Mrs S at home is what this is all about as Ellie Maye is spanked in her trademark white shirt and dark skirt school uniform. I have to admit that this is one of my favourite school uniforms and it was made for her, don't you think? OK, she may have had ridiculous shoes on, but that just added to the innocence and the punishment – seeing her legs rise up when she got her spanking…I'm sure she got a good work out with those heavy clogs on…good for toning the thigh and calve muscles…as well as getting a good solid red bottom for her arrogant attitude and cheek when confronted with the fact she'd been skipping school again!
Mrs S – waiting for Ellie maye to explain why she has skipped school – yet again!

OK, so you've seen the intro clip above, I have some bonus images below, and if you see them elsewhere soon after, you'll know other folks have been pinching my images as these are NOT yet available to OTKspank members…although the movie is!!! Remember where you get to see these exclusives 1st…OK? Enjoy!
WARNING: Seeing Ellie Maye in distress and undress WILL cause severe Trouser arousal!
Oh…and of course, this is for Ellie Maye, who I know sometimes reads this blog! Bared spanked and shamed…and here's your gorgeous little warmed red tushy and minnie on display!!! 😀
You can download this movie at Premium OTK spanking site OTKSPANK for the full movie!!!
*******************************************
and of course for all you people SLACKING on the caption competition (have I done it gaain and chosen a really crap image?) then of course the winner gets free access to OTKspank for a month – perhaps Ellie Maye's sore red bottom and bald privates might tempt you to enter, eh??
Click on caption image below and it will lead to the page where it's posted so you can leave your comments. I'll leave this competition open for about a further 10 days!
**************************************************
Finally, with less than 24 hours to the start of the FIFA Soccer World Cup in Soputh Africa (opening game is the hosts South Africa against Mexico) I'm sure the opening ceremony will be amazing….and of course the very hot Alicia Keys and the love of my life, Shakira, will be there too (seriously, I admit I would not be held responsible if left alone with uber singing babe Shakira in a darkened soundproof basement room, a stool, some rope, some spanking implements and some lube…LOLOL!)
Shakira – object of Chief's unnatural lusting! 🙂

Anyway, I'm excited, I will be doing a major "Around the spanking Globe" update tommorow before the World Cup starts as I will be glued to the TV and then on Saturday the country stops (well, the bits that aren't Scottish…heh heh) as I will watch with my fellow countrymen "Mighty" (I'm kidding) ENGLAND versus the upstarts USA!