OK, my update schedule has been thrown out again thanks to this wonderful new addition of a very bratty bitch of a model that dares to take on the folks at Bun Beating Fun! Ladies and gentlemen, I present to you, Madison Mercedes, a right uppity thing who thinks she is "Special" and above all the crap she perceives at another class motel location in the great state of New Jersey!
This is an EXCLUSIVE 1st show preview, you won't find this anywhere else at the time of writing, which is why this update got bumped up as I promised to get this out once the movie will be available for lucky members (inckluding myself) to download later today! What I can say is that if you love seeing a real bitchy madam with a real delectable and spankable butt annoy our "Mystery Spanker", you'll know she's doomed and this spanking is long and sustained, as they all are! This exclusive free preview below has images and a longer free preview clip giving you more than enough info on what to expect from this excellent OTK spanking movie!
"I'm special" yadda yadda…."I'm calling my agent" yadda yadda….Yes, yes, Madison, they've heard it all before, however, the only thing you're earning right now is a trip over His knee for a hard nasty and humiliating bare bottom spanking to teach you some manners!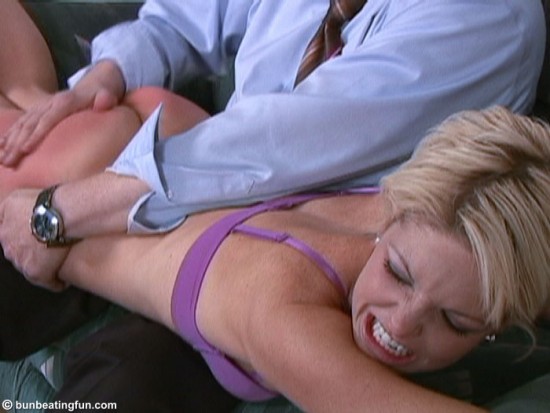 Such is the sustained and stinging spanking, Madison's only release apart from screaming is her tears as she is slowly but surely put in her place…and of course at the end of this movie she ends up a snivelling shadow of her former sassy self…very satisfying, I'm sure you will agree, there are some remaining images and a special free preview clip below!
You can see this movie coming later today only at BUN BEATING FUN!
I will be back later with another update (so don't go too far) and also don't forget to enter my "caption competition", it's free and someone WILL win a free month's membership, check out the competition post (2 below this one!) Regards, Chief.