Bloody hell! I couldn't stand watching our game v Slovenia…after probably our most disgraceful performance ever (without losing) against a, well frankly, very average and negative Algeria side defending with 11 against our useless mob last Friday…we dominated the Slovenia match despite their negative tactics of defending and going for the counter attack (but we did it with a few scares near the end) but I can admit how nervy they must have been, so well done lads, what a turnaround…it wasn't pretty at times but that team had a lot to go through & until 2 minutes to go, we would have topped the group, but well done to the USA for grabbing their last gasp winner to probably take the easier route through (on goals scored…sigh)! So it looks as if we'll play Germany or Argentina early…so what, we know what to expect with these teams, I'm not scared anymore…get in there Fabio Capello!!! You gotta feel for Slovenia…2 minutes to go they were going through…oh well… *titter*
**************************************************************
So I came across it by accident and here it is, seriously…enjoy this, you'll have some serious trouser adjustments in this movie!!!
Thanks to those who wrote to me regarding some movies I might want to review, this one came near the top, and I hadn't seen it for ages, so it was a pleasant half hour's viewing as I watched this very hard and quite rude multi girl "Catholic Discipline" style Punishment!
From SPANKINGMAGS the massive Ezine Spanking site, comes this remastered classic with 4 schoolgirls shamed and humiliated by a vicious bitter nun, Sister Mary – who delights in putting the girls through an unforgettable ordeal! Just check out the 1st special clip I've made where she berates their uniforms and their large schoolgirl breasts!
So who's in this movie? You might recognise Niki Flynn 3rd right above, this is an all American cast and these girls were unsure of what to expect being in England, Sister Mary (played by fearsome Shanelle) soon put them in their place, smiles and smirks soon replaced with genuine fear and uncertainty, Shanelle's unique brand of discipline soon had these girls doing as they were told! So, from left to right, brunette, Venus, well known on the West Coast for work in the Fetish genre, ex porn actress Lauren Legends was in the middle of Venus and Niki (who needs no introduction here, I hope) and on the right, Darling, star of many fetish movies (and still working in the US), particularly bondage films made up the 4th schoolgirl victim!
So the girls, as you've seen are lined up then each of them are spanked and strapped one by one in front of each other, and to demonstate the severity of the strappings, I have cut a very special clip which I made myself and combined a little of each girl's painful session bent over, bare bottom stuck out for the horrible old leather strap! See below
Now what I liked about this movie, apart from the fact that there were 4 girls starring in this (almost blasphemous) catholic style discipline film were the costumes, regulation school uniforms and those stuffy white panties, the knee length socks, this was the real deal and of course Sister Mary looked terrifying in her black habit! The girls, lined up against the private school pool, away from any distractions was an ideal location, where no one could hear their obvious distress and, as you've seen from the above clip, their loud cries of pin as the strap bit into their soft flesh!
To those who have not seen this movie or heard about it before, it's approx 25 mins in length, and makes up a vast array of ezine updates, ths was one of ther earlier remastered movies, shot in 2005 but still looks fantastic today! Take a look at the FREE Gallery which also shows the many scenes of this great film!
Ok, what the hell is Darling doing on her knees with her face stuffed up poor snivelling Venus' crack? I hear you ask! Ah, this is the Finale of the movie, and boy, what an ending…sadistic Sister Mary isn't happy just punishing her girls…oh no, in this final scene stealing moment, poor Darling is ordered to clean out the burning cheeks of Venus and if you don't believe me, check out a short scene (I can't give it all away, after all) but you'll see what I mean with the clip below!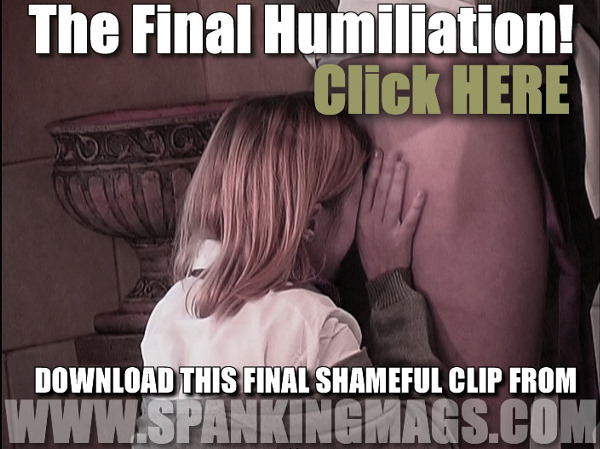 This movie really has it all and deserves its place in the Halls of Fame as far as I'm concerned, 4 cracking American girls sadistically punished by a nun who straps HARD and forces one girl to perform a sexual act on another – yep, and there's MORE, but you'll have to watch the FULL movie for that!
FULL MOVIE AVAILABLE TO VIEW HERE
SpankingMags – is it worth it? You bet, anyone that knows me, I rave about this site with their remastered classics, and I feel just this one film I've shown you here today does the site justice!
Talking of Classics…this one below also needs no introduction but for those that haven't seen it, you're in for a real treat! This is just one of my all time faves, it also gets voted for and written into the webmasters about more than most other movies so it's well worth a peek!!!
This is just one of the many typical films from FetishFlixx (as you no doubt know by now!!!)
************************************************
…and before I go I have just seen that there is a NEW pay to download movie added at NAUGHTYBOTTOM with another of my favourite stars, Justine from Norway, in what I think is one of her best films, she really gets a good slippering and caning in this and from what I remember, she loved wearing that dark school uniform…you'll also admire the very intrusive camera work…getting right in to the "matter of things" so to speak! Serioulsy though, check it out below as there's a great free preview clip and this movie is part of the recently added 2nice price" additions where the movies are only $5-6 max!
TO VIEW ALL THE LATEST MOVIES & PREVIEWS – CLICK HERE
Hope you enjoyed this update down memory lane and for those that haven't seen any of these, well…enjoy my World cup treat!
Bookmark me if you haven't already, I'll be back soon with more NEW Exclusive updates!
Chief