As promised, if Japan won (and how easily they did too) last night, I'd bring you a celebration of Japanese girls and the latest 2 updates are featured below from Cutiespankee – and they're awesome…and of course I won't ignore the Dutch, since they breezed into the next round (one of my favourites for the Cup) and also this really cool uniform update from Mike and his spanked in Uniform site. (it was also an excuse to say "schhhpannnnkings!")
Here is a classic double update from Cutiespankee, and it features a wicked and very hot looking step mom, this is one serious spanko, and you'll see her spank Shizuku in her classic school uniform (below) whilst we get to see this lady getting off on punishing the crying schoolgirl! In the 2nd update (the latest!) Step mother spanks herself in private with a hairbrush, and if all Japanese women look as hot as her in their 30's…well…excuse me, I have "wood" again *sigh*
Schoolgirl Shizuku is unable to hide the poor school report, meaning her new hated guardian gives her a damned good bare bottom spanking, images and free preview available, mmm!
Now if you thought seeing this teenager thrashed by her evil guardian was hot…just wait til you see Step Mom, alone in her bedroom, her black lingerie, black stockings and suspenders showing off her beautiful legs with those delicious black panties barely able to hide her swollen pussy as she gets off on the previous punishment by whacking herself, and she uses a hairbrush and she doesn't hold back! There's also an added twist, I think you'll know what I mean from the free preview clip below!!! I could watch this "momma" all day long!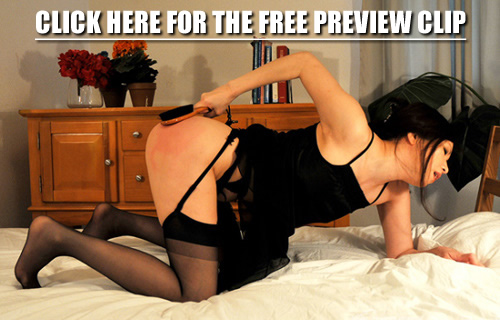 More images from this unmissable movie are below!
You can see these and all the most recent updates HERE only from Cutiespankee
*********************************************
Meanwhile in Amsterdam's spankophile St Elizabeth's Hospital, nurse Lottie Kinsade is up for her weekly evaluation at the "hands" of Dr Johnson. However, as you'll see below, and I can confirm this, Lottie has a bad habit of smoking and she is once again outside the hospital taking yet another break…hmmm, wonder if anyone noticed?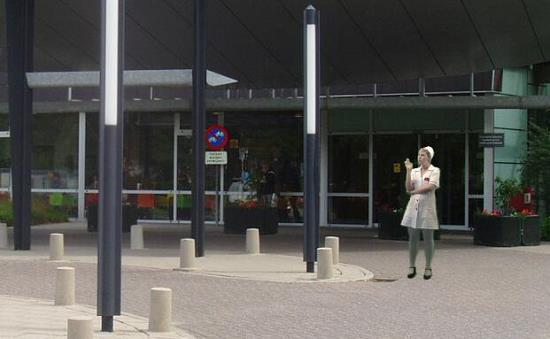 This is the storyline of this latest addition to the Doctors and Nurses themed section (at St Elizabeth's Hospital) from Spanked in Uniform
It is weekly evaluation time for nurse Lottie and she did pretty well but she did take an unauthorised smoke break and she listened to Matron Melanie getting spanked in the corridor outside Dr Johnson's office. For the smoking break Dr Johnson gave her a sound OTK spanking …. and for listening to Melanie getting spanked, Lottie was laid over the bed and her sore red bottom got a nasty strapping.
Seriously, Lottie looks HOT in that uniform, especially when it is dishevelled and her knickers are yanked down below that maginficent rear of hers as she is given the spanking!
Then she got the dreaded sign "I have been a very naughty nurse and I have just had a sound spanking" pinned onto the back of her uniform and, as do most of the shamed nurses at St Elizabeth's – she had to stand in the corridor so everyone could see her sore glowing red bottom. Seriously, if you're gonna fall ill, at least this would be a place you could go out with "bang"! 😀
Lottie does some wall time in the corridor for everyone to see!

You can see this and ALL the latest exclusive uniform punishments HERE
Right, back to the Portugal v Brazil football match…and "No!", I won't show the Brazilian girls movies again, you can find that at NaughtyBottom!!! there's all the info and some free previews there!!!
Enjoy! 😉 Chief