I have just watched an awesome match in the World Cup and it's "Ciao Italia!" as underdogs Slovakia knocked them out winning 3-2 (the Italians almost looked like nicking a place in the next round but as defending world champs, they deserved their fate, this was a disappointing side who failed to qualify in possibly the easiest group of them all!
OK, I have featured this utter beauty before and I'm sure the good folks at RealSpankings and Real Spankings Institute know about her gorgeous facial reactions and have that camera trained on both her lush pert ass and her "to die for" good looks, I present to you Jackie, who I absolutely adore, and if you've never seen her before, first check out her last update at RealSpankings with Ms Burns, I also cut you an exclusive FREE clip showing off her reactions….("I have wood")
Click on the image below for the larger image of Jackie and Ms Burns!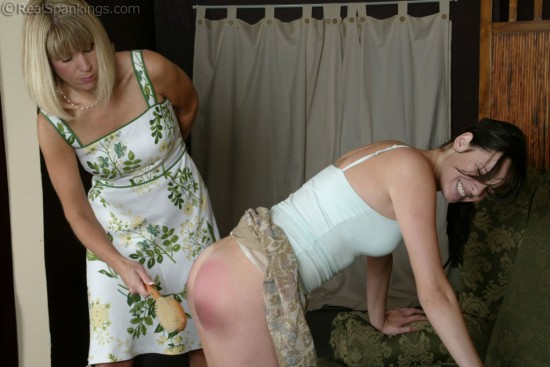 Jackie Forgets The Dinner Reservations! Poor Jackie forgot to make some important dinner reservations for Ms. Burns. The LAST thing any young darling like Jackie should do is make Ms Burns angry and give her reason to order her girls to strip and bare their bottoms for a nasty reminder! So the gorgeous Jackie snivels and cries as she's given a butt swatting hair brush spanking!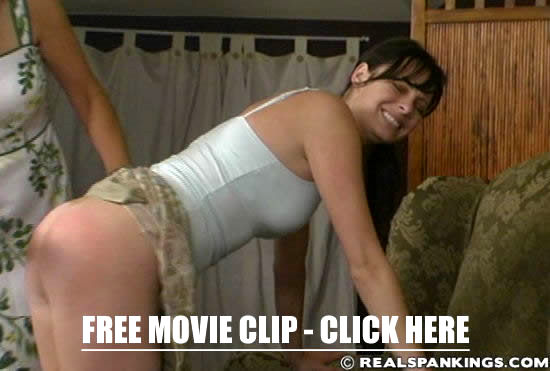 There's plenty MORE of Jackie at REALSPANKINGS and there is also a fabulous new girl recently added at this network called Erin who I must admit just makes me go weak at the knees, you'll see why below, her looks, her sassy attitude and gorgeous ass make her ADDICTIVE viewing! Below images are taken from REALSPANKINGS and I then have featured her most recent update taken from sister site REAL SPANKINGS INSITUTE
Erin's Punishment Profile (taken in may this year): New Model Erin is interviewed in the nude and given her first OTK spanking on camera by a very lucky Betty! beautiful, youthful and busty…Erin has it all and you can view MORE of here HERE
The above image was taken early on from the movie "Erin's Bare Breasted Teen Spanking!" You'll see Erin bent over the chair and then strapped 12 times over her skirt by Betty as her breasts jiggle provocatively. Careful though, you'll get lost looking into her mesmerising eyes, this girl is HOT!!!
Now if you want to see Erin as a naughty schoolgirl (in pigtails as well…OMG!), well, look no further than HERE and enjoy. Warning, viewing this beautiful girl's punishment WILL cause SEVERE Trouser Arousal!
Erin is brought into The Assistant Dean's office by Betty and told to disrobe and wait at attention for Miss Vaughn. Miss Vaughn enters to explain to Erin that she cannot go to gym in that skirt. She needs proper attire at all times. So luckily for us she takes Erin over her knee and spanks her and then marches her out to get her proper gym clothes. Note: the Chief particularly likes Erin's trim bush and use of alluring pig tails, who couldn't spank a beauty like that naked over your knees all day and being able to cop a look at that dark inviting crack, eh?? (I am such a perv)
Don't miss Erin, you can see much MORE of Erin exclusively HERE
Options for both girls – make the choice, both sites are massive and will keep you occupied for an age or like me you can also use the much overlooked Real Spankings Pass – easily the BEST way to view this network for a fraction of the total cost! See banner below for full details for access to all the sites in this network (not just the 2 I've featured here today)!
****************************************
Back in England, a Brand NEW and EXCLUSIVE update at TheBareBottom features teenage "Posh Spice" lookalike, 18 year old Jenny, and her older troublesome friend, Linda.
This is a hot FF movie called "Girls that bare". This movie has everything, a first time spanking for a very nervous but beautiful Jenny (above) who is play spanked by a predatory lesbian Linda who tries to take advantage of the naive Jenny. (below are EXCLUSIVE 1st show HQ images which show off Jenny's curvacious teenage figure!)
Jenny is 1st spanked by a very pissed off Mrs B catching both girls bared and up to no good on her sofa so after jenny's OTK, she's forced to watch and told what happens to very bad girls who get a caning (like Linda) and don't miss poor Jenny with her knickers at half mast and saying "she's ever so sorry"…oh the joyous shame of it! Check out my additional movie images that I've got for you below, first shown here before anyone else, of course!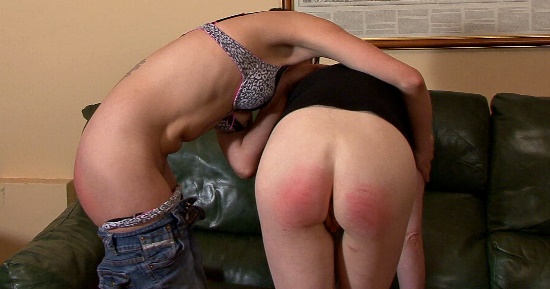 *****************************************************
Finally today check out Daniela, in honour of Slovakia beating Italy today…this Slovak beauty shows you how the gorgeous East euro girls do it at SPANKINGSERVER – and don't they scrub up well? Please be aware the Trouser Arousal alerts apply to all the sites featured here today, so don't sue me for viewing all the content with an uncomfortable trouser bump…gents…please loosen clothing, relax…and if possible, view all content in a private darkened room, door locked to keep out prying partners, pets or mothers and with pants down – as I do! 😉
Ah, the trademark pussy strappings, anus canings, spankings, whipping and bondage restraints that makes SpankingServer just so damned viewable! & here is the latest Slovak beauty…Daniela, who will no doubt be out celebrating a few Budvars in Bratislava tonight!!!
***********************************************
Without wishing to alienate my Danish readers (and I know there are a few from my stats) I am rooting for Japan tonight in the World Cup…as that would give me the perfect excuse tomorrow to highlight some very nice Japanese spanking stories! Sorry, I haven't got any Danish language connections, but will instead feature redhead Norwegian, Justine, from a few sites  🙂
Anyway, hope you enjoyed tofay's offerings!!!! Chief