I just thought the word vuvuzela needed saying…that's all, it's topical and for once the vuvuzelas were replaced with the jeers and boos of thousands of pissed off England fans last night after that abject performance! Now I have some seriously nice spanking goodies for you below, but before that, I want to rant at our useless overpaid SHITE that pretends to be a national football (or soccer as some call it) team representing us that couldn't even beat a distinctly average Algeria team that couldn't score in a brothel and i think had lost 7 or their last 8 games…and to those players that criticised the long suffering England fans who jeered the team at the end, yes, those hard pressed fans who paid a fortune and travelled 6,000 miles to watch that crap…F*CK YOU! As fans, they have a right to say what they want at the end, they weren't booing your shit performance DURING the game, but only at the end….

Rooney can't help himself…can he? Man the F*CK up or get lost if you can't handle criticism!
ENGLAND…Rooney & co…you were SHIT! I'd be booing with the best of them if I'd have mortgaged my house or took out a loan and gone out there in these hard pressed economic times, unlike you overpaid "couldn't give a toss" shite!
So I say a big "BOOOOOOOO!" to you, Rooney and co: Sort yourselves out and give us something to cheer about or F*CK OFF back to your millionaire mansions and count your piles of money and leave us ordinary folk, spankos and pervs to get on with our lives!
awww….Rooney spits his dummy out at the end to the cameras, yesterday! Bless him…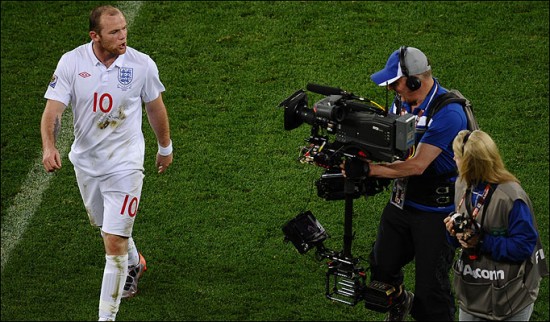 I'm sure Rooney and his England chums and team mates are reading all the choice comments from the newspapers and media, they need to understand the anger and frustration that they're causing after giving some of us real hope during qualification that the nation that invented the bloody game might just win the world's elite competition after 44 long years!…god knows what's happened now, and I, like so many others now really can't be arsed to see you guys become "Immortals" if you win the World Cup…you don't deserve our respect!!! & this team will be quickly forgotten in a few years, unlike the real heroes of '66 who I and every true red blooded footie fan from England can still name!
Sorry, rant over, I needed to get that off my chest!
**************************************************************
& now onto what we're all here for…let's take out our frustration and see the many recent and new thrashings and humiliation of our dear womenfolk as we rejoice in the glowing red bottom!!!
Lottie Kinsade is back in a brand new movie from SpankingOnline…I just love seeing her bottom jiggle as it's caned, and of course her gorgeous fleshy posterior can take a very hard amount of strokes with the rattan rod…Just see below in this special FREE preview!
Exclusive it is…indeedy! Out now at flagship site SPANKINGONLINE!
******************************************************
From Punishedbrats comes these delightful recent updates, most of these movies are now available to view IN FULL as I have been quite tardy in getting these up, but please feel free to check out these images and stories from one of the net's best repositories of the most spankable babes around…including the long awaited return of Juliet Valentina that I had knowledge of 6 weeks ago…I'm sure many of you have seen the images, but check out the now brunette cutie and all the other updates including my current lust object, the gorgeous pouting brat, Lorraine (OMG!!!)
Juliet Valentina – Lingerie Problems (over the knees of a returning Beverly Bacci!)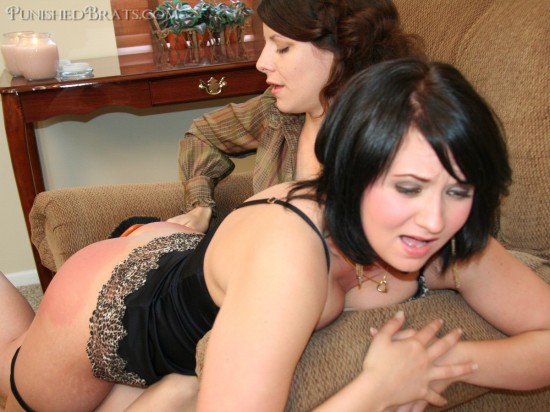 PREVIEW CLIP 1 – PREVIEW CLIP 2
Juliet should be preparing for final exams, not preparing for a hot date with her boyfriend. When Aunt Beverly arrives home to find Juliet barely dressed and without a book in sight, she teaches her a hard lesson with the hairbrush! You'll see Juliet motivated to start her learning again with flaming red hot cheeks to remind her not to be such a bratty slut!
The oh so delectable Lorraine – responsible for causing severe trouser bumpage "chez Chief's"

Lorraine snuck out of the hotel unchaperoned at an out of town game. Although Coach Beverly allowed her to play in the game, she is now having to pay the price for her misdeed and receives a proper  glowing spanking! More excellent OTK shennanigans over the knees of the expert Miss Bacci!!!
& let's not forget the beautiful blonde brat, Charlie Skye, who David appears "fond" of…eh?

being over david pierson's knees, Charlie realises just how much a spanking with him can hurt and promises never to be late again! Hmmm, we'll see, beautiful brats like her never learn their lesson….fortunately!!!!
To check out the very latest updates including special free preview clips and forthcoming new movie updates, check out the tour pages of Punished brats HERE
****************************************************
& finally a few recent updates from other hosted sites by myself, i hope you enjoy these rare and varied spanking updates, with some cracking free content!!!have a good weekend, & remember to BOO those that let you down!!!! Or perhaps you could join this rivetting VUVUZELA twitter site…loving the Bzzzzzzzzzzzzzzzzzzz!!!!! 😀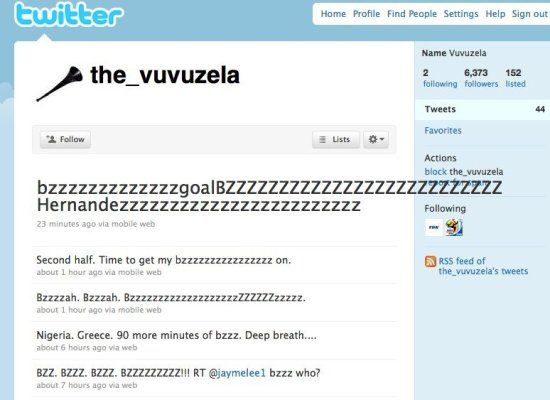 Ok…have a good one…back soon  with some all new spanking stuff!!! Chief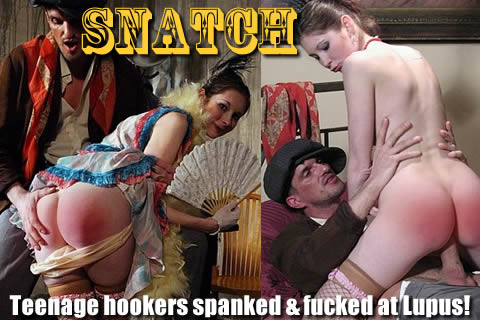 & finally the very latest offerings for those that enjoy the pay per download options of films or packages, check out these latest beauts, and they really are good deals!!! Plenty of free previews of these movies, so enjoy!