Well, Holland may be playing Spain in the World Cup Final on Sunday and the English failed miserably in their worst World Cup placing for an age … but we English DO have something to celebrate…the Referee will be an Englishman, so watch your manners you lot!  (wowee! What a consolation, lol … actually Howard Webb is a very good referee and is no doubt the best guy to boss these players since he knows half of them that play in the English Premier League).
So, good luck to both sides on Sunday, I have no real preference to be honest, I just want it to be a great showpiece of European football, I'm sure it will be a tight cagey affair, and in this role reversal Mike's last few updates at Spanked-in-Uniform have featured some of England's finest spankees in the shape of Amelia Jane Rutherford, Pandora Blake and Lottie Kinsade to name a few.

As I'm pressed for time and I have given more than enough coverage to the gorgeous young Lottie at loads of sites, you'll see the 2 very latest updates from AJR and Pandora in 2 "uniform" updates at St Catherines School (schoolgirl uniform) and The Birchrod Inn (French maid uniforms). Enjoy!!! I most certainly did and these girls got some serious red bottoms!
Amelia Jane is back & looking scrummy in her dark blue navy uniform of St Catherine's

Amelia is having a bad week at school. The first day she overslept and was late for school so she was immediately spanked on arrival by Mr Smith who was on duty spanking any latecomers without excuses. Later that day she was sent to the Headmaster for forgetting her homework and she got a sound bare bottom birching! The next day she overslept again and the Headmaster caned her bottom! Poor girl, check out some vid grabs from this excellent long play movie OUT NOW HERE to view in full!
Who doesn't have a thing for seeing girls as lovely as Amelia spanked in school uniform, eh? Well, Pandora Blake's latest update is a great twist as it's a continuation of her time at the Birchrod Inn before…and it's a great storyline and one of Pandora's most severe spankings I've seen in a while!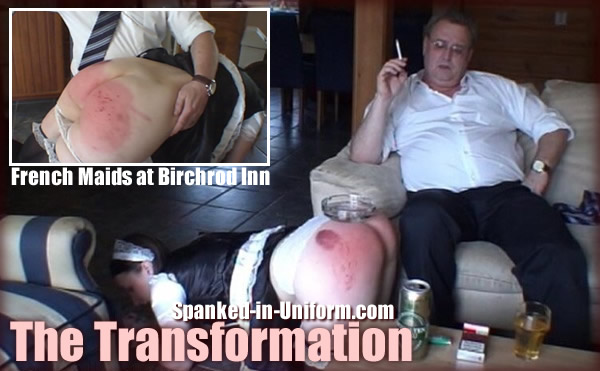 Pandora finally has a use for Mr Johson as part of the furniture
The Transformation, with Pandora Blake:
The last spanking and leather paddling didn't have much effect on Pandora because the next day Mr Johnson caught her wanting to post a letter to her lawyer in which she accused him of sexual harrassment, human rights violations etc… (thanks to our wishy washy much abused European Human Rights legislation).  Mr Johnson was furious, so he pulled her across his knee and gave her a HARD proper red bottom spanking! Later she got her thighs smacked for not curtseying properly and she got the "special" Birchrod Inn training. Serving drinks properly, ashtray positioning, kissing feet etc.. She was transformed from a hoity-toity little madam into a submissive, compliant, proper little maid. This is one movie NOT to be missed (vid grabs are below and only tell part of the story):
View ALL the latest episodes across the Spanked-in-Uniform network HERE
****************************************

Lovers of Mike's work will of course be well aware of his long running and very successful Domestic Discipline site that features MANY exclusive girls from Holland (as well as importing our hapless English hussies) and this site still gets the Chief's Top Trouser arousal ratings for "Schpannnkings"…here is naughty Miranda getting the Real Life Spanking treatment with a spanking and a birching, which I really love to see!
This is what Mike had to say about this plump bottomed tart:
Miranda gets a sound birching and spanking for failing a subject.
"Miranda reluctantly handed over a test result and she had failed it. Normally when a girl did her very best I would not punish her for it but she admitted that she could have done much better so over the table she went for a sound birching. Halfway through the birching she surprised me by asking if I would please put her across my knee and spank her instead of the birch and I obliged. I knew that being put across the knee for a spanking makes her feel truly punished and that is due to her upbringing. I pulled down her panties and turned her bottom a fiery red and she got up with a tear stained face after her spanking."
Want to see much more? CHECK OUT MY OTHER BLOG POST HERE at my teen-spankings.com site which has a mini review of many of the Real Life Spankings sexiest and tear stained girls getting it good across the lap of Mike!

****************************************
& on the other side of the English Channel, I have seen MORE Special Deals!
Click on these fine sites below who currently have amazing sign up offers!!!