As promised , I have a selection of new updates from around the spankosphere, something for everyone, and there's some damned fine stuff here, so I hope this keeps you going til my next post!
NEW from OTKspank.com is this very hard and nasty spanking of Joanna at the hands of her boss! Never be in any doubt that this spanking film is anything but severe, when you take a look at the Free clip HERE you will understand fully what I mean as her tired sore red buttocks are continually slapped, I can feel the heat of her cheeks just looking at the movie…ouch!!!
Once again, the images you see below from this movie are totally exclusive and shown here first before anywhere else!
Joanna's wobblesome cheeks are mercilessly thrashed and it starts to become all too much for her as she wriggles and squirms in both pain and embarrassment that she knows her bottom must be looking like raw mince and her privates are provocatively splayed for all to peer at OTKspank – still one of the cheapest Premium spanking sites with an amazing long term sign up offer – CLICK HERE!
***************************************************
I also have a sneak preview of a brand new movie coming out later today or definitely tommorow (Saturday) from BRITSPANK – it's so new and I managed to blag a few images off the webmaster (I also got to see the film starring Elizabeth Simpson who "tests" out new British girl, Wendy, who is excited to be trying out with Elizabeth). But the smiles and laughter soon turn to yelps of pain as Elizabeth never slacks in her duty and thoroughly thrashes her tight bottom with a leather paddle and the cane, the caning scenes are pretty severe – what we get to see is this girl CAN take a hard punishment – just as well, as she was in a day long film shoot and shot several severe movies, some of which you will have already seen come out in my previous recent posts!
As you can see Wendy is a tiny thing, only about 5ft tall, but she proves she can take a really hard punishment – check the image below!
CLICK HERE TO SEE MORE OF WENDY PUNISHED IN HER UNIFORM
**********************************************
As we're on the theme of casting sessions, which I always like wherever I see it, it often means there is a fresh faced girl, a newbie, the sort of girl next door type, a nervous teen etc etc and anything can happen, it can be mundane or superb, of course, most spanking producers will only show us the decent girls shown first time, a girl crying off after 2 minutes is not worth watching now, is she?
Check out the very long legged model called Star, below, who Amber has a great time teasing and spanking over her knees, Star really does have a tight little body and in the movie you can see Amber enjoy tweaking Star's nipples as her breasts hang down when she's spanked! A very horny and erotic girl/girl spanking from AmberSpanks.com – see my special EXCLUSIVE Free preview of this below, I promise you won't be disappointed!!!
Bravo to Amber! Check out both her sites that you can see Amber dishing it out or getting it good as we all know and love to see!
***********************************************
Talking of long legs, here is possibly one model that even rivals Amelia Jne Rutherford, a gorgeous newbie at Firm Hand Spanking who I am smitten with, I had already previewed one of her last movies, well, once again, we have a chance to see those legs that look longer than the River Nile (I'd love to snuggle in her Nile Delta – haw haw) step up ADRIENNE BLACK!
Smoking and playing pool instead of studying hard soon gets the attention of tutor Earl Grey when he catches Adrienne slacking in this series of College Discipline Program films. You'll see her given a proper sound spanking, her white panties slinking down those catwalk legs of hers as her bottom turns a beautiful shade of crimson! See my EXCLUSIVE Free clip below and the rest of some chosen images from this movie!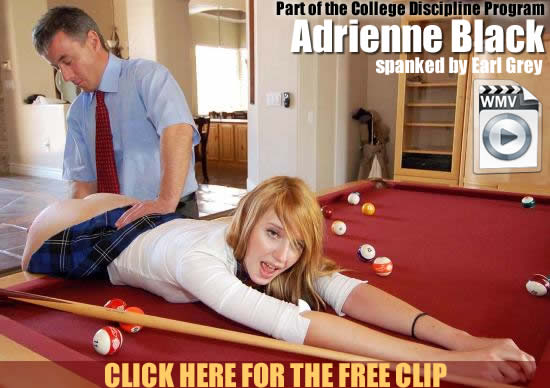 Adrienne is one of the new breed of girls that Firm Hand Spanking have managed to procure making this still one of my essential spanking fixes and of course, looking at Adrienne you can see why, eh?
SEE MORE OF ADRIENNE BLACK BENT OVER & THRASHED HERE
****************************************************
Finally today, Ellie Maye's slippering movie is made available for StrictSpanking members and this is the one where she really complains, trying to stop the punishment, crossing and uncrossing her legs, her poor bum burning, heavily reddened with her trademark speckles, it's a delight to see this brat given a damned good slippering, and you can see the preview below! Please loosen your trouser garments, gentlemen, if you haven't already drilled a hole through your cotton slacks!!! Thank you.
SEE ALL THE LATEST UPDATES WITH SOME STUNNING FREEVIEW CLIPS HERE
Have a great weekend everyone, and I hope you enjoyed these latest updates! Chief.