I can't believe this week has flown by. I have been wrapped up in a lot of stuff recently so that might help explain how things have just run away timewise, so rather than give you shed loads of stuff, I have opted for something which you might not have seen elsewhere (well, you might have seen some images but you sure as hell won't have seen the free clip I've got below unless you're a member of the site) – and what a start to today's update it is!
I have a thing for seeing dumb little starlets thrashed, and Ashli Orion plays one so well in the latest episode from the spanking soap opera that is MYSPANKINGROOMMATE.com – now I'm sure she isn't really that dumb and ditzy in real life, I hope to God she isn't as she is just "sex on a stick", isn't she? (I suppose I could just go for the sex and a stick part) – though I know many spanking models I've worked with in the past are definitely loopy and total airheads – which is kind of a shame, but this movie is great, it made me laugh (as well as cause my much expected trouser bumpage) both Chloe and Madison are superb pouncing on Ashli when they've had enough of her bratty ridiculous airhead behaviour!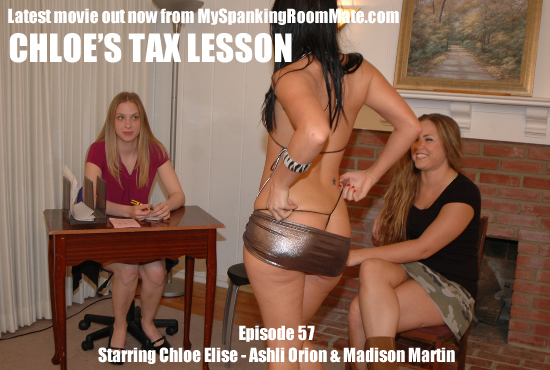 OK, so the story is that Nicole (played by Ashli, she of not very much clothing above) turns up late for some tax advice that Chloe is dishing out, madison is next but is waiting as "Nicole" arrives wearing hardly anything…a bitchy remark from Madison sets the tone "Is it laundry day?" she asks.
This airhead then annoys Chloe not bringing the required forms so she can assist her, in fact she's so clueless, she'd make the most clueless, ditzy Dodo bird asking what's for dinner to a bunch of starving pirates on Mauritius 400 years ago seem more intelligent. Both girls have had enough of her and Chloe says she needs a good spanking but in a class comment from our porn chick, she says she "doesn't mind things going up her ass, but NOT on it!" That made me laugh…she's then spanked & paddled by Chloe and then Madison who becomes a little more aggressive and uses a hairbrush on Ashli's (sorry Nicole in this film) bare bottom, making her yelp out loud, suddenly it's not so funny anymore! By now I had some serious trouser arousal issues, Ashli is a very sexy thing and seeing her over both these girls knees was a tad too much!!! You can see what I mean from the images and the special free clip below. Another classic episode OUT NOW TO DOWNLOAD IN FULL!
This is a seriously naughty romp of a spanking movie
See ALL the episode listings HERE!
Don't forget that this site is part of the very popular options via the Clare Fonda Pass
*****************************************
How do I follow that? How about this movie I saw earlier today thanks to Chelsea Pfeiffer. Another class OTK spanking from the West Coast queen of OTK spankings and thisis another interesting storyline as she spanksEast Coast fave Sarah Gregory in a tribute to the Lakers v Celtics basketball match (don't ask me about basketball, this is where I understand how my American friends are largely ignorant of football, or soccer as they call it) I have zero interest in this sport and just don't get it, i get that there's rivalry and Sarah, being a Boston babe gets it from LA based Chelsea as this drunken beauty with her most delicous jiggling ass gets a very sound spanking!
Check the FREE Clip I have cut and see for yourself!
Warning: Sarah's wobblesome buttocks WILL cause severe trouser arousal!
Mmm, so to add "Insult to Injury", you can view the full movie of Chelsea giving it good to Sarah HERE
**********************************
You may remember me praising Jasmine Lau's naughty film recently as she talks to us about her wildest spanking and punishment fantasties and what she actually does in real life. To be fair, for her, spanking really has become a part of her life and this English porn starlet has become somewhat of a painslut and, boy, does she do it well! Just watch and listen to her dirty potty mouth as she let's us know what she enjoys having done to her – here, she's holding the hairbrush – Go on Jasmine, talk dirty and smack your tight buns!!!
This is the latest movie at SpankingDigital.com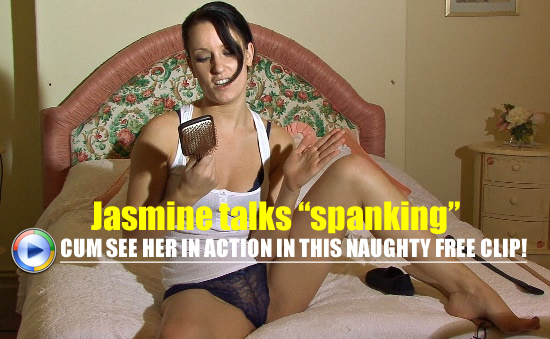 YOU CAN VIEW JASMINE IN ALL HER GLORY AT SPANKINGDIGITAL.COM
Before I go, don't forget to check out my Spanking Theater and Spanking Teen Movie clips sites. There are always new movies being added at these all the time! Loads of options as well from pay per second to buying time or clips which most people do after checking out what films are on offer, and you can sign up and receive free minutes to review movies advertised there like the 3 I have highlighted below which I recommend to you good folk today to take a look at! Have a good weekend 🙂