Howdy! Just a quick one today, I know there won't be many American readers today, as no doubt the USA contributes yet more CO2 emmissions with millions of BBQs on their national day of Independence (A big mistake in my humble opinion, of course, lol) So they'll miss out while the rest of my worldy readers see there's a new offer at THEBAREBOTTOM which I saw had appeared this morning. I'm not sure how long it will last, but for a limited time you can access the entire site for just $9.75 (that's nearly a third of the normal monthly price!)
Click on banner below and you'll get to see all the latest updates and the link to the offer if you're interested
*************************
Whilst I'm here, it would be rude of me not to let you know there's a brand new movie just uploaded to SLUTSPANKING and as it stars that "Posh Spice" teen looky-likey, I thought you'd like to see her spanking and being spanked…awww, she's so cute 😉
Check on some images I've blagged off the webmaster (these are not shown anywhere else) and a link on how to download a free clip of these naughty madams!
CLICK HERE TO VIEW A FREE PREVIEW CLIP
********************************
Another site that has an ongoing offer, apart from their low sign up price of $19.95, is REAL SPANKINGS INSTITUTE – Anyone who knows this site will realise their archives are vast so this price is very fair, what's more, as it would take a while to fully downlaod this site to yoru PC or external hard drive, there is an ongoing offer of $45 bucks for 3 months, which is quite fair! Anyway, enough of that hard sell, take a look at the recent stuff coming out – if you're into seeing snivelling girls paddled, this really is THE site to view!
The latest update features Jade paddled in the school hallway!
Stripped of her dignity and her bottom fully thrashed!
Now I know that I'm not the biggest fan of seeing girls heavily tattooed, especially if they cover all their arms legs and back, but I still find Jade attractive, and I know that there are loads out there that love heavily tattooed girls anyway… however,. what I find highly arousing about Jade, apart from her perfectly trim ass, is the fact this girl has a high tolerance for pain, obviously with those tatts … and she had already taken a severe spanking which would make most girls cry uncontrollably and had also faced the dreaded "Robo Spanker!!!"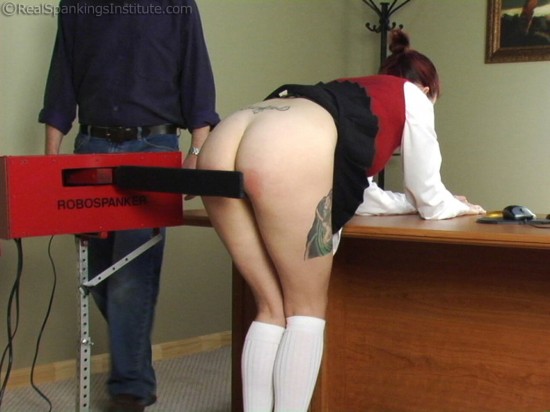 … and of course there are plenty of very pretty girls and teens at Real Spankings Institute that are not covered in tatts such as the lovely Erin and Riley featured below!!!
You can view more of these girls HERE or sign up through the better value Real Spankings Pass which covers all their sites including Teen Jessica which, as a Real Pass member myself I find is a fantastic bonus site and still has stuff of hers updating even though this gorgeous tight buns redhead retired years ago…loving her work as always ( I tend not to promote Jessica as I like to keep her all to myself, lol) However that's not in the spirit of things and you can see more of her here if you've been living on Mars the last 10 years and don't know who she is then her SITE alone is well worth a peek!
*************************
Finally, I was rooting around the archives of HDspank.com checking on Jodie who I wanted to see in crystal clear playback resolution. I felt she deserves a final mention here today as she's such a doll – after…ahem…I decided on this after spending some time viewing her earlier as the Missus has popped out to visit her mother (I decided to stay at home instead) … and I know many people agree with me, this is one brat that I never tire of seeing bent over someone's knee getting a darned good thrashing!!! & yes! I did watch it in a darkened room…Havana cigar and loose fitting garments was indeed a requirement! 😀
Click on images below which lead to free preview content of what I was getting "wood" to earlier
You can also see all the other HD updates with real HD spanking clips HERE