I had been planning on doing a full site review of this new website, SARAHGREGORYSPANKING.com and it's been around, oh, about 6 or so weeks? However, planning such reviews etc takes time, precious time I've had very little of recently, I'd love to do a proper review at another time as I want to do Sarah's new site justice as I think it's got a lot going for it (um, well, it stars Sarah Gregory, of course!!!) 😀

I've enjoyed Sarah's work at just about every American spanking website that she has appeared at over the years and I have also enjoyed seeing her get a little raunchy from time to time as well in some very hot F/F spanking movies. However, I wanted to show you these 2 recent updates below at her new site as they actually are quite refreshing, especially the "Masked Stalker" movie which made me laugh as well as enjoy seeing her bottom paddled by our mystery man!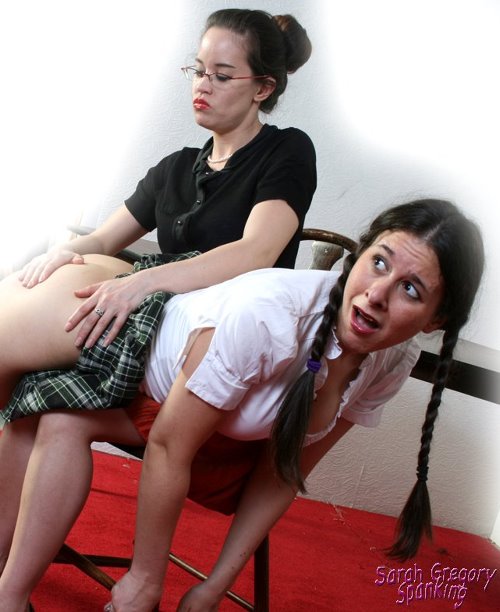 However, first up is a movie called "Sarah in trouble" and as the title suggests, she's in bug trouble after being allowed to look after the house while everyone is away, but her folks come back early and the place is an absolute tip, time for some angry retribution spanking stylee, you can see what happens below from the few images and movie clip that I have cut for you.
The below movie clip is Quicktime (.mov format) this is fully viewable with Videolan (VLAN Player)
Download the excellent VLAN Media Player for free HERE if you don't have this already 
This plays all major video formats like .WMV .RM .MPEG and .MOV & is my personal player of choice!
The 2nd movie I am featuring today has just been released in full so members can view the entire film, and it's a bit of a giggle, starring Sarah with Kat St James and the Masked Stalker….it's a bit of a play on the "Scream" movies, but it's refreshing to see the thought that went into this as you'll see below when the Stalker is letting them know he's watching the girls in a phone call…see the drama unfold below…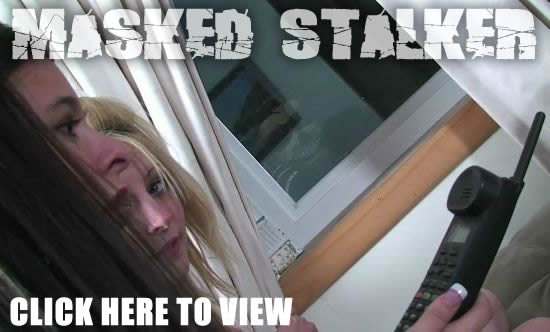 This is what Sarah had to say about the description of the movie: In this fun and playful spanking video, Kat and I are having a slumber party. We're interupted from our own spanking fun when a masked man shows up at the house to punish us. We both love scary movies, so you'll see us having a lot of fun shooting this video together and hope you will love it too!
Indeedy, Sarah, I spied you guys more than once trying not to giggle or keep a straight face when the lucky "Masked Stalker" breaks into the house and has his way with you naughty girls!
See the free movie clip as the masked stalker gets his way witht he girls…
Check out Sarah Gregory's site tours so you can see what is available – currently, this site is being updated in what appears to be a daily basis, which is quite admirable, I doubt this will last as it gets too much but it's a great way to build up the archives and full marks to her and the team for doing this! There's also a reward for being a longer term member, you can see all this and more at the banner below!
 My only minor gripe is that the movie formats are in Quicktime, being an old fuddy duddy Windows slave/user to Bill Gates I've grown used to downloading stuff in mainly Windows Media formats, but as I said before…I rarely use their media player nowadays and Videolan Player easily covers this format and as you'll see the playback quality is great! Anyway, go check out Sarah's site – this was supposed to be my Thursday post, but I had issues last night with my internet connection, so pop back later and I'll have my usual Friday/weekend updates for you all!
Regards, Chief.