Hi everyone, this is a 2 part special update and the first features a site I haven't reminded you of recently – NORTHERN SPANKING
When you see some of what is on offer from some of my fave girls on that site then you'll understand why I was delayed with, ahem, updating this – that bloody site, like so many that I review now, are so damned addictive viewing! Okey-dokey, gotta hurry as tonight I have to endure a visit to The Theater and watch the musical "Les Miserables" – it's a present to "er indoors" to get her "outdoors" and I admit I'm a bit of a philistine when it comes to musicals and suchlike, but this seems a safe bet, I just hope I don't yawn too much (heh heh!)

"Spank me for being miserable!"
As I said, it's Northern Spanking today in part 1 and I have a selection of bumper updates featuring girls we all know very well and love seeing with their knickers down, bottoms bared for their punishment, girls like Lottie Kinsade and Irelynn Logeen, these 2 together should come with a public spanking health warning! Check out the FREE gallery below and movie explanation which explains this story, they're wearing French Maid costumes….enough said!!! *pant pant*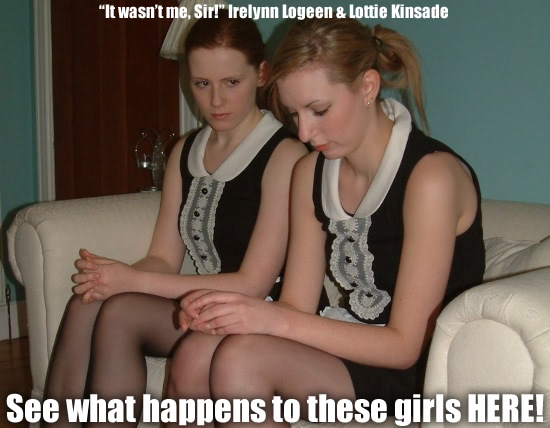 If you liked that, check out more of these girls below, they have starred in many a production at Northern spanking themselves, I've featured them before and enjoy these topical updates below.
Irelynn Logeen & Paul Kennedy – ""It's all Dutch to me!"
Irelynn has moved to England from Holland to stay with her Uncle so that she can attend an exclusive English school and improve her studies. In addition to the expensive day school, her uncle also employs an evening tutor, Mr Kennedy, to teach Irelynn about English Literature. An area in which her education to date seems sadly lacking. Even sadder however, is Irelynn's declaration that the English classics are stupid, claims to not understand them and she refuses to study. Mr Kennedy is left with no alternative but to provide the young Dutch girl with a little motivation!!!
Lottie looks Hot in her skimpy bikini, and I don't know why she thinks there's anything to laugh and joke about our usual crap summer here in England… squirting water on Paul isn't the wisest of decisions!!! Don't be fooled by those blue skies, it doesn't last long here, and neither does Lottie's bikini bottoms as they are removed for a quick spanking!
Finally from NorthernSpanking it would be rude of me NOT to mention that the very latest update features very popular and very busty Jadie Reece, so here's my final excuse to find some images of her amazing cleavage and buttock cleft as she's spanked over Stephen's knee, imagine Jadie wriggling over your lap…hmm, best not to, I think! 😀
This is the storyline behind the latest movie update:
Jadie was not cut out to be a museum guide. All this old, dusty stuff is just boring! Not dusty and boring however is the Curator, Mr Lewis, who is the main reason Jadie is still sat on her hard wooden chair in this old relic of a house! Still, flirting with Mr Lewis should keep her sane.
Mr Lewis however is very intersted in dusty old stuff, as well as pretty Jadie! Which is why he has let her sit there for days on end, reading her book and not talking to the, admittedly few, visitors.
Aware of her attentions, Mr Lewis has the perfect solution for punishing the lazy, inattentive girl. Plus he gets his hands on her lovely bottom! (Chief's edit: I do hope he has some protective steel undergarments or all hell will break loose!)
You can see much more of Jadie as her knickers are removed and her gorgeous alluring bottom is given a very naughty spanking HERE!