As promised here is part 2 (if you've just signed on, you're in for a treat as if you scroll down you'll see part 1 from earlier today!!! OK, enough of my waffle, I have a tedious night ahead of me so i want to get this done befor e I ensure it (see my previous post and you'll understand!)
What about Lottie Kinsade? She appears to be that model that is everywhere but for good reason, watching her get thrashed right now at the various sites is quite addictive! I shall choose SpankingOnline in this post as my destination for Lottie as it currently has a really hard caning movie where she is humiliated into "thanking" Him for the cane strokes after each one lands on her very sore bottom! Check the images I have for you below and also the free movie clip which is only available at THIS Blog! (where you can see her doing the embarrassing "thank you" scene) – what you will also note is that her red bottom has started turning white from the cane strokes, the skin is welting, basically… try it on your loved ones and cane continually on the same spot and if you're good enough, without breaking the skin, this is what will happen! It's a particular skill and you can be assured that the swift strokes of rattan against Lottie's fabulous derriere are hitting the mark!!!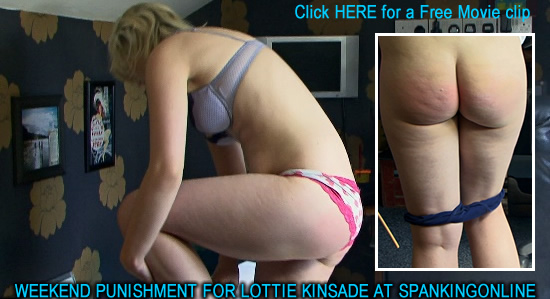 Click the image above to download my free clip of lottie's caning!
You can see the FULL caning movie of Lottie at SpankingOnline
*************************************
OK, who wants to see Kami Robertson thrashed wearing a uniform? Do bears shit in the woods? Of course you would and at Spanked-in-Uniform that is precisely what you'll see in one of their latest and very hot movie updates! I must admit I have a thing for seeing Kami get disciplined, and so it seems do a lot of other spankos as this girl has become very popular, I wonder why??? 😀
Nurse Kami Robertson is one of the latest girls to appear at St Elizabeth's Hospital – check out her episode below!
A famous movie star Jim Blond visited St. Elizabeth for a regular check up and nurse Kami was told to keep any paparazzi and screaming teens out of his room. Naughty Kami decided to secretly take a few pics of him herself so she could send them to the tabloids and make a bit of money. Dr Johnson caught her in the act and let Jim Blond give her a good spanking first! Later Dr Johnson spanked Kami with his hand and a nasty looking hairbrush and in a humiliating twist took some pictures of her sore red bottom and sent them to the tabloids which made front page news: "Jim Blond spanks paparazzi nurse!"
Don't miss Kami in her nurse's uniform getting humiliated with a bare bottom spanking! & you just know she will be appearing at more sections of Spanked-in-Uniform very soon too!!!
Have a good evening, especially if you check out any of these movies/sites I've featured today. OK, I have to get ready to go out now…sigh 🙁