Just a quick update, I had featured NEW bratty model yesterday over at my BareBottom Blog – for some reason, reader counts are low there the last day or 2 and this was kind of an exclusive before everyone gets hold of it so I have got you a link to it here if you have missed it which includes some early 1st show images I got and a great FREE 20Mb clip that has new girl Mandy screaming and blubbling like the spoilt model brat that she is!
Greg aka The Mystery Spanker – has told me he is filming loads more brats this week and is taking a well earned break after that s0 I can't wait to see his latest additions coming soon!!! If you haven't already, click image below for the FREE preview!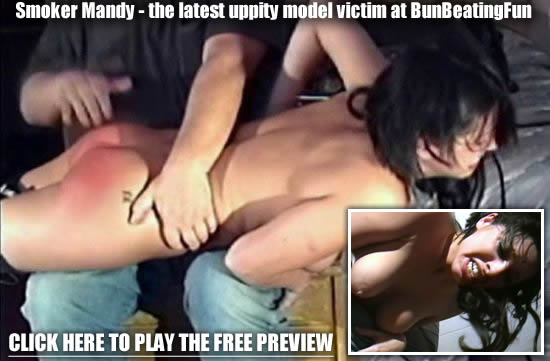 Girls smoking "on set" infuriate me, but I'll forgive Mandy as she's got a nice set of baps and a very spankable arse that is tested to the limits in this quite severe and sustained spanking she gets!!! I've downloaded the full movie and it's HIGHLY RECOMMENDED!!!
CLICK HERE FOR THE FULL TOUR PAGES
PS) I'm looking after Elizabeth Simpson's blog while she is away on holiday – I updated it today with my 1st post HERE while she is no doubt getting drunk and sunburnt – forshame!