Yeah! That's what I'm talking about, my eyes would be popping out on their stalks too if I was lucky enough to catch the sight of a girl like that! I was out the other day and took a snap of a beauty in her jeans, it's not quite in the same league and the image is pretty crap as my phone camera is poor…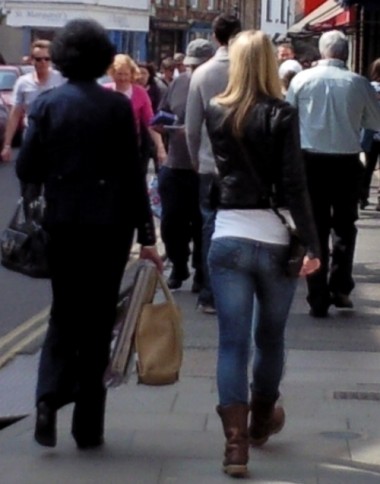 Below is a very special preview which have 2 long play clips – you may have seen some part or all of this classic, but I'm willing to bet there are many readers here today that haven't and it's well worth downloading both clips which are excellent and quite severe!
Above movie advertised is available at SpankingOnline.com
*************************************************
Clare Fonda has unearthed a gorgeous new teenage spanking honey in the form of Brynn Tyler! I am guessing this is her very first online shoot that she did at SpankedSweeties as I've never seen her before. SpankedSweeties is basically Clare's specialist intro site for newbies who explain a little about themselves and explore their own fantasies and previous spankings and act it out for all us lucky folk to enjoy!
The site isn't all about first timers though, there are plenty of regular spankees who come here and act out their wildest spanking stories amking this an addictive one to keep tans on, I prefer to do this via the Clare Fonda Pass network which costs a little more per month but when you see what you get for all that spanking goodness, it makes total sense!!!
Brynn Tyler yesterday 🙂

However, today I'm focussing on the very luscious Brynn (above), who really has a fresh new look and what's more, when I started watching the first parts to her first movie now being shown earlier today, I spluttered my cornflakes over my keyboard (serves me right for multitasking) when she got spanked by Clare over her tight "Daisy Duke" denim shorts – oh boy….that wasn't the only mess I was clearing up afterwards … ahem! Well, you'll see that Clare spanked and paddled Brynn over her shorts then of course spanked her bare bubble butt OTK!
This movie, Brynn pretends to eat her food and is caught out lying to Clare. She may be 18 years old, but she's not too old for a thrashing for being such a brat! This is what Clare had to say about her new girl in this movie: Brynn is not a heavy player but has a cute little bottom and as her model friend Mia Lelani said – "does not mind a good spanking!" She is a pretty model who is highly reactive when spanked. Enjoy her spanking stories and scenes. (Chief: "we will!")
You can see the FULL movie here at spankedSweeties.com
or you can view this site as part of the Clare Fonda Pass network

*************************************************
One young lady who you know I absolutely adore is Snow Mercy, an amazing "switch" who can take quite a punishment as well as dish it out! I hear she's back from her humanitarian work in Haiti and for those lucky enough to be living in LA she'll be hosting the Dormitory room at this party spanking girls for fun HERE
Well, below, as further proof was required how hard she can take a spanking, a classic from DallasSpanksHard from my personal collection. This was filmed a while back and she takes some heavy swats with the bath brush! This was Snow's 1st time with Dallas and afterwards she's interviewed and shows you her bruised bottom a day or 2 later! I have some images from this movie and a special facial cam angle for those that like that kind of thing as her bottom is whacked hard….for the full film (and of course the butt blistering scenes) you can view it along with tons more cracking movies that Dallas has made HERE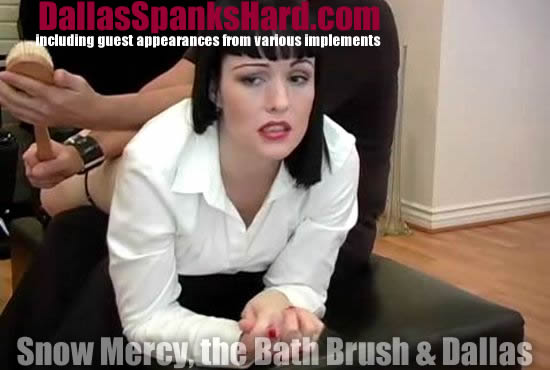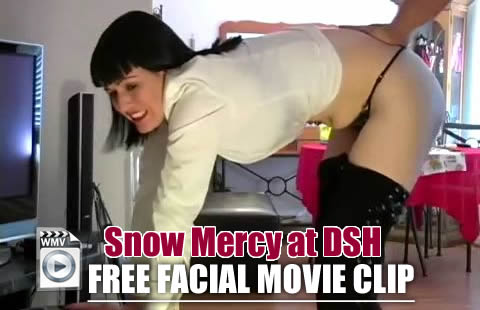 You can download the FULL Film HERE at DallasSpanksHard.com
********************************************
Finally today, check out some other sites I have been meaning to advise you of with some kick ass (literally) hot new updates! I'll start with NorthernSpanking and 2 favourites. Kami Robertson is something else and I see Paul Kennedy was in much need of my protective steel undergarments from having that wriggling wench over his knee, you'll notice from these beautiful high res images below that Paul has conveniently sat himself on the edge of the sofa after first spanking her over his knee then removing her tight panties revealing the full beauty of her rosy red butt for his paddle! (Lucky git!)
If you want to see much more of Kami – she is available HERE
Another hottie is "that there" Lottie and I have to say the photography from their infamous SSS (Short Sharp Shock) series is phenomenal, this really captures thsi naughty girl beautifully! She's late for assembly so the Housemaster decides to take her away privately and thrash her gorgeous reddening behind! However, after Paul's "trouser faux pas" I see Marcus Black here doesn't dare take "Lottie the hottie" over his knee…there'd be all sorts of innapropriate trouser mishaps, I'm sure! I have included a special free preview clip below, click on the large image to play this and the smaller images for some stunning photography! Well done to Northern Spanking – they have really upped the quality of their films recently!!!
Lottie and co can be viewed in full HERE
************************************************
The very latest slippering movie from HDspank stars the lovely Jasmine Lau and she really does get a good hard slippering at the hands of her Headmaster who almost lets her go then decides to thrash her when he realises that her nail varnish issues have been highlighted by various teacjers over the week – cue the door to his office being shut firmly in her face and her tight teenage bottom bared for a quite nasty slippering she won't forget in a hurry! Click on the image below and you'll get some high res image grabs from this film which has just been released in HD Format!
For a FREE HD Clip of Jasmine's punishment – CLICK HERE
I'm being told off by the Missus for still being here so I'll leave you all be and wish you folk a good weekend! She better have my supper ready or I feel a slippering is in order!!! (I'll engineer some feeble excuse, as she's overdue a thrashing, LOL!)
Chief.