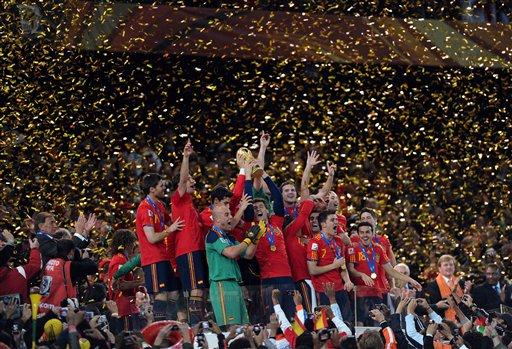 Ok, it's finally over, the Cup was lifted, the million plus crowd have now dispersed from the centre of Madrid, San Miguel cervezas are out of stock all over Spain, my precious rioja wine supplies are thoughtlessly being drained dry and I shall have to find a loser country like Australia (heh heh, only kidding, love you guys really) for my wine supplies and we can forget the shabby final where the Dutch had decided to kick the Spanish out of the game, disgracefully, who in turn rolled on the floor theatrically, and kicked back a bit making the world's most watched Final a farce. I hear in Holland they are making death threats and villifying the English Ref who, in almost all of England, we think he did a good job considering the shitty tactics which killed any chance of a "spectacle". What would you prefer? That he sent off 3 or players early in the game (2 Dutch for sure and probably a Spanish player before the game was even 30 minutes old). It's the World Cup Final FFS, the Dutch acted like damned cowards, I thought. I love our friends from Holland to bits and wanted them to win at the start and thought they would make a go of it….but that wasn't the Holland we've all seen this year. Anyway, the Spanish deserved it, they were by far the best team of the tournament, and by far the best form team for the last 3 years, and I loved this bit when the Spanish Captain was interviewed by his girlfriend, Sara Carbonero, who is a massive TV news star in her own country…this is the David & Victoria Beckham of Spain…oh bless!
OK, that's enough of that….ON TO THE SPANKINGS!!!! & I have some good stuff for you today!
So where do I start? I'm going to concentrate on schoolgirl punishments today as that's what I'm currently enjoying viewing and the first below is a new update from CANEDSCHOOLGIRLS starring Kara Jayne caning Sarah Collins (who plays Christine the schoolgirl) very hard! When these two were together, you knew sparks would fly! Sarah cries out in pain as first the strap then the rod was used severely across her very sore cheeks! "Christine tried to fake tummy ache in an effort to be let out of school early. The headmistress was having none of it as she had seen the girl earlier stuffing her face with chocolate" LOL! & very satisfying to watch!!!
***********************************
Goldie Rosemont is fast becoming one of my spanking lust objects and you can see why at this latest exclusive Firm Hand Spanking movie out now to download – and believe you me, this girl, with her pants down should come with a public health and safety warning!!! See why I have "wood" below:
A spectacular, epic strapping awaits sultry Goldie Rosemont at Reform School when she's found by Mr Strickman chatting online instead of doing school work. Laid face down on her dorm bed, skirt up and panties down, her bouncing bottom takes a fast and furious 187 licks (yes, one-hundred-and-eighty-seven…count 'em!) with a thick leather belt. This is one red, sore young lady!
There's a free clip advertised of Goldie on the Home Tour page HERE – well worth a peek!!!
********************************************
I don't think I've ever shown anyone this vid,which is a surprise, I was actually reviewing it again earlier today in my, ahem…darkened room…and if you like severe home discipline of an unruly teenager which buttocks that jiggle and defy gravity when they're thrashed, then you're in luck with this punishment of naughty Helena taken from movie site specialist SpankingDigital!
Helena is way out of control & her loved ones know that she is in dire need of a male authority figure to bring her firmly back into line. Miss Woods had a chat with her old friend Mr Baxter & after careful consideration she agreed to allow him to discipline her the only way he knew how. A Damn good thrashing across her bare teenage bottom!
Click HERE or below for access to the free movie clip on the home page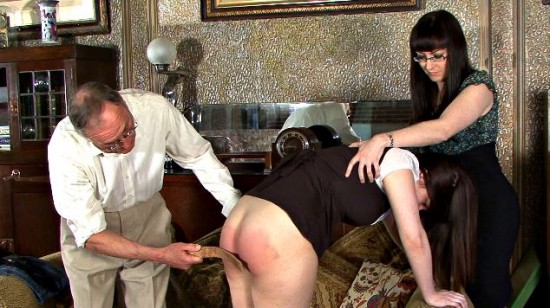 ****************************************
I'm also getting excited about current mumblings and mutterings about the forthcoming "Exclusive Education 5" series which will be filmed next month and shown at GirlSpanksGirl in the "Discipline section" of the website! I've been sworm to secrecy, and anyway, from my experience, no model is conformed until she is inside the door, sat down, signed her contract and the cameras are rolling!!! But if it's anything hald as good as last year's awesome EE4 then we are all in for a real treat, last year's spectacular is a hard act to follow and I'm sure Clare & co will have a ball filming this!
Want a reminder of last year's awesome long play hour movie? There are of course the other Exclusive Education films, but the images below are from last year's and includes so many girls I'll probably forget, so apologies to anyone I've missed!!! Snow Mercy, Ashli Orion, Ariel X, Madison Martin, Sarah Faye, Lily Anna…um there's more and that's from memory…see below, unzip and enjoy!
Several films were made and some very red bottoms were on display after this was shot! Check out some images from the movie which was so long it was divided into seprate stories (below)
You can see the entire series of Excluisve Education Movies HERE
Someone mailed me to ask what my music preferences were the other day, well, as I am listening to this song whilst I'm typing it I thought I'd find it on Youtube (not hard) and this album, from Ellie Goulding, a perfect girl next door type folksy singer, rather like the babe-alicious Pixie Lott who is still only 19 (but I digress, lol). Back to Ellie Goulding, imagine her singing to me and then removing her panties as I order her over my knee…enough…tis too much to imagine…however, she is quite a songbird and this is probably her best known song, you'll love it and I'm sure everyone will have heard it by now, but relax and enjoy what I'm listening to as I type this! 😀  Chief
check out some of my recent movies and most watched on demand/downloaded that I have on my own Spanking Theater. (Good choices by those that check it out by the way!!!)
below films are either the most watched or the most recent on my SPANKING THEATER