The very latest movie from Shadowlane now available to download it is an awesome visual feast for lovers of hot erotic and very rude F/F severe punishments!
Bed Bad & Beyond: Starring Dia Zerva, Amber Rayne & Susan Mills
Features hard spanking, embarrassing exposure, top dialogue, caning & explicit anal dildoing!
Dia bursts into her neighbour and friend Amber's house demanding to know why her "Honeybear's" cell phone is full of amorous texts from Amber referencing the exciting anal sex she had with Dia's husband quite recently! Amber pretends that she was merely joking with her "Honeybear" in sending those texts, but Dia knows better and threatening to tell Amber's husband of his wife's inexcusably slutty behaviour, Dia forces Amber to submit to her will and begins to avenge herself on her adulterous best friend by turning Amber over her knee and spanking the brunette's pert bottom rosy red.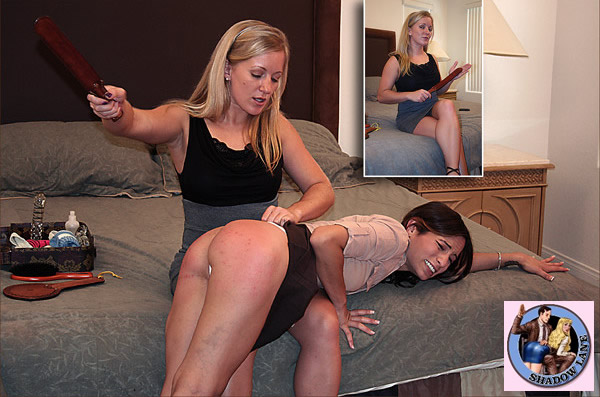 The spanking of Amber and her loud sobbing and crying disturbs another neighbour, Susan Mills, who at that very moment has her "Bridge Club" over. Miss Mills calls to complain and is rudely told to "sit on a candy cane" by Dia. Ignoring the distraction, Dia pulls Amber's clothes off, instructs Amber to spread her cheeks, inspects her cheating friend's charms minutely & punishes Amber's bottom with a strap, including disciplining Amber's anus (warning this is HOT!), and then subjects Amber to deep dildo penetration in her small bottom, using a long, thick, ripply, glass phallus to vigorously possess the slim, dark haired, fast-talking husband stealer. This scene is rated X for explicit action beyond the anal enthusiast's wildest dreams. Nor do the thrills stop there!
After she has been punished to the point of orgasm, Amber takes stock of the situation and realizes that she has reason to complain of her treatment at Dia's probingly outrageous hands. Accusing Dia of violating her husband's sacred rite of privacy by reading his text messages, Amber demands satisfaction on behalf of their shared stud. The fair-minded Dia instantly realizes that Amber has a point. Also, she's become rather aroused topping Amber and taking her bottom. So she doesn't really fight it when Amber aggressively turns the tables on her, dragging Dia over her lap.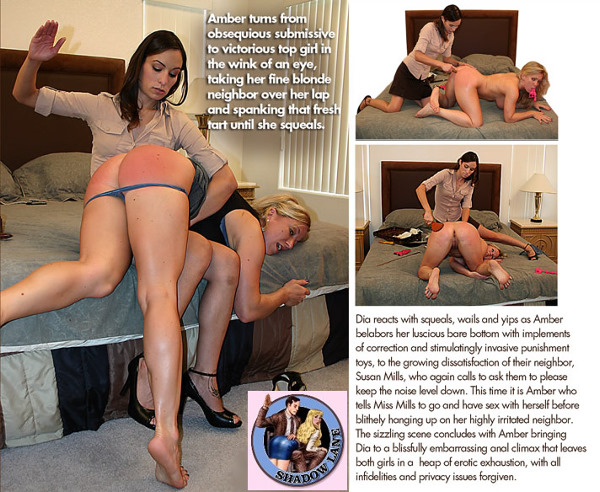 Amber spanks the hell out of Dia and pulls out such implements as straps and paddles to assist her. Then she goes into Dia's own toybox and pulls out a number of invasive butt toys to insert into the tight bottom of the voluptuous blonde. Dia's clothes and shoes come off and her sex is fully exposed as her corporal punishment continues. Amber warms to her work, scolding, spanking and roughly seducing her best girl friend and finally taking Dia's bottom with a thick rubber dildo.
The next day, Amber and Dia are happily hanging out together when their neighbour Susan Mills enters without knocking and proceeds to lecture the rowdy sluts as only an off duty police officer can. She tells the girls that she isn't about to tolerate their disrespectful lewd disturburbance of the peace and that they can either agree to take a thrashing they have coming from her or have her process them through the criminal system! Of course the girls agree to submit to an appropriate punishment from Susan immediately and go one by one over this off duty cop's skirted lap for a good old fashioned OTK spanking!
From the above images you will see that Susan Mills gives them both a hard caning making them kneel side by side with their bare exposed bottoms upturned for her viewing pleasure! She lays into them in classic style, leaving both brats marked evenly with red welts all over their naked cheeks. As you'd expect from Shadowlane the finale is amazing and worth waiting for, this movie is over 75 minutes in length and is cram packed with some of the most amazing female spanking strapping and caning scenes you'll ever want to watch as well as some very explicit sexual scenes with both girls having their tight assholes stuffed with a  dildo! Eve Howard has upped the ant once more directing one of thre hottest F/F punishment movies and you can now view and download this movie as a pay per download or pay by the minute to purchase time to view the scenes – it's an incredible movie and will leave you aching for more!!!
CLICK HERE ON HOW TO VIEW & DOWNLOAD THIS FILM NOW!
Please be aware that this movie contains the Highest Trouser Arousal Rating I can give – you will ruin your pants if you don't loosen them before viewing this fantastic movie! My advice is to download and then view in the privacy of yoru home, fine cigar and wine to hand…and don't let your wife catch you watching this very smutty spanking film! Thank you.
Chief
********************************************
Finally, I have just opened a Tube site but it is still in an early stage of development, however if you want some links shared with it feel free to contact me here – "eubilling AT gmail dot com" and I'll try add them for recip links etc.. I'm still trying to understand the php and scc style sheets which I am woeful at etc so it's a bit basic but I will be adding more films everyday, (for example I don't think the visitor count is working correctly so will have to check that out!)
Ignoring that, enjoy some of the movies there already, I aim to add a ton that are exclusive pretty soon, like the latest with HOT Adrienne! (Do NOT miss that long legged teen chick!!!) She's my next update here anyway, but you can get a sneak early preview of her!