What's the Chief been watching the last few days? I've been holed up against the rain and the gloom of our fantastic British summer, got together enough Scooby Snacks and my finest wines from around the world ready to be uncorked as I sit back in my comfy computer chair, hidden away in my darkened study – and these are some of the great movies, some now full and complete, others just released from around my spanking sites of choice this week! I have a treat for you as I have decided to cut a few clips in WMV Format so you can see the actual quality that members are downloading to watch with their own "Scooby Snacks" (will I get done by Hanna Barbera or the Scooby Doo Foundation for not copyrighting their foodstuffs? I'll take that chance!)
First up from Clare Fonda's Spankedsweeties site – I have been mostly watching much more of Brynn Tyler – You may remember that I had already featured her first film where she got spanked by Clare in the kitchen in her "Daisy Dukes" – if you don't check out my post here from Teen-Spankings – now if you thought that was hot, just wait til you see these images and of course a quick naughty teaser clip (I daren't show any more otherwise Clare will have my knackers in the roaster…) Yes, you may have seen these images before, I notice several of my esteemed fellow spanking bloggers had already posted these a month ago when the image update came out, but if you're not a member of Clare's sites (why the hell not?) then you WON'T have seen the clip as well…so enjoy and check out the story that was re lived by Brynn – her birthday spanking by a boyfriend…ah, young love, eh? Remember, this is what I have just watched, and I feel you guys should check this out if you haven't already!!!
Ok, before you check out the Free WMV Clip below, please take note that if you imagine yourself as this lucky spanking boygriend having the naked giggling Brynn over your lap then getting to grope and caress her warmed cheeks when she's straddled over your vulnerable parts, then yup, it WILL cause a Severe Arousal Reaction….Please do not hold me accountable for such "Trouser Stretching Tomfoolerly", please direct your complaints and stretchmark images to Clare at SpankedSweeties.com – thank you.
For those who want more trouser torture….I have to let you know that Brynn is again being spanked by Clare in her Daisy Duke shorts, I can't really show too much as this is all too early in my post today and I'd at least like you all to make it through unscathed as there's loads more lovely stuff coming up…but you can take a quick glimpse up Brynn's shorts and detect the red glow of Clare's hand actions…(warning, Brynn will once again be removing these for a cracking OTK scene with Clare!) I cut these images myself from the movie
*****************************************************
Phew! So how do I follow that? Well, there's a beautiful girl I remember very well and was hoping they'd one day remaster this film of her, it's Indian girl Lianna, she had relatives in the North East of England and her family came from Gujarit. Yes, I remember these things when confronted by such innocent beauty…So thanks to FetishFlixx for making this old man's wishes come true and for making me reach for the Kleenex tissues (with this product placement, I should get some royalties, surely?) once more…these images and the little free clip I have for you is totally excluisve to this blog and my esteemed readership… bet you're glad you popped by today, eh? I can't show too much for fear of 1.) incurring the FetishFlixx webmaster's wrath and 2.) causing unnecessary suffering and damage so early on to my groinal area as I write this… I can tell you writing with a boner is NOT recommended!
Ah, Lianna…welcome to multi-cultural England my dear
We accept all girls, all faiths and all shaped bottoms to spank!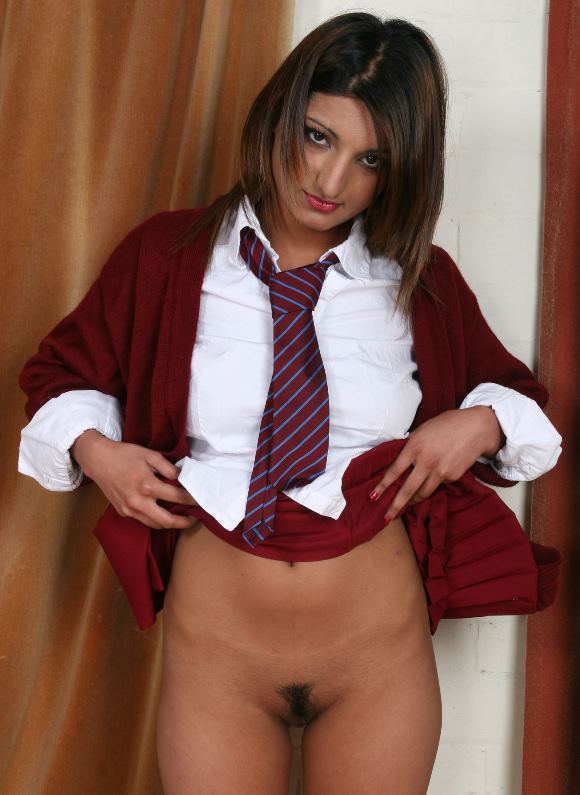 Chief's fact of the day: Lianna was no stranger to discipline as she recalled that she was regularly spanked across her bottom in her native Gujarit and like so many had taken such a keen interest in the spanko scene when in England that this was how she got into contact and made some films…anyway, enough of my waffle, the new re edited film comes complete with a fantastic HQ Photo set, video images and has been remastered to the best possible playback as you'll see below, but check out some video images, Lianna's dusky & red bottom is very addictive!
You can see this latest film in this excluisve format only from FetishFlixx.com
**************************************************
& finally today I am really starting to fully appreciate just how damned HOT Michaela McGowen is (and always has been), she's one girl I may have passed in favour of someone else in the past, say like Samantha Woodley, Abbie Whittaker, Alison Miller or AJR, to name some at FirmHandSpanking – but in truth, you and I know she's damn hot. Anyone who downloaded the Excellent OTK Air Series from 2008/09 will remember just what a cutie Michaela looked in and out of her uniform then…anyway, I digress, Michaela, you are just adorable and in your present Legal Series, you have me aching (literally) to see more of your punishments! As a treat, the clip I made available on my TEEN SPANKING TUBE I am making available in the original WMV format here today – as well as a selection of some great HQ images from this movie – FirmHandSpanking do it again with their stunning girl punishments!
Seeing Michaela in this embarrassing position sounding very humble and very submissive as this paralegal is punished by her Attorney boss is the very latest of the Legal Penalties Series! This full movie and all previous Legal Penalty movies can be viewed HERE

*********************************************************
Don't miss what some very naughty people are downloading from the SPANKING THEATER! (below)