Well, unless you've all been living on Mars recently (I should trademark that expression, dunno why, but I love it), as I said, unless you've "all been living on Mars" (™ Chief) then you'll know that Clare Fonda had been planning her annual Exclusive Education series (now number 5) and this will now be out for release by September latest, so I can hardly wait.
I have managed to glean some info and some images from the film shoot so here you go and here's what to expect in the finest traditions of the EE series!
The Tops are, Clare (of course) and ever present Lana returns again joined this time by Alicia Panettiere!
The following excerpts are taken with thanks from Clare's own blog at ClareFondaSpanking letting us know what has been going on:
These are the models that starred in the latest EE5 series! Some you will know and Clare got in a couple of cute newbies from her recent castings, I have to say, personally from the images below and what some of these girls are capable of, I can't wait! So there is Katee Calaway, Marie Elle, Elise Graves, Lindsay, April O'Neal, Nikki Rouge, Sandy, Katherine St. James, Hollie Stevens, and as a late addition and a fantastic surprise… Sarah Gregory! As Clare pointed out, for those of you who really pay attention… you may remember that Sarah was in the schoolgirl spanking video two years ago but at the time of this shoot this month she was due to be in LA so what a great time to have Rachel Gregory, younger sister of EE3's Sarah Gregory, to be part of the class of 2010. Those two could be twins! (hmmm)

5 out of 10 bottoms reddened and displayed from EE5
Most of the girls on the cast list have either worked for Clare Fonda or other fetish/spanko companies in the USA but there are some video virgins too, such as Marie Elle and Sandy, two friends of Lana who work with her at The Dominion. The large cast of ten bottoms and three tops went ahead and you can see some mouthwatering images below!

Hmmm, Sarah…why are you topping Ms Panetierre? Love the pic!!!
Clare admits she could not be happier with the actual shoot. She said that she had an excellent group of spanking models, many of them being professional submissives and/or lifestyle ladies. They took their spankings from Lana and Alicia Panettiere with kicking and screaming but for a group of ten they were very, very easy to work with. Now Clare's editing team are going to be busy!!!

Katherine St.James cries out beautifully over Lana's lap!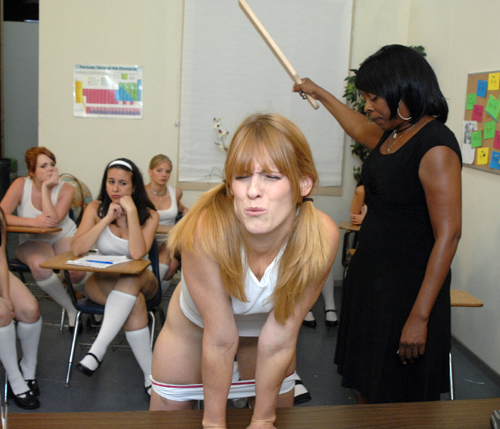 This I can't wait to see!!! Nikki Rouge paddled by Lana as Principal Miller (wow!)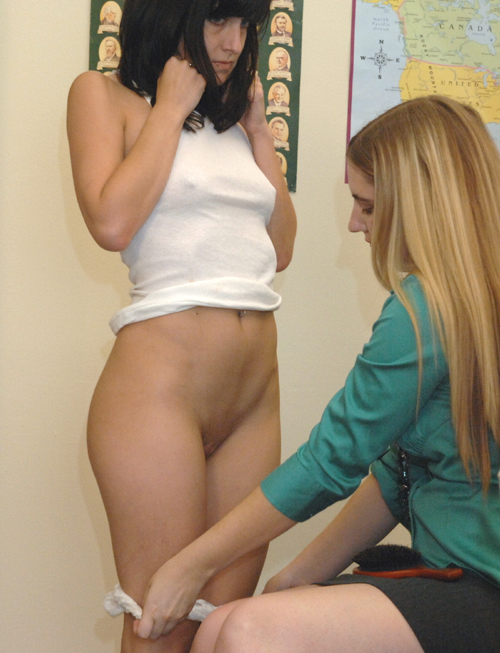 Elise Graves has her panties pulled down by Miss Panettiere
I fully expect that EE5 will be showing by 20th August as Clare promises with the films clips to follow shortly after that! There is plenty of reasons to get used to the site and check out GirlSpanksGirl before that though and there is also the special longer term pricing (eg check out the 3 month options) giving you a chance to view all the previous 4 movies and plenty more great stuff that makes this one of my Top 10 sites easily!
& in anaother treat, I found this from Clare's archives from this site, check out Clare's pigtails…nice! I also think this film probably gave her the idea of a working storyline for her fanatstic Spankedcallgirls site (check out the clip and you'll see what I mean!) but I will take a look at Spankedcallgirls another time!
In this very naughty long play film, Clare berates Dana for not playing with herself as she promised she'd do in her friend's GoGo Bar – Clare is pissed by the fact she provided this uppity "I won't touch myself down there" Dana and teaches her a lesson then makes her finger her pussy til she cums as she should have done for the clients that were cheated by this prissy student! A very naughty film that includes some great dialogue, great OTK bare bottom spanking and some arousing finger work by Dana at the end! Phew! 😀
For more very rude intimate girl on girl spankings look no further than GirlSpanksGirl.com
*****************************************************
I also uploaded a clip recently to my TEEN-SPANKINGS TUBE (have you not bookmarked it yet? it's updated daily!!!) and sadly the clip below doesn't do the scene justice but I hope these images below will…compressing Clare's HD format into something playable on Flash format is something I'm not good at yet…so it's not the iffy quality of the movie, just my compressed Flash playback, but I think you'll get the idea of this playful spanking that turns nasty from the latest episode of MySpankingRoommate as you'll probably remember a few films back naughty Kay Richards had blackmailed her gorgeous bi-curious boss, Layla into being spanked after she snapped pics of them kissing together…well, Layla grabs the cell phone back and all hell breaks loose – this is the start of the mayhem below….I can tell you Layla gets to paddle Kay's bum in the end! Bravo!!! (& I love the way Kay squeals!!!)
Fortunately: Playback quality at MySpankingRoommate is HD Quality 🙂
You can see the full movie and all previous episodes at this spanking soap opera HERE
Of course these reviews are only part of her many sites and there is also the option of viewing them all by Clare's amazing ClareFondaPass network – and is my preferred way of viewing all her naughty spanking sites, check out their pricings and you'll see why!!! Click banner below for the full details!
Damn! I've run out of time again…LOL! I was going to review some more sites with brand new movies! I shall try to get one of these up from THEBAREBOTTOM.com which stars Elizabeth Simpson and new girl Wendy in an interesting F/F discipline movie by tonight either here or at my Teen Spanking blog! It's well worth it and there is a FREE preview now on the Home page HERE which should get you F/F lovers out there warmed up!!