As you know, I've been a busy little bee trying to set up something I should have got my arse round months back…however, better late than never and the NEW SPANKING TUBE site showcasing all that I love to watch should grow into quite a decent collection within weeks so be sure to check this out daily as I aim to add many movies everyday (I'll be adding more later today for example).
Don't take my word for it, check out the good folk of Bombay TV who have also found it! 😀
Yes…Yes, my dear…and this is what you want >> TEEN SPANKING TUBE
For example, you may never have seen this old classic below if you've never viewed SpankingDigital and I will be adding some more from that site later as well as some from PunishedBrats that I love and I'm sure you will too!
I have to say "thanks" to my good friend Brushstrokes at The Spanking Spot for reviewing a film recently from NaughtyBottom – you can see his actual review HERE – it's a film I thought he might like (it has some interesting OTK scenes in it)
Talking of which, there's a new special movie just gone up for those that love to just buy the odd movie and this is a fine choice, sure to tempt those that love to see girls in school uniform properly thrashed with the leather strap and cane! It stars Sara Bergmann, she has always been one of my fave spanking actresses, and I know that Sara reads this blog from time to time, ("Hi, by the way!) so I hope you remember this one, it has been remastered and there's some extra HQ images as well as the usual vid grabs which compliments the movie!
If you click on this link HERE it will take you to the actual preview page where there's a description and a FREE caning clip so you can see precisely what the film is about! I have also added some images below from the film. There's not much to add really, it's a good length film, about 15 minutes and there's no lengthy monolgue, it just quickly gets into the action with Sara leaning on the cold concrete slab in the cellar for her strapping over her regulation kncikers and her already throbbing punished bottom is then revealed for a bare bottom strapping and a final assualt with the cane! Sara really can take quite a punishment! I promise if you've never seen this movie before or wanted to buy just one this month…then this is definitely worth a peek for the strapping and caning content!
THE FULL DOWNLOAD LIST FOR ALL MOVIES IS LOCATED HERE
& look what's "COMING SOON" I kept my promise and got this movie uploaded! This film below should be out by Saturday, hopefully!
COMING SOON – "Thank you for smacking my bare bottom!" with Alexandria.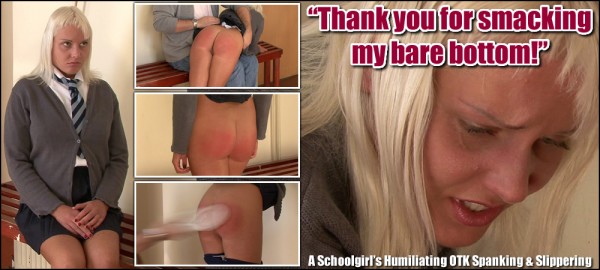 *****************************************************
Finally today, as I promised a few days back (was it here or on one of my other blogs – I lose track, LOL) Adrienne Black at FirmHandSpanking.com – she is possibly the tallest girl in spanking right now, outdoing even gorgeous Brit babe Amelia Jane Rutherford and I'd love to gaze at Adrienne's bum and long…oh so long legs in person…but til then, I can do so with my membership from FIRMHANDSPANKING instead and it's currently worth every damn penny as her first naked punishment in the bathroom at the hands of the diminuitive Earl Grey (did they deliberately cast him against Adrienne?…she must be 6 feet 4 at least!) See for yourself.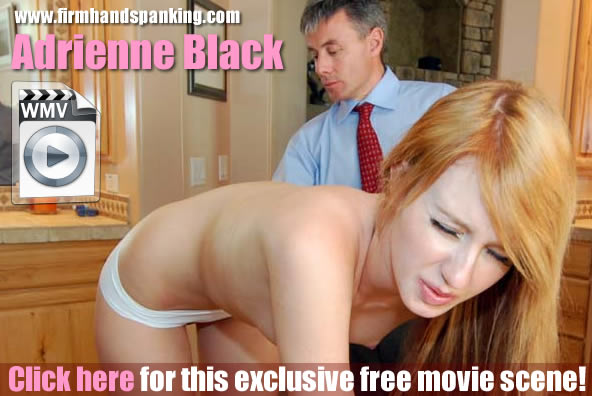 Then I have a few Hi Res images also here for you, if she doesn't blow your mind viewing this amazing new talent and make you want to see more at FirmHandSpanking then sadly, I think you may be dead from the waist down and my deepest sympathies go out to you – please be aware the HIGHEST Trouser Arousal Ratings apply when viewing Adrienne Black, thank you in advance!
& if you haven't already, check out this TEEN SPANKING TUBE CLIP of Adrienne that I posted a few days back!!!
*** THE MOST HIGHLY RATED FILM ON THE TUBE SO FAR ***
This movie can be viewed in full only at Firmhandspanking.com

*******************************************
& Finally, check out the latest movers of the latest movies from my Spanking Theater (below) and in an effort to spread some "blog love" some links to other bloggers who have worked hard on bringing up something interesting and special this past week! Enjoy! Chief.
Seriously – check out these spanking & enema specials from Wizard of Ass!!!
***********************************************
BLOGS from my sidebar  – A quick selection of updates!
Discussing severity with Pixie
Crazy new Spanko Artwork (Good find!)
MarQe's countdown continues (can't wait for 1000!)