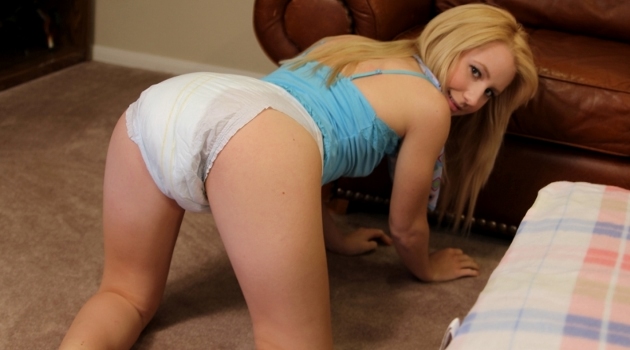 Well, here it is (finally) I had promised Clare I'd get this out sooner but got real busy with other shit (as you do) but it's worth waiting for as this is one of those hidden sites that not many folk know a lot about and I think that's so unfair (so this is being upped simultaneously on 2 of my top ranking blogs)
If you're familiar with Clare Fonda's many sites, and all around spanking, then you might be wondering "what the f*ck is he writing about girls in diapers for? Is he some malicious pervo scat mongerer?"
No, I am not, the thought of shitty "nappies" as we call them over here in England make me barf, but place a beautiful grown girl in one, and get her to play "baby" or become even more submissive, maybe enact out some wild fantasies and of course involve many humiliating inspections, rectal temp takings and of course some spankings (in, over and out of the diapers) then it is in fact an incredibly erotic spectacle! As Clare once told me, "I ask my girls if they will pose in the diapers and most have no problem with it". So prospective spankees at Miss Fonda's – beware, LOL! Actually, the girls love to play and you can see from that, perhaps the only girl who thought at first it was strange (filmed a while back, I must add) was the delicious Kailee Robinson…and for that I shall show this first though I'm sure this was what was played out….it's an excuse to spank Kailee's already thrashed and red speckled bottom further, as you'll see!!!
Kailee was new to diapers and her embarrassment was genuine. Clare's response to her obvious reluctance? "Too bad, beautiful, you signed up for the job!!" Actually this made for a great update and includes a lot of spanking too as you'll see from a few selected images below!
Another hottie, Elise Graves, a very slinky little minx had attended a few spanking shoots and was a girl willing to try out being diapered and treated like a baby, just a pity the girls that day only had a large XXL adult size diaper which they both found amusing, you can see a FREE long play clip of this from my Teen Spanking Tube HERE
A couple of promo images taken from this movie are below: In this film you'll see Elise get a spanking and bottom powdering as well as crying for the camera! Clare called her a "very pretty little diaper girl" Indeed, who am I to argue?
Ok, so in this review, you will notice that this site actually lives up to its name, the girls really are placed in diapers, often playing baby, becoming totally submissive, even allowing their bottoms to be talc powdered and the odd intrusive rectal thermometer rearing its ugly head too! Of course it's a great chance for the girls to all play or appear confused…as the beautiful Kadence appeared below!
Some girls just look extra cute in a diaper. Kadence is one of them. She couldn't stop laughing which is how she dealt with the embarrassment, but she was a new girl to modeling and very willing to please producers like Clare! She knew she would be spanked, but not diapered – although how could you resist? She is the kind of cute girl you want to get butt naked then have her on her back with her legs in the air and ease it onto her slowly. Then it would be so much fun to put her on your lap. Has anyone ever been pleasured through their diaper, with the hand rubbing over it but never going inside? These questions and more…are attempted to be answered by the  NaughtyDiaperGirls website! 😀
OK, it's maybe not a site you'd automatically be aware of, but it's a work in progress and Clare admitted to me that she loves exploring this fetish, and to be honest her spanking models, as many as she now has access to, are game too, you only got to check the updates on the tour pages HERE to see that, and the updates are regular! The members area is also very sizeable and has grown considerably since it was started (approx 18 months ago?) All new films are in HQ-WMV playback. Site pricing is very reasonable at $19.95 for a month and for that you will get beautiful women in diapers. Some have a diaper punishment some are diaper lovers and the extras such as spankings, rectal temperature taking, mouthsoaping, cornertimes, and buttplugs all make this well worth taking a look if you're after something a little different!  I've not really seen many specialist diaper/girlie/spanking and humiliation niche sites but there is definitely a demand for this and Clare seems to have got this niche, from a woman's perspective, just right! Want to see real faves like Kay Richards, Lily Anna, Ariel X and tons more very well known spanking faves? Then see them here diapered with Clare! Even Miss Fonda gets in on the action and turns up diapered! I won't embarrass Clare here, but how Lily and Clare kept a straight face in their most recent film as Clare exposed her trim bush to a thumb sucking diapered Lily is beyond me…"one day you'll have a womanly bush like mine!" heh heh!
The fun of diapering as modeled by Holly Stevens!

Finally, a very hot scene from well known Fetish model Sarah Fay (here in brunette mode, you may remember her from Exclusive Education 4 last year) and this is a very naughty old movie that features a diapering, red hot spanking and an amazing finale where Sarah is given a butt plug and learns to hold it whilst she is spanked!
Click image below for the free butt plug scene of Sarah!

In conclusion, then, if you want to explore something a little different from a spanking network you all know and trust that makes great movies then you can do no worse than to check out this site! I'd be here all day explaining more about it but the tour pages HERE will give you a good idea as well as this small review which should give you more than enough to decide if this is something for you all! I would say the only people that might not like it are those who enjoy continual brutal spankings, severe discipline and use of implements such as canes, this would not be for you. I feel I have presented this site in as balanced a way as possible, showing you the spankings, diaper punishments, the fun, the fantasies that are acted out and the "Embarrassment" factor associated with this quirky fetish! Enjoy, it's good viewing!! 😀