OK, as I promised, here are some nice updates of some new stuff, featuring latest updates out at various sites and some stuff I have also been catching up on from my own personal stash! I am in no way responsible for causing any discerning gent's undercarriage garments from rumbling with desire at the following erotic and downright hot spanking content. OK, hang on tight to the spanking rollercoaster… here we go!
So, after you've cleared up the puke from that unfortunate ride… let's trundle off down to SpankAmber for a delightful movie I had watched earlier this morning which is typical of Amber's HOT work. Warning: Watching Amber's bottom jiggle will cause unintentional trouser eruptions and have you jabbering like a fool!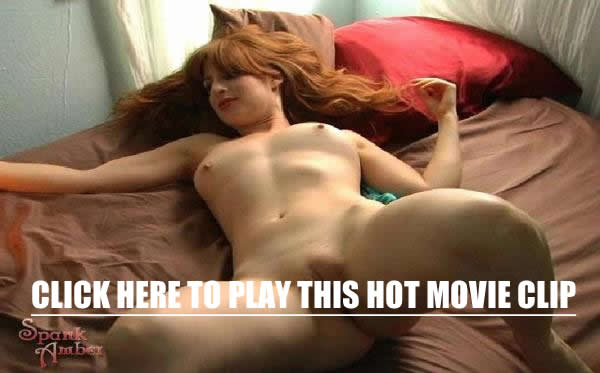 Check out the images if you like, below, I took these from the movie so you can see exactly what happens to Amber throughout 1 of her 100s of very naughty spanking films!
Please check out the rest of this movie & Amber's site HERE
*********************************
Another classic piece from my stash is courtesy of SpankingServer and it stars Brit spanking sensation Pandora Blake, forcing our man Peter to scold and chastise her in his best English during breakfast, it's a quirky OTK movie and you can see the long play free clip and some images taken from this below!
This clip comes courtesy of my TEEN SPANKING TUBE (I've added some more movies since!)
Want some more stuff from SpankingServer ?? Who wouldn't – these fine images show us the wonderful contraptions and restraints that many of the girls must endure during their discipline sessions. I find it a real turn on seeing girls placed in these wicked instruments and of course quite often they are left with their bottoms or pussies exposed and looking so vulnerable!
MORE GIRLS THRASHED HERE AT SPANKINGSERVER.com
******************************************
Now I'm not sure if anyone else has mentioned this but for those who like the stuff from Diseno Media (producers of SpankingServer, for example) and the Pain4Fem Films, well, now there's now a Specialist Clip site that gives you access to the best action scenes of Pain4Fem at a new site called JustBeaten.com
This site doesn't buy in the content, it's part of the diseno Network so they have a vested interest to make sure it's up to scratch!!! I have been given some promotional content below and if you check out the 16 images below which I chose from one film, a film I had always wanted to see as I had heard so much about it – (am I teasing you?) then I think you'll agree with me that this site has everything one would need and expect from Peter & Co at Diseno Media! The girls, as always, are just stunning, the punishments real and often severe, but these tearful girls take their punishment and make this a wonderful new site to enjoy new content if you are like me – and haven't got their DVD collection (which would cost a fortune to own) this site makes it possible to see a lot of this content in HQ Full Screen movie playback! See what I mean with the images below starring Pandora Blake & Amy Hunter:- This is one film I have always wanted to see, now I have, it blew me away… I'm sure this was probably the severest punishment both girls had ever endured, ouch!
Interested now? This is from one film, CLICK HERE to see the many films that you can download produced for pain4Fem and now available exclusively for JustBeaten.com
***************************************************
A NEW Update at StrictSpanking.com is a remastered masterpiece of Ellie Maye – probably THE most lusted after teen spankee in recent years from the UK. I know this movie has been shown before, but I was told this is the ultimate re edit and I have seen it in full (it's out now to download in full) this brings us the best quality possible and this is my all time fave Ellie movie anyway…why? Well, she is laid over a chair, knickerless, and her legs splayed and flail as she is strapped in her school uniform. This is an intensely erotic film, and what's more this update will come with a full HQ Image Stills set as well as this film. Trouser arousal ratings set at max, please view with caution, the scenes of OTK spanking and the humiliating strapping, thank you.
Oh wow! Ellie Maye as we remember her, and I never grow tired of watching her classic movies, the cam angles were perfect for this movie, getting her facial reactions and a nice side shot of her prostrate over the chair, bottom stuck high in the air as well as the camera behind as it catches the action on her bare exposed privates, and that reddening bottom! That beautiful speckling effect! It's all in this film clearly captured at StrictSpanking.com
********************************************************
EXCLUSIVE EDUCATION 5 – this fantastic hour long 10 girl punishment extravaganza is starting to draw to a close and Clare has just released a series of galleries which makes my work easier (Thanks Clare!) – as I can just show you the latest updates which cover a fantastic one on one with (for example) Clare & a tearful Sarah Gregory as well as scenes with well known girls like Nikki Rouge (gotta love this gal!) and there are ample opportunities for new girls and gorgeous newbie spanking babelettes like April O'Neal and suchlike *drool*
These galleries will do more than me waffling on explaining about the movie (click on images below to take you to the galleries), so enjoy the images and members can of course view the latest installments at GirlSpanksGirl.com
GirlSpanksGirl.com now has all 5 series of Exclusive Education as well as featuring Clare's longer play movies there is a vast archive of content that clare has amassed over the years which she admits she is proud of, and this site – fantastic as it is, compliments the CLARE FONDA PASS which covers your choice of having 3, 4 or 5 of her sites on a massive money saving monthly or longer term membership! This is my choice and it's the only way to watch all of Clare's fantastic sites!
CLICK HERE TO SEE MORE INFO ON THE CLARE FONDA PASS
*********************************************
Staying on the schoolgirl theme – a NEW Update at SpankedSchoolgirl.com starring that feisty teenage minx Carla sees her stood upright in her uniform, bottom fully exposed for a nasty caning after arriving home from school (it's quite a severe caning!) My utmost apologies as I thought I had already covered this fine movie – so all good things come to those who wait! If seeing a girl caned properly and very firmly with the welts quickly appearing on her bared buttocks is something you might think is for you… don't wonder about it, go see it for yourself now!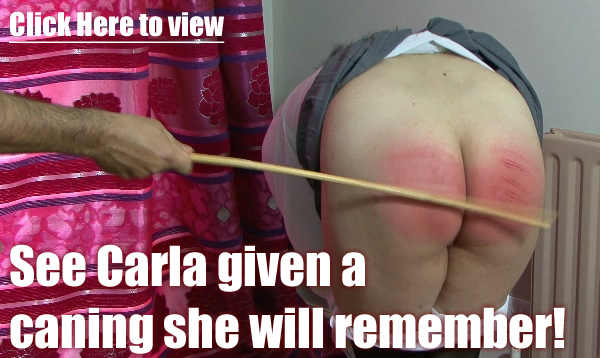 Carla was caught fighting at school & sent home in disgrace. Back home she was given a good telling off then told to pull down her pants & touch her toes! Her plump bare bottom was then thrashed with the cane. Carla had to endure the final hard strokes stood upright, bottom loose and unclenched. Then she was told to get to bed (with a very sore bottom).
The full movie of Carla's severe humiliating caning is available to download HERE
******************************************************
OK, this mega update continues and the 2 movie clips below are EXCLUSIVE to this blog and feature 2 of the biggest stars featured at Firmhandspanking.com – Seriously, I am really starting to fall in love with the oh so cute Michaela McGowen, I'd sign up to this site(if I wasn't already) just for her (and there's enough stuff of Michaela alone believe you me!) but there is also a fantastic movie of Abigail Whittaker from a recent update that has her strapped fully nude on the bed, and what a body she has, trim and buff… fear for your pants, gentlemen, I expect more bulging disturbances as you watch these 2 exclusive free clips for you! (no extra images this time – as I just realized how much time I have spent on this update, I hope you appreciate it!!!)
Click image below to play the WMV clip of a cute naked Michaela caned bent over in the final installment of the "Legal Penalties Series"
Fans of Abbie will NOT be disappointed, so if you haven't seen a free clip (in actual playback resolution) of her naked on the bed, bickering and arguing, then you are in for a treat… to be fair abbie had a point that she felt this particular punishment was more for His benefit… but that's what makes this all the more satisfying to watch, as I know damn well I'd find any excuse to be in his position, wouldn't you???
All the very latest updates with new spanking talent as well as these 2 gorgeous beauties can be seen on the Home page of Firmhandspanking.com – it's well worth checking out as they have free movie clips from the latest movies just added!

Back tomorrow with yet MORE updates, don't got far! 🙂
Chief