Hi Everyone, there's some delicious spanko stuff about at the moment and I don't want you to miss out on the goodies! So today I'm starting with Clare Fonda's group of sites and what better than the final outcome of the first major film of Exclusive Education 5? I have cut you a very special EXCLUSIVE FREE 1 minute clip from the film which has both rachel and April over the knees for the final hairbrushing scene in front of class, I gotta say, the sight of April flaying wildy and then collapsing in a heap is something special, especially as the camera follows her back to the desk, my God, she is just goddamned cute!!!!
April is just 1 of the 10 girls spanked in tandem with the others in front of class by Miss Lana Turner and Miss Alicia Panetierre, as you probably already know… & there is also some amazing images showing all the girls together showing off their red sore bottoms as you can see below!
& if you click on the image below you can see part of the very latest movie from this series right now!
!! WARNING: Watching April get spanked could cause heart palpitations !!

You can see this entire series in the Discipline Section only from GIRLSPANKSGIRL.com
******************************************************
OK, next up from the continuing spanking soap opera that is MYSPANKINGROOMMATE.com I almost ruined my pair of trousers watching these 2, after getting off seeing them elsewhere on Clare's sites, here they are guest appearing at thsi site, Hollie Stevens and Brit redhead Sophie Nova, as we say here in the UK, these 2 girls are "the dogs bollocks" together and I think Clare has spotted this too as they really do work well together, and of course I shall be forwarding my trouser dry cleaning bill to MySpankingRoomMate.com
Cheerleader v Girl Scout (let battle commence!)
Hollie and Sophie dress as a cheerleader and girlscout for a Halloween party. Sophie explains how things at the apartment complex are often resolved with spankings. When Sophie keeps complaining, Hollie gives spanking a try by tossing Sophie over her knee for a long one. But when Sophie discovers Hollie can't pay her rent, it is revenge time! Ding! Ding! Let the mayhem begin!!!!
You can see the 66th episode featuring a full image set and long play movie now!
*****************************************************
We are all going to be seeing a hell of a lot more of Clare's latest find who she has tied into a 6 month exclusive contract, Clare must have seen something in this very cute girl she found working in one of LA's Dungeons (I shan't ask why Clare was hanging out in such establishments – heh heh) but what a find! Mary Jane is so cute, you can see why this beauty was snapped up by Clare and she'll be appearing at all the sites (I notice there is a brand new movie with MJ at SpankedCallgirls for example which I have already featured – just go back a few posts) but today I shall focus on SpankedSweeties which covers the introduction of Mary Jane, her life, the interviews and some fantasties and real life events acted out by Clare and co for MJ. Click on the images below and they lead to a different gallery with a full explanation! This girl is simply awesome!

Mary Jane guarantees to ruin the Chief's 2nd pair of trousers!
consequently I am writing this "sans pantalons"
and of course don't get me started on these images (below) taken from a superb update with Kay Richards – "OMG! I haz xtreme woodz!"
Want MORE of Mary Jane? Well, I can't blame you!
Most of her latest stuff is being shown HERE at SpankedSweeties.com
*******************************************************
All the above sites are massive in their own right, but if you have the time and hard disk space then there is an even bigger money saving option by signing up to the CLARE FONDA PASS and you can choose which sites to choose to have access together for a fraction of their normal pricing and all with the convenience of the same user/pass combo etc… definitely the way to watch Clare's sites and remember that external disk drives are now VERY CHEAP so a great place to store your added spanking library content, as I seem to be doing (I have about a dozen external hard drives now, LOL!)
The Clare Fonda pass – You do the math!

*************************************************
*************************************************
Finally today on the East side of the USA, namely The Garden State of New Jersey, watch out for Greg, AKA "The Mystery Spanker" at BunBeatingFun.com, who has been busy updating his site recently. I talked to him a few days back and told him that I was going to do a feature on one of the horniest, brattiest models that he had ever spanked (in my opinion), namely one Miss Anna Sundquist. Well, he explained to me she was as bratty as she appeared: To give you an idea what she was like, she used to have a greeting message on her answering machine that went something like, "Leave me a message and if you're really lucky I'll call you back." Nice! 😀 Oh, Greg also told me he took very great delight in spanking her bottom red raw, which you can see below in these special images I have for you! & of course, it all takes place in another classic seedy motel, lol! Classy!
These are Greg's words to descibe Anna's time with him!
"Paybacks are a bitch and this is one bitch who sure had one coming! Three years ago we flew Miss Sundquist clear across the country to do some modeling for us. No sooner did the diva get off the plane then she announced that she had changed her mind. "Our body of work", she sniffed, was not "on par" with the image she wished to project to her fans, or some such nonsense. No apology, no offer to reimburse us for her airfare and hotel, no nothing.
In due course the larcenous little tart faded from our memories altogether, until just recently that is. It seems that Anna, having contracted to do some modeling for an associate of ours, was back in town – and on our dime once again – and now, she was giving our associate a hard time, a very hard time.
That's when we elected to send our man over to, shall we say, communicate our displeasure in language Ms. Sundquist was sure to understand!"
Check out more screen images from this movie below:
Indeed a satisfying sight and if you check out the TOUR PAGES of BunBeatingFun then you'll find a promo clip of her getting what she best deserves!
I have also seen that there are 3 new updates of some classic thrashings as some of the older content is being remastered and the wait for some of the older stuff has been worth it, finally giving us a clearer picture of what Greg got up to years back (these were only previously viewable in clear playback via DVD so now you can view it as part of the BunBeating regular membership option, which is of course, far, far cheaper than a DVD! Yay!
Talking of DVDs, the 3 girls featured in "Bitch Slapped" have been given the upgrade treatment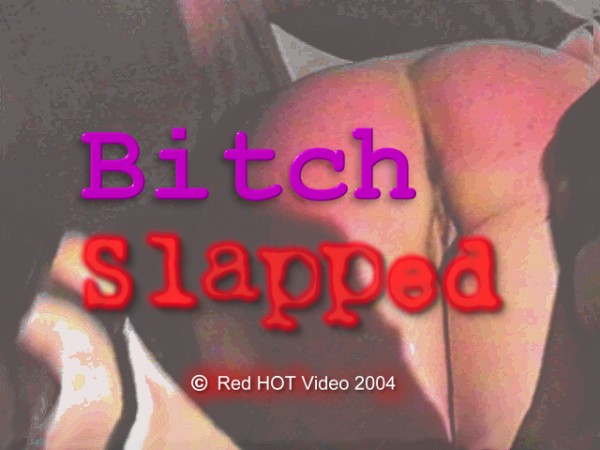 From left to right Katie Jordan, Tangerine Dream & Inka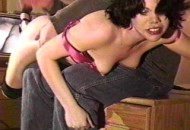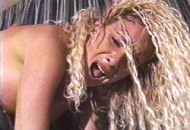 Just click on the film strips below for a special Free Upgraded Film Clip showing you the quality of these old movies lovingly restored! I think the girls were even MORE mischievous and given a harder punishment, but I'll let you decide!
the Katie Jordan movie description:- Shortly after her 18th birthday this tantalizing young lass set off for New York City to initiate what would become a quite successful and multifaceted modeling career that continues to this very day. Fortuitously, the road from Atlanta to the Big Apple passes through New Jersey so Katie's bottom was as red as an apple when she left NJ!
Click filmstrip for the movie preview

the Tangerine Dream movie description:- This one's a pornstar/stripper from Montreal.  When Tangerine isn't doing naughty things on camera she makes a nice living shaking her ta-ta's and doing lap dances in strip clubs throughout North America.  By now, she's probably done thousands of lap dances but one is inclined to believe that Miss Dream remembers the "lap dancing" she did for BBF the most vividly of all!
Click filmstrip for the movie preview

the Inka movie description:- Inka, an expatriate from the Czech Republic, flew in to NJ from San Francisco.  BBF saw to it that she would make good use of that little pillow she so adored that the stewards hand out, on her flight home as she appeared to have some difficulty sitting down comfortably!
Click filmstrip for the movie preview

I hope you enjoyed this little preview of BunBeatingFun.com – these upgrades are not counted as an update as such, I believe, so a fantastic bonus and 3 films you should check out along with the newer ones including "uber-brat" Ms Sundquist that I featured earlier today! Ok, back soon with more naughty girls getting what they most deserve – and most definitely get!
Regards, Chief.