Below are 2 girls from either side of the Atlantic who in their time have made all us grown men weep and go weak at the knees at the sight of them getting spanked on their oh so red cute butts! Well, sadly, one girl has retired but she left such a legacy of spanking films that even I miss out on some until I discover more gems and greedily store these on my hard drive for private playback in a darkened room of my choice!  The other girl I thought had retired (sadly) but has returned this year (yay!) and so I will start with her today and then let you in on my other obsession of the very cute retiree!
Step up Juliet Valentina – she had dazzled us in the past on PunishedBrats.com with her spankings and punishments in her cheer girl outfits, uniforms and domestic discipline situations (wearing the sexiest pair of jeans in one movie) Now, as you may recall, her attitude was always cheeky and for a while we were all in heaven seeing this cute teenager getting her much deserved spankings then she disappeared for what seemed an eternity, I think it was around 18 months, maybe a little longer, but this year she has been back several times filming again and there's plenty of her newer stuff out with her new darker hait, but what remains the same is her cute pert butt gets spanked, her attitude hasn't changed and you just know she MUST be punished hard on her cute rump until she (kinda) learns her lesson! Please check out Juliet as you may all remember her in her blonde days, the 3 images below lead to a gallery and a special low reslotion clip (members get much higher playback)

Juliet Valentina & Toni Rizzi in the "Politics of Spanking"

Juliet Valentina & Clare Fonda in the movie "Mom's Manual"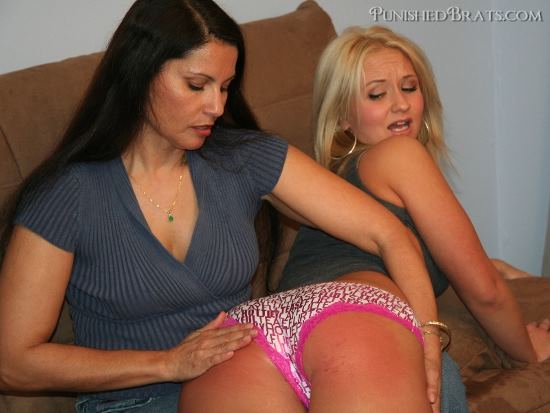 Juliet Valentina & Chelsea Pfeiffer in "Aunt Chelsea gets tough"
Ok, so you get the idea and if you didn't know who she was, I'm sure you do now! She has some quite stunning films from the past, so I was always hoping she'd be back and earlier this year she did, now in the interests of saving time, I'm sure if you place a search of "Juliet Valentina" into my blog search box somewhere on the righthand side menu (think it's about hald way down)>>> I'm sure you will see more links and stuff with me lusting/praising/admiring/drooling (* delete or leave as applicable) about thsi beauty as well as her newer stuff, and it doesn't get any newer than this update released this week with Juliet shaming her boss Veronica in a great film! I have made a special gallery myself and I'm sure you will enkoy this excellent storyline and of course, JULIET! Just click HERE or on the image below which takes you to the special gallery page!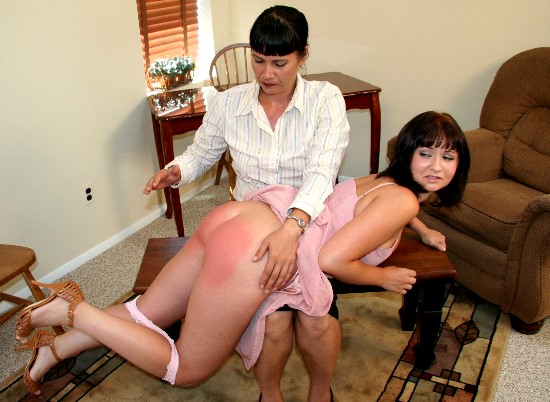 You can see much more of Juliet (and all the other dazzling girls) on the special free tour pages of PunishedBrats.com – well worth a peek if you have the time!!!
*************************************
Now I really hope you have time to admire my second beauty, the much loved and much missed Rosaleen Young (once again if you enter her name in my search parameters you'll see I've written a whole load of stuff about her in the past… but NEVER about this movie in which she co starrred with Victoria Jones, who I always loved seeing switch between being a submissive to a very strict Domme and in between being a damned hot slut, but I am already digressing and I am really pushed for time as it's Friday evening here in the UK!!! Now where was I? Ah… Rosaleen, she didn't take thatr many paddlings, let alone get paddled on her wet bottom in the bathtub… but that is PRECISELY what happens in this film I managed to locate – there's a really cool free clip if you click the large image below…and while you're doing that, I will locate some additional screen grabs from my personal collection to show you Rosaleen in all her naked blubbing glory!!!
The above Movie gallery is 1 of DOZENS available to view HERE
Ok, if you're back after viewing that cracker, check out some more images taken from the movie scenes of her paddling!
& from the same site click on the poster below and you'll get another classic Rosaleen Young vid … oops, all wet again and looking VERY pissed off! heh heh!
OK, have a good weekend, I will be posting more at some of my other blogs tommorow, but I now need to go eat my curry (yes, I REALLY know how to push out the boat on a Friday night…AND I have chilled Kingfisher beer too! It's too much, eh?)
Back soon, Chief.