There's a brand new update just released at SpankedCallgirls.com that not only has beautiful exclusive new girl, Mary Jane, looking incredibly cute as usual… but for the very first time, Miss Madison Martin is now one of Momma Clare's working girls – and this cruel twist of a punishment is to remind both girls just who is the boss!
Clare says the following about her new movie " Christmas Presents Punishment" :-
"It was time to get My Spanking Roommate star, Madison Martin, onto Spanked Call Girls. She and Mary Jane look the part and it is easy to see why men would pay for them and anyone would want to spank two big and juicy bottoms!"
"Well, I heartily concur, Clare, I can't believe you hadn't got Madison in earlier, and she is looking HOT *sizzle!* with her new hairstyle and slutty callgirl clothing, wow… and to top it you have her AND your new babette Mary Jane!!! But to cruelly teach these girls a lesson with presents tricking them into thinking you were being kind, only to reveal that you KNOW about their sideline with their regulars… well, pure genius!" Please click on the link below that gives you all a special free intro to this wonderful film that highlights why I love checking out Spankedcallgirls (as I'm sure you will enjoy checking out the images from the movie after that!)
Madison is first up for her punishment…

Then it's Mary Jane's turn over Clare's knee!

Both girls are feeling rather foolish and tricked by Momma Clare – as they learn that taking "extras" from their clients is stealing from their employer… will they ever learn? I hope not!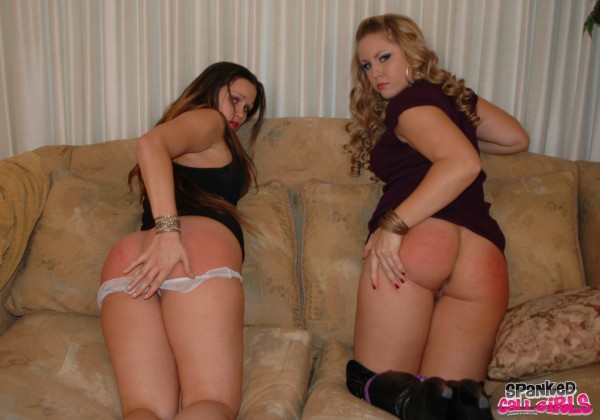 Check out this movie HERE with 2 very HOT naughty chicas!
Oh, before I go, I thought I'd show you a quick bonus spanking movie clip of Mary Jane in her recent film now out at this site as well as she is given a good "man spanking" by Double Dan – "the spanking man", one of Clare's best clients and friends! If you check a few previous posts you'll see some very sexy shots of Mary Jane in her slutty clothes! here she is fooling around with dan until he decides it's time to really start spanking her cute bubble butt! (and CUTE it is!!!)
********************************
Don't forget that this site is part of Clare's famed multi site pass options: YOU choose whether you want to have 3, 4 or 5 sites with one set of codes at a vastly reduced monthly or quarterly price! See HERE or the banner below. Have a good 'un!